Back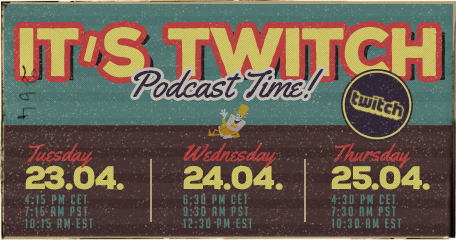 We hope you all had some terrific Easter celebrations, tranquil and exciting at the same time, but don't get too used to sailing into mundane waters of every day life because the best slot show on Earth is about to embark on the road again!
Granted, since it's already well established that three times a week is a prescribed dose of LCB Twitch streams the news of our show's arrival is, well...not news any more. But we adhere to tempo and pace we set ourselves since you guys like it so much – and, not to toot our own horn, but: we enjoy it immensely, too.
Tuesday, Wednesday, Thursday Triple Threat
With both Dunja and Alex (our charmingly crazy, or crazily charming duet of hosts) ready, willing and able to take us down the road of keen gaming unpredictability or, perhaps, Bahamas should they strike it real big...
...our own Twitch channel has been polished and refurbished since last week's wild partying and is ready for all of us to go overboard with everything – except playing and wagering for, as you all know, we only encourage responsible facets of this.
So, down to business: we are having back-to-back streams all week, with the first one in line for tomorrow, Tuesday, April 23rd at 4:15 PM CET (7:15 AM PST/10:15 AM EST) and it's going to take place in Wild Tornado Casino, the reputable place of online gambling purveyance that was our kind hos last week.
As soon as you (and them two) catch your breath a bit, it's time for a new show...
...on Wednesday, April 24th, at 6:30 PM CET (9:30 AM PST/12:30 PM EST) at Superior Casino, followed with ANOTHER stream immediately TOMORROW on Thursday, April 25th at 4:30 PM CET (7:30 AM PST/10:30 AM EST) when we'll be playing with crypto at mBit Casino, so yeah – get ready to handle three consecutive days of LCB Twitch – if you can!
$1000 Contest is Just About Done...Almost!
We would be remiss if we didn't point out that the $1000 Cash LCB Twitch Contest accompanying these streams is still alive and kicking...juuuust a bit longer! You may want to get in on this week's streams, be attentive, partake in chat and stay until the end because you may end up collecting just enough points to land on our leaderboard...
...based on which we will organize a $1000 prize pool giveaway at the end of month! Most points will be awarded to members who host our streams, if the hosted video has at least one unique view.
And finally, if you have something to say to Dunja and Alex – such as fashion advice on pair of shades they should wear next time around – you can do so in this thread which is devoted entirely to them listening to your feedback about the show.
There you have it, folks – the world keeps on spinning and LCB keeps on streaming. See you soon!
"three times a week is a prescribed dose of LCB Twitch streams"
LCB News
Back to articles