Back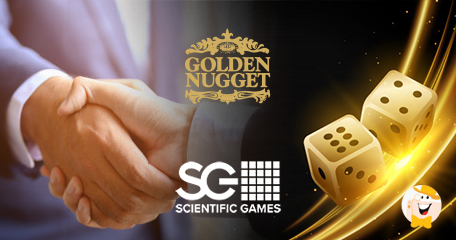 Golden Nugget has ongoing plans to put is gambling offer to the upper level and deal with Scientific Games for what is a great opportunity.
The company owned by Tilman Fertitta recently issued a statement with Scientific Games promising to extend the current deal and bring more action to the table. At the moment, Scientific Games is known for covering Golden Nugget, with online casino content and sports betting addition close to realization.
More About Plans
Two leading operators have agreed that SG delivers its premium OpenGaming platform to Golden Nugget venues based in New Jersey and Pennsylvania. Given the fact the other US states continue with legalizing iGaming offers, the Nugget will also have an opportunity to become active in these states.
The agreement will include SG's Open Gaming content aggregation platform, portal and player account management. Presently, the operator has a presence in four US states – two casinos in Nevada and one venue per state in Mississippi, Louisiana, and New Jersey.
The owner of Golden Nugget looks to expand SG Deal to include the addition of sports betting. It will allow the provider to install mobile sports bets in New Jersey as well as to consider launching OpenSports at retail venues in Mississippi, Nevada, and New Jersey.
Impressions
Commenting on the planned extension, Senior VP and GM for Online Gaming at Golden Nugget, Thomas Winter observed:
"We have a long history with Scientific Games, and their technology is a cornerstone of our sports betting and iGaming strategy. We're thrilled to continue working with them to bring a consistent and best-in-class experience to our players across multiple products, nationwide."
Sports Betting option is traditionally perceived as a good alternative for casino providers. That's why Golden Nugget believes in the success of the sportsbook inclusion. However, many US states are known for having legal prescriptions that prohibit sports team holders to get involved in sports gambling, and Tilman Fertitta is the owner of the NBA team Houston Rockets.
All these implications may not affect the GN plan. The operator could include sports gambling options while putting more selectiveness in the types of wagers. At the same time, Scientific Games will have the capacity to accept the entire inclusion and launch the offer. The operator has already been recognized by the World Lottery Association as a "responsible gaming supplier". It is also the first provider of sports gambling solutions that became a member of the Global Lottery Monitoring System.
Commenting on the upcoming agreement, SG's CEO for the digital group, Jordan Levin mentioned:
"Following Golden Nugget's transition to our solutions, we look forward to launching Sports on top of our long-standing player account and iGaming relationship. Golden Nugget has a wide player base across the U.S., having pioneered the iGaming space in New Jersey from its earliest days, and we're excited to power their sports betting and iGaming presence, providing a seamless and reliable end-to-end betting experience."
Source:
"Golden Nugget, Scientific Games polish iGaming deal", calvinayre.com, February 25, 2020.
"extend the current deal"
General Gambling News
Back to articles