Back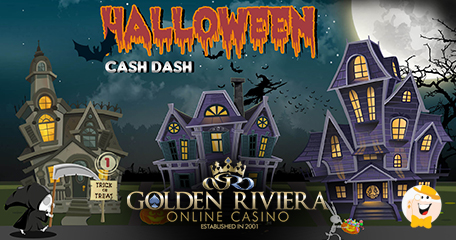 Golden Riviera Casino is hosting a chilling Halloween event, which kicked off yesterday, October 26th and will continue through November 6th. The casino is calling it the Halloween Cash Dash competition. However, it is vital that you take caution, as you will be teaming up with none other than the Grim Reaper.
The objective for players during this competition is to hunt down a mysterious Ghost Rabbit. Throughout the hunt, members will be responsible for lighting up 10 pumpkins, in order to reach a checkpoint. There are six checkpoints in total. Lighting up the pumpkins is easy and can be accomplished by wagering a minimum of 250 on any of the casino's slot games. Each time a checkpoint is completed, a bonus will be awarded.
According to Max Stern, casino manager and spokesperson, "Our aim with the Halloween Cash Dash competition is to show our players that Golden Riviera Casino is all about treats and no tricks. It's also the perfect way to get into the Halloween spirit!"
While the promotion is only open to members of the casino, newbies can complete this process in just a few, simple steps. There is a sweet, 3-tier signup bonus to look forward to. It consists of $1400 free, plus a total of 30 free spins, which can be used toward the Game of Thrones slot game. That's not all; the casino will also tack on an additional 40 free spins to be used on the Avalon slot.
Beware the Grim Reaper, and happy hunting!
"hunt down a mysterious Ghost Rabbit"
Promotions & Bonuses
Back to articles