Back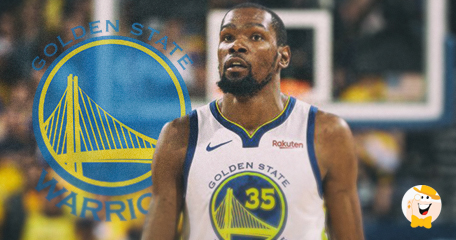 On Wednesday, May 8th, 2019, the Golden State Warriors battled against the Houston Rockets in a pivotal game 5 in the West Semifinals of the 2019 NBA playoffs. During the third quarter of this highly contested game, Kevin Durant noticeably came down in pain after shooting a jump shot over Iman Shumpert.
There was no contact made on the play, and the way in which he landed and grabbed his right leg made it seem as if he may have torn his Achilles tendon. Durant left the game and did not return as he was attended to by the Golden State Warriors' medical staff in the locker room of Oracle Arena located in Oakland, CA.
It turns out that he suffered a right calf strain, and not the dreaded Achilles injury that his teammate, DeMarcus Cousins, endured last season while playing with the New Orleans Pelicans. A torn Achilles takes around a year to recover from. The severity of the calf strain will be determined after he undergoes an MRI on Thursday, May 9th, 2019.
Initial Reactions from Head Coach and General Manager:
"We're all obviously disappointed for him," says head coach, Steve Kerr.
"And excited about the win, but concerned for Kevin and disappointed for him. He's been on this incredible playoff run, and I'm proud of our guys for pulling the game out. And we'll see how Kevin's doing tomorrow."
"It's not the Achilles. When I walked into the coach's office after the game, the replay of the play was going on. I thought the same thing, because he kind of looked back like he had been kicked or something. I've seen that before with guys who have hurt their Achilles. That was my first question. I was assured it's a calf strain, not the Achilles."
Apparently, the injury is not as severe as originally thought by most, but regardless, Durant will most likely have to sit out of game 6 in Houston on Friday night. Luckily it is not a must win game for the Golden State Warriors as they lead the series 3 games to 2 against the Rockets.
"We don't know," says Bob Myers, who is the General Manager of the Golden State Warriors. "It's a hard one to say, it really is. I don't know until we see [the MRI]. And then [the doctors] determine the grades of these things, and then we'll know."
Teammates had this to say…
… "That's a scary one," says Andre Iguodala. "If you look back, it's one of the scary injuries with the Achilles, so it was good to see that wasn't the case. It is initial shock. DeMarcus did a really good job of just kind of settling everyone back down a little bit and say, 'All right, you'll be fine. Go play the game.' And he sent that message, and it got across to all the guys."
"Next man up," Klay Thompson exclaims. "If we need to have him take off a game, we will, 'cause we need him healthy; we plan on playing for a long time. So, we desperately need him if we wanna win a championship, but we can win one game without him. I have confidence in this group."
"Whoever has the ball, no matter if it's off a pick-and-roll, we swing, make the defense work, make decisions on that end of the floor," says Steph Curry. "We still have a lot of weapons and can create good offense through that type of attack. At the end of the day, everything that we do starts with our defense. That gave us a chance to win down the stretch with how hard we played on that end of the floor. Just subtle changes that happen when you don't have those playcalls that gets K in the right spot to take advantage of his talent. We'll tap into that for however long he's out."
Head Coach Remains Optimistic after Huge Win:
"If Kevin is out, then what you saw in the fourth quarter is what you're gonna have to see going forward," says Kerr. "We're gonna have to find a way. But got it done today. I don't know if you're a soccer fan, but Liverpool, yesterday, came out with just one of the great wins in soccer history. After the match, their manager, Jurgen Klopp, said, 'The young kids in Liverpool are probably asleep by now, so I'm just gonna go ahead and say it, but our boys are f---ing giants.' That's what he said, and I know how he feels. So, I apologize to my mom, who is probably watching, but our guys are f---ing giants. That was an unbelievable victory tonight."
Moving Forward
Well it appears that the Golden State Warriors will be without Durant for the remainder of this Western Conference Semifinals series of the 2019 NBA playoffs. This is not the end of the world for the team, though.
They did win game 5 without Durant playing in the majority of the second half, and they have won a championship without him previously. They will need big contributions from Steph Curry and Klay Thompson on the offensive side of the ball for sure. The splash brothers need to start hitting their shots at a higher efficiency rate.
Hopefully if they do make it past the Houston Rockets by winning one of the next two games, they should expect Durant to return for the Western Conference Finals which will presumably be played against the Denver Nuggets. The Nuggets are winning their Western Conference Semifinal series vs. the Portland Trail Blazers 3 games to 1.
This is a tough injury for the Warriors to swallow. Durant has been killing it lately, and to most NBA fans, he has surpassed LeBron James as the best basketball player in the world. I wish Kevin a speedy recovery, and I look forward to hopefully watching him do his thing on the court once again sometime soon.
Sources:
"KD set for MRI after leaving win with calf strain", Nick Friedell, espn.com, May 9, 2019.
"Warriors' Kevin Durant expected to miss rest of Rockets series", Matt Young, chron.com, May 9, 2019.
"Kevin Durant noticeably came down in pain"
General Gambling News
Back to articles