Back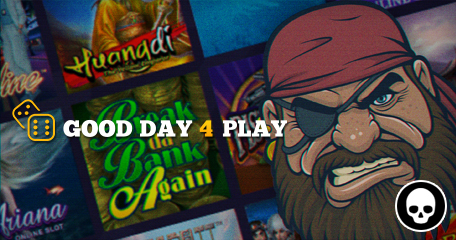 As if 2020 wasn't troubled and weird enough, LCB's investigative team of slot sleuths (try pronouncing that fast, it's silly) stumbled upon more evidence of crooked human nature in certain online casino's decision-makers who had the audacity to pass counterfeit games as genuine!
Unfortunately - or rather, luckily - our data research team's keen minds found that Good Day 4 Play Casino was dabbing into some pretty unfortunate, let alone forbidden activities and we feel obliged to let our members know lest some real harm is done upon them.
The Three Clues
The incontrovertible evidence that came forth…
…implied the slot titles by such seminal developers like Microgaming, Amatic and EGT appear indeed suspicious-looking, if inspected by the experienced eyes of fake game hunters.
To make a case for our discovery - and provide sufficient proof for our bold claims, we will walk you through our examination.
First, let us take a comparative look into Microgaming's Ariana as hosted on Good Day 4 Play Casino and hosted on another bona fide online casino that is known for good practices.

As you can see in the screenshot, there is a visible difference in the iFrame code, shown in the black square in the above screenshot. The one the right is what the proper hosting URL/piece of code looks like. The one one the left is a product of illicit behavior and game theft.
There are also subtle differences in the way game's interface looks - the Good Day 4 Play's resemble the old iterations of Microgaming titles that no longer look like that.
Exhibit B: Amatic's Bells On Fire in the accused casino vs in reliable SlotsMillion Casino.

Again, there is the obvious discrepancy in the iFrame's code, but look closely and you will notice another striking difference: the counterfeit game, on the left, has the Lines setup button which the original, on the right, lacks.
And as one final piece of evidence:

We examined EGT's Majestic Forest at the scene of the crime and compared it to Frank Club Casino's honest iteration. And what did we discover?
Gaze upon the top part of the game's screen and you will see that the fake version on the left does not show the jackpot information the original has.
The Verdict is Clear
At the end of the day, all we can say is: shame on you, Good Day 4 Play Casino! - but we somehow doubt that our reprimanding them will have the transformative and redeeming effect we would hope for.
Instead, we will do something much more pragmatic and advise you, the reader, to keep your distance from Good Day 4 Play Casino until they explain themselves and eradicate their mistakes and/or dishonest practice that placed them firmly in our infamous Rogue Reports section.
There are plenty of well-behaved online casinos around and you certainly do not need to associate yourself with a group that resort to something so heinous as passing counterfeit games as the real deal.
Now, let us know in the comments section below of any bad experiences you may have had at this casino. Or maybe in any other - have you fallen prey to predatory casinos before? We hope not, but if you did - share your cautionary tale with us. It can help LCB community avoid the bad guys out there.
"the audacity to pass counterfeit games as genuine"
Casino Warnings & Rogue Reports
Back to articles