Back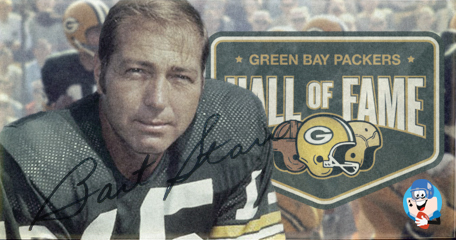 On Sunday, May 26th, 2019, the legendary hall of fame quarterback of the Green Bay Packers, Bart Starr, died in Birmingham, Alabama at the age of 85 years old. He had been battling with several serious health issues over the last 5 years or so, and sadly lost the fight. The all-star leader of the Packer's offense back in the 50's and 60's suffered two massive strokes in 2014, which marked the beginning of the subsequent decline of his rapidly failing health.
After the consecutive strokes he endured toward the end of 2014, Starr also had a heart attack as well as multiple seizures. His health seemed to improve momentarily due to some experimental stem cell treatments. Then in 2015, a bronchial infection apparently put the legendary quarterback's life in jeopardy followed by a broken hip later on that year. He made it through all of that, and his family was proud of him for fighting all of those serious health risks.
Statements from Friends and Family:
"We are saddened to note the passing of our husband, father, grandfather, and friend, Bart Starr," Starr's family explains in a statement. "He battled with courage and determination to transcend the serious stroke he suffered in September 2014, but his most recent illness was too much to overcome."
"While he may always be best known for his success as the Packers quarterback for 16 years, his true legacy will always be the respectful manner in which he treated every person he met, his humble demeanor, and his generous spirit."  
"If you work harder than somebody else, chances are you'll beat him though he has more talent than you," says Starr about what Vince Lombardi taught him. "That by working hard and using my mind, I could overcome my weakness to the point where I could be one of the best."
"We all have a capacity to focus and to concentrate to a unique degree when we're called upon to do it," explains Starr after 30 years. "That's exactly what I did that day. And I think the same was true of the Cowboys. Let's face it, they obviously were not accustomed to something like that and yet they were the team which had surged and come back in the second half and were in a position to win it."
"His love for all of humanity is well known, and his affection toward the residents of Alabama and of Wisconsin filled him with gratitude," the family's statement continued. "He had hoped to make one last trip to Green Bay to watch the Packers this fall, but he shall forever be there in spirit."
"The Packers Family was saddened today to learn of the passing of Bart Starr," says Mark Murphy (Packers President/CEO). "A champion on and off the field, Bart epitomized class and was beloved by generations of Packers fans. A clutch player who led his team to five NFL titles, Bart could still fill Lambeau Field with electricity decades later during his many visits. Our thoughts and prayers go out to Cherry and the entire Starr family."
"There's nobody who could put a team in a better position with what Vince wanted to do," says Starr's teammate, Paul Hornung. "He gave him control of the team. He gave him authority to do whatever he wanted to do. And that's pretty strong."
Career Accomplishments and Awards:
Starr was a 2-time Super Bowl Champion (I, II) as well as a 2 time Super Bowl MVP (I, II). In addition, the Green Bay quarterback was a 5-time NFL champion (1961, 1962, 1965, 1966, 1967). He was selected to the Pro Bowl 4 times throughout his career (1960, 1961, 1962, 1966). The legend of the turf was named to the NFL's First Team All Pro (1966) and the NFL's Second Team All Pro 3 times (1961, 1962, 1964). Joe Namath is another legendary quarterback to win one of the first Super Bowls (III) and was awarded the SB MVP in the same year.
As the winner of the most prestigious regular season honor of the National Football League in the NFL's MVP in 1966, he also led all quarterbacks in passing yards on 5 separate occasions (1962, 1964, 1966, 1968, 1969) as well as making the NFL's 1960s All Decade Team. Starr was no stranger to Hall of Fames either. He was enshrined into the Pro Football Hall of Fame (Canton, Ohio) in 1977, the Packers Hall of Fame in 1977, and the Wisconsin Athletic Hall of Fame in 1981. The Green Bay team has retired his #15 jersey.
Regular Season Career Passing Statistics:
The historic QB started 157 of the 196 games he played, and his regular season record was 94-57-6. The Packers hall of famer finished his career with 1808 completions on 3149 attempts resulting in aa completion percentage of 57.4%. He racked up 24,718 passing yards in a run happy time of the NFL while throwing for 152 touchdowns and ending his career with a regular season quarterback rating of 80.5.
Career Playoff Passing Statistics:
Among his many notable stats, he played in and started 10 career NFL postseason games combining for an overall playoff record of an astonishing 9-1. The Pro Bowl QB completed 130 passes on 213 attempts corresponding to a completion percentage of 61%. He threw for 1753 yards, 15 touchdowns, and 3 interceptions. Once again, the man was a 5-time NFL champion (1961, 1962, 1965, 1966, 1967) and a 2-time Super Bowl winner (I, II) in which he was the MVP of both.
Gambling Law & Society News
Back to articles