Back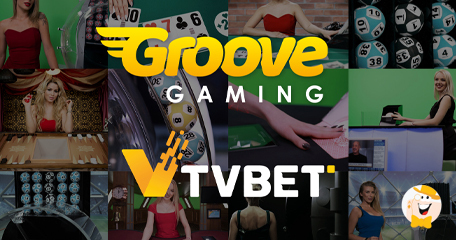 With a multitude of partnerships sealed recently, this has been quite a busy period for widely acknowledged gaming specialist GrooveGaming (GG). The newest brand to enter their business family is a provider of fast live games, TVBET.
This mutually beneficial agreement will enlarge the Groove's lengthy list of associates and will bring supplier more visibility across numerous markets. Equipped with over 2500 casino games as well as an assortment of acquired content ranging from slots, online and live casino, to poker and table games, the operator is building its solid reputation of the aggregator of choice.
An Excellent Match
TVBET's assortment of fast live-games includes popular and well-known TV, lottery and card games, but all with a modern twist and in a live format.
Gradually building a unique catalog…
…comprised of KENO, Poker- Bet, Backgammon, 21Bet, Wheel of Fortune, and JokerBet, the developer quickly became very popular in a short amount of time.
Besides games, the palette of their products includes action-packed features such as 3-level jackpots, repayment, and bonuses.
Peter Korpusenko, CEO of TVBET commented on the cooperation as follow:
"TVBET games are available through more than 100 partners across Europe, Africa, Asia, and Latin America, and we are delighted to reach terms with the world's fastest-growing aggregator in GrooveGaming. While TVBET is a trendsetter for live-games, GrooveGaming has impressive strength-in-depth across multiple categories, so we feel we are a very good match together."
More Speed, Please
TVBET has captured a significant market share in the niche of fast live games for bookmakers and casino operators, on behalf of which has received accolades, such as the BEGE Expo, AGE, LoginCasino Awards. In addition to this, it was shortlisted in several categories at the SBC Awards and Global Gaming Awards.
So, what's the main catch with fast live games?
This all-in-one product is designed in the form of fast live games with presenters as hosts for all events. A single game lasts around three minutes, during which people can place their bets live or in advance on up to ten future events.
At the time being, the developer is broadcasting 11 live dealer games in ultra-high-definition, twenty-four hours a day.
Keep on Grooving
Powered by technology innovation, GG provides operators with the ability to activate a range of options that enhance customer experience and engagement, improve retention, encourage extended play and produce a higher yield.
Yahale Meltzer, COO at GrooveGaming shared his thoughts on the deal:
"Innovation and game-changing technology are staples in the business mix at GrooveGaming, helping us to secure a string of successes in recent months. This partnership with TVBET, whose phenomenal growth in live-games mirrors our own, is an exciting step as we continue our growth strategy."
With a massive gaming platform …
… and a range of high-quality products, the company holds the proud title of the aggregator of choice for a host of big industry names including EveryMatrix, iGP, Digitain, ALEA, and Quickfire, amongst others.
Soure:
"TVBET bets on GrooveGaming to stimulate additional rapid growth", GrooveGaming newsletter
"a provider of fast live games, TVBET"
General Gambling News
Back to articles