Back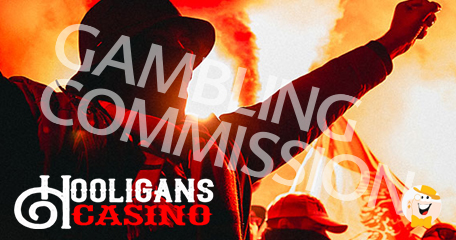 The first quarter of 2018 saw many new casinos open up, among them was yet another ProgressPlay gaming site with an interesting name - HooligansCasino. The iGaming industry certainly has its fair share of weird and funny names, and this particular venue wouldn't be much of an eyebrow-raising blunder if there wasn't for a few facts. Why would any casino operating in the UK market and licensed by the UK Gambling Control Commission call themselves Hooligans? Even more puzzling is how in the world did the UKGC let this slide?! It is a dubious decision, and one cannot help but wonder about the reasoning behind it all.
The UKGC is a world-renowned regulator in charge of every gaming company, foreign or domestic, offering services within the territory of the country. Ever since 2015, the regulatory body has been tightening the licensing requirements, as well as the responsibilities and obligations of its licensees. It is currently actively working on curbing problematic activities such as misleading advertising, underage gambling, sexism in the industry, and many others. Prior to this strange new site emerging, the UKGC, in cooperation with The Advertising Standards Authority (ASA), was also very strict when it comes to casino names, what they might be insinuating or encouraging, and what kind of message they might be sending out to consumers.
Just recently, a Broadway Gaming brand, Rehab Bingo, had to select another name for the site, as the ASA ruled against it. After launching an investigation into the site and their advertising material, the ASA, in accordance with the non-broadcast CAP (Committee of Advertising Practice) code, decided the term ''rehab'' should not be used in the context of gambling, and most certainly not as part of the marketing communications content. They based their decision on the grounds that "Rehab Bingo'' may have a socially irresponsible connotation, suggesting that gambling may provide a rehabilitating experience or escape from personal problems, therefore potentially causing financial, social, or emotional harm. Despite the brand having a strong counter-argument - their parent company a charitable organization called the Rehab group - it was not enough to convince the UKGC and the ASA, and the site ultimately re-branded to Rosy Bingo.
Hooligans Casino is one of MANY ParogressPlay Limited white label venues, advertising via slogans such as 'Best Hooligan Casino out there!', and 'Stop looking for an online casino, you just found the No.1 Hooligans pit stop online casino!'. To top it off, their homepage sports a frontline image of what are obviously football hooligans and fans, with hoodies and concealed faces, roaring in the midst of a fire-consumed chaos. This can easily be understood as condoning criminal behavior, which is against the UKGC marketing guidelines. Other than this, their games seem genuine, and their license is definitely UKGC/MGA.
Though there isn't necessarily a correlation between gambling and hooliganism, the nature of this name should be considered in a broader context of social responsibility: it entails or may be suggestive of, a crime of violence, whether football related or not. The UK Commission and the Advertising Authority prohibit any connection, real or even implied, between gambling and criminal activities. So how was such a name approved in the first place? Since adding to an existing UKGC license does not require manual application or approval process, and can be done by the licensee themselves online, it might be just a matter of time before they're required to change the name into something more appropriate.
Having in mind the immense trouble the country has gone through to stop football violence and hooliganism that has been raging across the United Kingdom since the 80's, it is nevertheless unusual to see a casino of the same name slip through the cracks. You'd think they ought to be more sensitive about the subject, their social awareness and responsibility on a much higher level. However, this is not the case and now we have a site that apparently doesn't mind, or see nothing wrong being associated with an absurd phenomenon of senseless violence where a bunch of topless vandals, driven by mob mentality and low IQ, instigate and engage in mass brawls and beatings, without any real reason or purpose. It would not be, however, too outlandish to think that this venue chose to let the power of controversy do their bidding. What faster or more certain way to grab the public attention and distinguish themselves among thousands of others, than to use something provocative, highly controversial, scandalous? And what is more thought-provoking than hooliganism in the UK? Any publicity is good publicity!
"yet another ProgressPlay gaming site with an interesting name - HooligansCasino"
Gambling Law & Society News
Back to articles