Back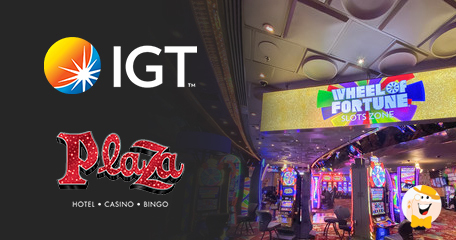 Top-rated gaming development company from the United States, International Game Technology PLC, has just announced the release of the Wheel of Fortune® Slots Zone. The delivery will be part of the cooperation with the Plaza Hotel & Casino, and the zone will be in the same casino in Las Vegas downtown. As part of the zone, players will have access to the selection of Wheel of Fortune slots.
The Wheel of Fortune Slots Zone is already known for stretching over 2,900 square feet while being located in the center of the gaming floor. Players who visit the space can select from 40 IGT Wheel of Fortune slots involving new and classic editions in both mechanical and video format. It is also a more than recommended zone for customers looking to enjoy some of the best slots of all time.
Additionally, the Wheel of Fortune® Slots Zone enables players to hit the multi-color wheel and benefit from "Come on Big Money!" feature.
As a reminder, slots from the Wheel of Fortune series are among the most popular from IGT provider. The brand has already revealed more than 250 versions for users around the globe.
Impressions from the Operators
Plaza Hotel & Casino Director of Slot Operations, Casey P. Adras noted:
"When Plaza Casino guests enter our new Wheel of Fortune Slots Zone, it is immediately apparent that they're in Las Vegas' epicenter of Wheel of Fortune slots fun. We've collaborated with IGT to create a compelling space that delivers an exceptional guest experience, features the most in-demand Wheel of Fortune games, and embodies the jackpot-paying legacy of the iconic slots brand."
Commenting on the exclusive jackpot prize, IGT Chief Operating Officer Nick Khin said:
"In creating Las Vegas' exclusive Wheel of Fortune Slots Zone, the Plaza Casino harnessed the excitement, appeal, and familiarity of IGT's Wheel of Fortune slots brand to create a venue that players will quickly associate with world-class casino entertainment and life-changing jackpots. We look forward to ongoing collaboration with our customers at Plaza Casino to ensure that they maximize the performance of this new space through IGT's latest Wheel of Fortune slots games and casino technologies."
Suzanne Prete from Sony Pictures Television SVP Global Licensing & Brand Management mentioned:
"The Wheel of Fortune Slots Zone at the Plaza Casino in Downtown Las Vegas captures the excitement of the most acclaimed slot theme of all time on an unprecedented scale. For decades IGT's Wheel of Fortune Slots has set the gaming industry standard for life-changing jackpots, and there is no better place for this type of winning mecca than Las Vegas, the world's most iconic gaming destination."
Source:
"IGT and the Plaza Hotel & Casino Celebrate Life-Changing Jackpots with Las Vegas' Exclusive Wheel of Fortune® Slots Zone", igt.com, January 7, 2021.
"the release of the Wheel of Fortune® Slots Zone"
Land Based Casino News
Back to articles