Back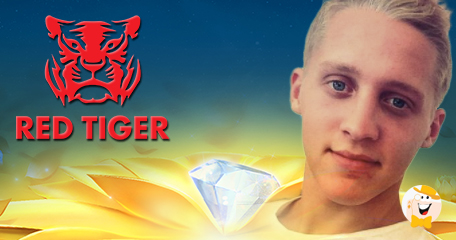 It's not often that a newcomer enters the market bringing their A-game from the start, but not all of them are Red Tiger Gaming. This company has certainly brought it when it comes to high-quality graphics and slot features. Of course, we were intrigued, so we reached out to their Account Director, Carl Ejlertsson for some extra insight.
1. As a newer company on the scene, the quality of your portfolio rivals that of some veteran developers. What sort of industry background do you and your team have?
Our founder has been in the industry for over a decade and has a very deep understanding of player psychology. The guy is a slots genius! The senior management team around him also have a lot of industry experience and have all been making slots and casino marketing software since long before Red Tiger was founded. This meant that Red Tiger really hit the ground running and was profitable right from its first year of business. I first met the team when I worked at Betsson Group in product development. I was so impressed with the company that I asked for a job and was fortunate to get one in the Malta office.
2. Your passion for slots is evident. The proof is in the pudding, as they say. In your opinion, what makes a great slot?
To make a great slot, every single point in the customer experience has to be accounted for and each of many decision must work well with each other. Maths, timing, sounds, animations, graphics and all other factors need to synergize to form a cohesive experience for the players, which is not easily achieved. I would say that my own preferences lean towards creating simple games with just one feature that can be amplified by different events in the game, Arcade Bomb, which we released in December 2016 is a great example. The game has phenomenal KPIs and keeps me coming back.
3. The company is partnered with several top-notch operators. Which was the first to launch your games for real money and how did it feel to score such a deal?
Our first client was Betfair, where we have our own exclusive 'Macau' branded tab that hosts our Asian games as well as a lot of prime real estate on the site for our unique jackpot product and European games. We work very closely with the team at Paddy Power Betfair and are really proud of some of the innovations we've developed for them.
4. The fabulous slot features and unique random bonuses like Lucky Reels add something extra to the spinning session. Are any of them patented?
No. We are philosophically opposed to patents in gaming. We aren't saving lives here, this isn't the medical industry. It's just entertainment. We are proud when people copy our ideas and we compete by always having five new things out before anyone can catch up with the last one.
5. We've played many of your slots and can't decide which of them we like best. From the punching bag awarding free spins in Wild Fight to the Swap Reels in Puss'N Boots, they take fun and gameplay to the next level. What is the creative and development process like and do you have a favorite title?
The development process we have allows for iterations and re-works to make sure we get each game just right. We also try to come up with interesting new features and innovative ways of graphically representing features that have been seen before.
Before a game goes into development, the idea goes through a concept stage where we graphically represent the intended functionality to make sure we capture the experience we were looking for, if a game idea passes the concept stage, we make the game.
My current favorite title is Arcade Bomb, this game is extremely engaging at all times and players are constantly looking to make the bombs chain react for massive clusters of symbols. Very simple, but very smart!
6. Table games seem to be a new focus with the launch of baccarat plus blackjack and roulette coming soon. What prompted you to move into this area and how does it differ from the development of slot games?
We are delivering regular versions of these classic games with the best graphics in the industry and hope that players will enjoy them. We also have plans for some really special cross-sell features within subsequent releases of the games that will refer players back to our slots. Some branded table games are also in the works with something really special, but I can't discuss that yet.
7. What plans do you have in store for 2017?
This is already a big year for us. We are launching new sites all the time having signed up forty something of the top fifty online casinos in Europe. As we only do direct integrations with our partners it takes time to get them all live, but the contracts are in place so they are rolling out one by one.
From the product perspective we will keep making better and better games, but have also invested a lot of time and money into our marketing tools. We are confident that they beat anything else in the industry and we are super excited to get them live in the coming weeks.
We will release around 30 games this year. The games team is well over 100 people now, so it is a very strong machine.
"We will release around 30 games this year."
Back to articles