Back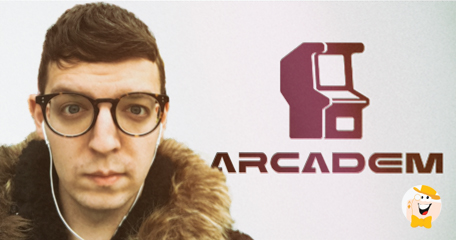 There's a buzz surrounding the upcoming launch of the 'Evil Elf: The Night Before Christmas' slot game. The game is set for release in November or December 2020. Arcadem is a slots developer that keeps the player in mind when building its portfolio. Recognized for its series' such as 'The Neon Samurai', there are many more titles in the pipeline and we've got the details in this exclusive interview with Phillip Douglas, Director of Gaming and Co-Founder. Watch out for 'Tap House' and 'Starfang' coming in 2021!
Q: Let's begin with an introduction to Arcadem.
A: Arcadem was founded by myself and co-founder Christian, to make quality and content driven by player experience, into the market. However, we also wanted to bring an element of the story to our games, which you will see in future sequels already lined up for several games and themes, such as 'The Neon Samurai' series. Furthermore, we are focused on player experience as mentioned. All our games are created in multiple languages and currencies to allow players to enjoy and experience our games in their native language where possible. Moreover, how we designed our GUI was to be responsible gambling focused, as we want players to be safe while they play our content.
Q: Please expand upon your "futuristic" approach to game development?
A: The approach we take with all of our games is to provide the user with the best possible experience. We always put a huge amount of effort into the artwork, sound and themes for our games to give the players a sense they are immersed in it. I feel it gives the players a feeling of nostalgia, but with a fresh and sometimes futuristic twist.
Q: How was the launch of your flagship 'The Neon Samurai: Kawa' slot received by the market and what sort of feedback have you received?
A: The Kawa launch went well, we ran an exclusive 1 month pre-release for the Greek Operator 'OPAP' and it then went on general release in September. Players loved the artwork, soundtrack and story within the game and we had a few asking if there's a follow-up. Some of the comments we got were related to the fact that they could simply see Kawa overlooking the Citadel itself, which tied into the story nicely. I'm also glad to confirm both Kawa and Paradox will return in the future in 'The Neon Samurai: Paradox's Great Heist and two other great follow-ups are also planned to fully explore both our two main characters and the additional friends and foes that join.
Q: Evil Elf: The Night Before Christmas puts a sinister spin on the merry season. When is the slot live and what can we expect?
A: What a great question, you can fully expect our Evil Elf, Frostberries, to be trying to ruin operation Christmas, by smashing open gifts or even destroying our battle-hardened Santa's sleigh. However, you will also see her brother Captain Blueberries leading the Elf security forces to chase her sister down and send her to Elfatraz. 'Evil Elf: The Night Before Christmas' arrives exclusively for one operator end of November and for general release in early December
Q: Tell us about your partnership with Oryx and what the deal means for the company.
A: Oryx is a leading platform within the industry, with their knowledge and reach, we can take our games to even more players and share what we believe is great content. I and everyone within Arcadem are excited to be working with everyone at Oryx for these reasons.
Q: We'd like to hear about what's in the pipeline. Can you give us any hints?
A: I may be able to go one step further than hints, I can tell you a little about two of our upcoming games after Evil Elf and even show you some great game posters. First, in January, we have 'Tap House', which is a game set in a 1700s Tavern, where you can find patron's enjoying a drink to a party atmosphere, however when you enter the bonus the game takes an as sinister turn, where highwaymen and shady characters will appear. Then in March, we have 'Starfang', all I will say for this is that you can expect a battle of the ages between the Knight Aedan and a Dragon called Morrigan
Q: What is your opinion on the iGaming market, where it's heading and your role?
A: I believe the industry is heading in a direction that the video games and movie industries are already in, which is creating story-driven content, with quality being at the forefront and still maintaining fun game mechanics for players to enjoy.
"We also wanted to bring an element of the story to our games. "
Back to articles