Back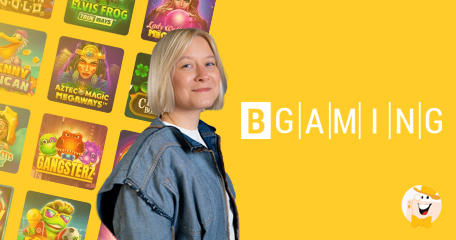 BGaming forges ahead with the launch of new online slots and the final game in its dice series for the year, Wild Cash Dice. In addition to game development, the provider entered into exciting partnerships including Spanish artist Jay Kaes. We discuss what's been going on as well as future plans in this exclusive interview with BGaming CEO, Marina Ostrovtsova. Look out for new video slots, Monster Hunt coming in October 2023 and Aztec Clusters coming in December 2023!
Q: In our 2019 interview we discussed the rebranding and entering the Swedish market. What has changed since then?
Compared to 2019, BGaming has experienced significant growth and consolidation within the iGaming industry. We executed a successful rebranding initiative, refining our brand's visual identity, fine-tuning our unique value points, and conducting a comprehensive review of our market strategies and expansion targets. Our brand recognition has notably increased, BGaming's portfolio has expanded to 100+ high-quality games, and our team has seen substantial growth of 45% since January 2023.
Noteworthy milestones in our journey include the commencement of a large-scale marketing campaign focused on the Latin American region. With that in mind, BGaming technical system of gaming software and its games have been officially approved by the Spanish gambling regulator, Dirección General de Ordenación del Juego (DGOJ). This new certification enables BGaming to launch its certified games with any Spanish operator and paves the way to the further expansion at the Spanish-speaking regions.
Q: The company launched Maneki 88 Fortunes on September 7, 2023. Tell us about the new online slot and its features.
This BGaming slot is empowered by oriental charm with the main hero Maneki Neko – the famous Japanese talisman for luck, gifting players with an impressive multiplier up to x3,000. Its 5x3 layout reveals a treasure trove of high-paying Golden symbols unlocking Jackpot opportunities, along with the tempting allure of special Wild Coins that promise untold riches.
With more than 1 Golden symbol selected, Maneki Neko's hat appears and collects every Wild Coin dropped. Fortunate 8 Wild Coins collected in the main game guarantee the Jackpot round, while just one Wild Coin during Free Spins is enough to try luck and bring players to one of the 4 types of Jackpot glory.
Q: It's been a busy September as we saw the release of the final dice game in the series, Wild Cash Dice. As this is the last dice-themed game for 2023, can we expect you to expand the series in 2024 or have we seen the last of the dice games from BGaming?
Players have been showing an increasing interest in dice-themed gaming slots in recent months, and when Dice Bonanza, our first dice-themed release this year, succeeded during its exclusive run with Stake.com, we knew it would be a hit.
After our initial success, our latest games, Dice Million and Wild Cash Dice, confirm the series' popularity with our players. With familiar Expanding Wilds, Stacked symbols, two Scatters, and a Gamble round, Dice Million highlights the Skin Change feature, which allows players to try their luck with red, white, or black reskins without reloading the game. The Wild Cash Dice's allure lies in its exciting Bonus game, which introduces an extra reel with a random multiplier of up to x999. The thrill of hitting a big multiplier fuels the desire to play more and chase those emotions of the maximum possible win of x9,990.
Regarding the future, we do have intentions to expand the dice game series. However, it's important to note that we are currently developing a range of significant releases, so specifying a precise release date for additional dice games in 2024 is challenging right now.
Q: With new games coming out every month, what can players expect for October?
We're committed to a steady stream of game releases. In September, we introduced 4 exciting games: Wild Cash Dice, Maneki 88 Fortunes, Bone Bonanza, and Mice & Magic Wonder Spin.
While unveiling features of the first two slots above, Bone Bonanza boasts a Day of the Dead theme, cascading reels with Mexican symbols, free spins, and a thrilling Bonus game with a max x100 multiplier, triggering big wins up to x14,134. The online slot Mice & Magic Wonder Spin unfolds sheer magic of Special symbols turned into Sticky Wilds and offers wins up to x2,820, highlighting the Bonus Buy feature with extra Wilds for an enchanting stay.
Moving to October, players can look forward to one of our upcoming releases horror-themed Monster Hunt, offering free spins with high and middle symbols, the Coin Respin feature, and generous Jackpots.
Additionally, we're pleased to share that we have an exciting collaboration in the work. New game Aztec Clusters, created in partnership with the Casinolytics analytical platform and streamers, is set to be released by the end of this year. Stay tuned for more updates, we cannot help but contain our excitement to reveal more details.
Q: In terms of the Provably Fair system, has there been technological advancements in this area over the years?
BGaming was the first major iGaming provider to introduce the Provably Fair feature. Among the top 3 BGaming games in terms of GGR volume in 2019-2020, 2 games have this technology support. Interest in BGaming games from crypto projects was growing every year by at least 15%, which creates a separate niche for our business growth.
However, as our focus has shifted towards slots in recent years, partner interest in the Provably Fair feature has decreased. While we continue to work in this direction and receive occasional requests, we currently don't have plans for significant technological advancements in this area.
Q: We understand that BGaming creates customized games for casino operators. Tell us more about your bespoke services and the Blaze Case Study.
We've established our prowess in crafting personalized gaming experiences with over 100 branded games developed in collaboration with industry leaders like Stake, Rollbit, PlayAmo, Blaze Casino, and more.
Our strategy goes beyond tailored games; it involves strategic integration into promotional activities. Our enduring partnership with Blaze Casino is a prime example, showcasing our success.
We crafted 5 custom-branded titles, realizing exceptional growth from 30% to a remarkable 80% in critical KPIs like GGR, player retention, bets count, and average bet. Our top-performing game achieved a fourfold increase in GGR, highlighting the potential of custom content. In contrast, the exclusive 5th game didn't perform as impressively. You can learn more about the Case Study here.
Our partnership with Blaze Casino has been an exciting journey filled with innovation and effective problem-solving. Our commitment to delivering distinctive, customized gaming solutions continues to propel our clients' business growth and success. We look forward to sharing more success stories from our portfolio of collaborations with other globally acclaimed partners in the future.
Q: Finally, some of your game characters received an artistic touch from Spanish artist Jay Kaes. Please share the details of this collaboration.
As part of our project "When Art Meets Gaming", BGaming collaborates with artists to add a creative twist to our slot characters, enriching the exhibition experience. For the recent SBC Summit in Barcelona in September, we teamed up with a Spanish muralist Jay Kaes. Jay seamlessly blended his tech-inspired artistic style with our iconic characters from titles like Book of Cats, Penny Pelican, Elvis Frog, and Aztec Magic. His exceptional artwork breathed new life into our beloved heroes, infusing them with modern flair and fresh perspectives on the iGaming world. This collaboration perfectly aligns with BGaming's vision of fusing art and gaming.
Moreover, we're thrilled to announce that we're currently working on a collaboration with a new artist from Malta, specifically for the SiGMA Europe exhibition in November. Our plans go beyond the standard collaboration as we aim to create a mural together. Stay tuned for more updates; we have many exciting things in the pipeline.
Back to articles