Back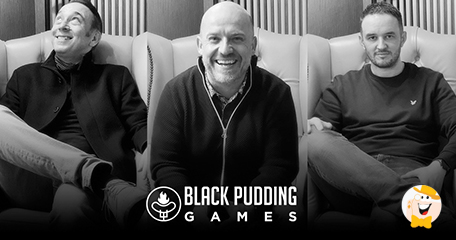 For players in search of something a bit different, this provider fits the bill. On the scene since 2018, the founders recognized a real need for innovation in the online gambling industry. A partnership with 1x2 Network launched the provider toward success. Breaking away from the traditional features often found in slots, they aim to present a fresh take. In this interview, Nathan Howes, co-founder at Black Pudding Games, hinted at current projects. Overall, we've learned to expect the unexpected and the proof is in the Black Pudding!
Q: As a fairly young provider, give us an overview of the Black Pudding Games and the products.
A: As our website describes us, we're a trio of like-minded mavericks with a combined experience of over 30 years in the casino gaming and entertainment industry. We founded Black Pudding Games in 2018 with a strategy of not only thinking differently but also doing differently. We prefer to avoid describing our motivation with the increasingly hoary tropes of being 'disruptive' and driven by a 'passion for gaming'. We're just curious. In both senses of the word. Our fascination with what might become breakout hits means we're particularly preoccupied with discovering playful new ideas for the casino curious. Online casino gaming has created a fabulous but, we would argue, largely unexplored potential for genuine innovation in real money gaming. With that in mind, we're bang up for the challenge of bringing something demonstrably new to the party but without losing the crowd.
Q: When founding the company in 2018, what gaps in the market did you aim to address in terms of game development?
A: As mentioned above, we perceive there to be a shortage of real innovation in the industry. So many 'new releases' are simply makeovers – albeit very beautifully produced makeovers – of well-worn base games bolted together with pretty stock bonus features creating a routine sense of déjà vu when you give them a go. We're hoping to engage players and operators with games that can genuinely offer something fresh in their format and, wherever possible, add elements of interaction and /or meaningful choice for the player during the game. Too often casino players get to just watch events unfold as a spectator once the initial wager is confirmed. Our games also unashamedly prioritize one-handed play in mobile portrait mode, since it can't be ignored that this is increasingly the way the majority of players would like to indulge in their favorite online games.
Q: Talk to us about the originality of Orbital Reactor™ Slot and Super Selector™ Scratchcards.
A: We'd always champion the principle of 'show don't tell' when it comes to demonstrating what makes us unique, so we'd urge your readers to try the free play demos available here on LCB or at our own website Blackpudding games and judge their originality for themselves! Whilst we think we've been true to our intent of 'doing different', the proof of the Pudding is in the playing, so to speak. Happily, LCB's own reviewer, Jeca_M, said of Aeterna "If you love a fresh take on game mechanics, you need to try Aeterna out", so we think we might win over a few fans with our idiosyncratic ideas.
Q: Can you share any details or give us a sneak peek at any upcoming releases?
A: Our quest for original inventions means we've got an intellectual property in games awaiting rollout from our skunkworks that we'd love to tell you about, but which we'd be mad to reveal in advance of a confirmed production and release schedule. That said, we can tease that we've got formats worked up to target slots, Instant Wins and table game categories, all 'doing different' in true Black Pudding style. What isn't a secret, is that we've got our trio of Super Selector™ Scratchcards entering the final certification phase before release into regulated markets in the near future. Furthermore, if your readers have taken Aeterna for a spin and love its Orbital Reactor™ gameplay, there's a gorgeous follow-up to that being coded up and digitally fettled as we speak.
Q: You've teamed up with 1x2 Network. What did this deal mean to the company and are there additional partnerships in the works?
A: Getting our distribution deal with 1x2Network was a significant milestone for the company, giving us a stellar route to market and seriously boosting our credibility in the industry. Having viable ideas was one thing, but without the clout of a robust and respected platform like 1x2's, Black Pudding could have just quickly become another also-ran in this fiendishly competitive industry. The reach of 1x2Network has given us strategic access to a staggering roster of first-class operators and international markets, so at present, we feel additional distribution partnerships will only need to be sought if there are big-name operators chomping at the bit for our games, but who stipulate integration through another platform. Beyond distribution partnerships, we're naturally interested to hear from any operators who like the cut of our jib and are interested in tapping into Black Pudding's creative wellspring to commission exclusive content from us. Especially if they come bearing a suitcase of cash and a crate of the finest wines known to humanity to woo us into a flirty but meaningful relationship with them.
Q: What's next for you guys and where are your sights set for the next year?
A: Our plan is to stay curious and keep pushing to invent new formats and features that we think could cut through with players and operators crying out for original content. Setting an industry trend in motion, or releasing an evergreen game would be lovely, but expecting to achieve world domination in the next year is clearly grandiose nonsense that would make us look complete berks come 2022. (We are, of course, open to being feted with industry awards for innovation if we're thought worthy. We scrub up well and have impeccable table manners.) Measured, pragmatic growth seems the right course to steer for us. We're really looking forward to releasing some seriously entertaining new games next year and winning over new fans to the Black Pudding cause. Quality over quantity is where we think our future success lies, and that's precisely why we explicitly state on our website that we're 'not just another bloody sausage factory.'
Q: Please take this opportunity to let LCB'ers know why Black Pudding Games are the ones to watch.
A: Because we're not normal. Expect the unexpected.
"We're bang up for the challenge of bringing something demonstrably new to the party."
Back to articles