Back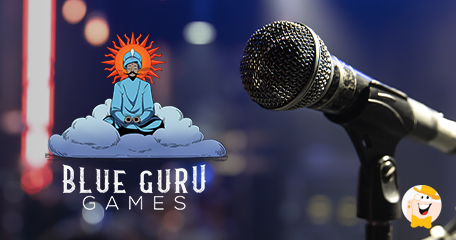 Who are Blue Guru Games? We caught up with the team to learn more about the online slot studio and its games. August 2022 saw the release of 'Treasure of Tengshe' and as September approaches, the industry anticipates the launch of 'Clash of the Seraphim'. The young company, founded in 2021, creates games in partnership with two big names in the game, Bragg and Relax Gaming. In fact, the 'Spring-Heeled Jack' slot, in partnership with Relax, will hit the market this October. Stick around to learn more including what they'd like our readers to know.
Q: Please start with an overview of Blue Guru Games and how the team's passion for "mythology, history, folk tales, spirituality and all things esoteric" contributes to game development.
A: It's fundamental to us. From the impetus to found the business, the branding and the direction of our games - it's all driven from a desire to tell stories that people will find interesting and turn them into games. That doesn't happen instantly of course, and we will have some games that aren't so explicitly story or narrative-led but in time it will be the cornerstone of every release. We have fun in the office discussing mythology, spirituality and the like and we are genuinely passionate about those areas so we hope the players will sense that in our releases.
Q: With offices in various location around the globe, how many employees work for the company and which jurisdictions are the games available in?
A: We have around 40 employees now spread across the globe, it's fantastic to have so many different cultures contributing to the games, especially given the nature of the themes. It's less fantastic catering for 4 time zones though.
Q: How did the partnership with Bragg's ORYX Gaming come about? What was it like creating the first slot game, The Nemean Lion, for them?
A: We have great connections with Bragg that go back a long way (as we do with our other partner Relax Gaming) so they were natural choices for us. Fortunately, they liked the ideas we had and so we're extremely pleased to have them both with us.
Nemean Lion was our first Bragg release, and it went very well. With hindsight we'd have taken a little longer and made some more tweaks to the game but as a debut we think we did well, it looks great and got a lot of play in Greece which made us very happy.
Q: A new Bragg powered slot, Treasure of Tengshe went live August 2, 2022. Tell us more about this game and its features.
A: Treasure of Tengshe is a game driven by a mechanic that the games team wanted to try. The game features a dragon which progressively increases in size by consuming fireworks. The dragon is wild so landing a dragon in the right spot with a few firecrackers in its belly can make it really exciting.
Applying a theme to the mechanic was easy and was our first dive into Chinese mythology, it won't be our last, although future titles will be more specific to an actual mythological creature or event.
Q: Clash of the Seraphim is set for release on September 22, 2022. Players will have a choice between Dark and Light volatility. Please share the details about this new slot.
A: It's a grid slot with some nice twists. You get to choose your volatility in the bonus round by selecting to play as the light side (the Angels) or as the Fallen.
We love the soundtrack, and the game really holds your attention as you chase the bonus round. It's one of those games that you get to think a few steps ahead about - you know the type, 'oh if I get a gem here that will drop, and I could land the bonus with a green gem here'... we think it'll be well received.
Q: Are there any exciting plans for the rest of 2022?
A: We're particularly excited about Spring-Heeled Jack which is released in October with Relax. It's a fabulous scary folktale from Victorian England and it's a narrative driven game that works perfectly with the chosen mechanic. We have a few interesting stories to tell this year so we're really looking forward to getting them in front of players.
Q: What would you like LCB'ers to know about Blue Guru Games and its products?
A: We've done our job if players like to play the games of course. The icing on the cake for us is genuinely when we find that players have gone on to explore more deeply into a topic that we cover in a game. We're getting closer to the point that every Blue Guru game will be an invitation to dig deeper and that's what really drives us.
"learn more about the online slot studio and its games"
Casino Software
Back to articles