Back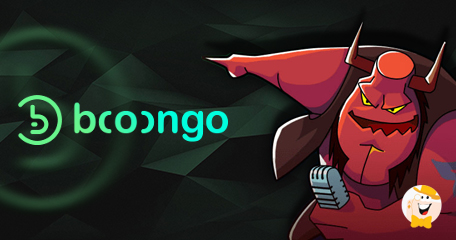 Have you stumbled upon Booongo games in your online casino travels? Perhaps you've gone on the hunt for more information, but you've turned up minimal results? The fact is, they're a fairly new slot game development studio with content available via operators such as Casino-X. You know us, we can't bear to leave any stone unturned, so we chased down the Booongo team sizing up everything from what makes them tick to their thoughts on Bitcoin, what's on the agenda for the future and a lot more. One thing is apparent, this is one passionate crew. Thank you from your friends at LCB and without further ado, the interview.
Q: Let's start with an intro to Booongo and the products.
A: Booongo is a progressive game studio creating fantastic cross-platform HD video slots for free-to-play and online gambling market. We are a team of passionate slot enthusiasts, who keep challenging boundaries through exciting game features & innovative gameplay, stable operation & rich gaming atmosphere – what inevitably delights our customers and supports their business. With offices in Ukraine and Taiwan, being Curacao licensed and RNG certified, we strive to craft superior 2D and 3D HTML5 slots with stunning art and cutting-edge gameplay - designed to attract, delight and retain players' excitement. Of course, we comply with all legal and licensing requirements, as well as adhering to reliable math's configurations. We care about and respect our players, while satisfying even the pickiest Operators with our incredible games. Our Team is not only about game crafters - we are players passionate about video slots!
Q: How do slot games that inspire your team?
A: We are inspired both by the products of our colleagues in the iGaming industry, as well as by already proven land-based slot machines. Of course, with a great interest we look after Quickspin, Netent, Yggdrasil, Thunderkick, etc., but still - we are moving along our own way.
Q: Are there any specific game features that are unique to Booongo?
A: Our mission is in discovering new & interesting game mechanics. Each game contains its own unique features that help to reveal the theme and the atmosphere of each game to the greatest extent. Maybe following may work as a good example: Spectator Mode for LIVE one-on-one tournaments (Casino-x example), InGame Achievements (Hell`s Band, God`sTemple), AnySymbol Wilds and Scatters (Hell`s Band), Unique reelboards and mechanics (Thunder Zeus, God`s Temple), Unique Bonus Games (Fruity Frost, Secret of Nefertiti, Hell`s Band, Diego Fortune)
Q: What research is involved in the development of new game concepts?
A: We refer to GameDev experience in different genres, not only within slots industry. Just a view from different angles makes it possible for us not to think stereotypically. Yes, compared to AAA class games, slots look much simpler, but who said they can't be just as exciting? Relevance & current interest to the theme is also important. We always refer to the primary sources of a theme or phenomenon in culture. This helps us understand why a particular topic has won people's interest. Therefore, the main goal in our successful development is searching for ways & tools capable of transferring the gameplay experience and atmosphere to the player.
Q: Since your games are created for various markets, describe the preferences of Asian versus Western players, if any.
A: When we come up with new mechanics in slots, we want them to be interesting to all players regardless of their nativity to any region. However, as for the cultural characteristics or subjects close to the audience – we try to show and match the things that are close to native users and even more - trying to make them understandable and so interesting to players from other regions, that it could possibly convince them to plunge into another culture or atmosphere.
Q: The games are compatible with any global currency, but does this include virtual currencies like Bitcoin? What are your thoughts on Bitcoin and online gambling?
A: Of course, we kept in mind the importance of supporting cryptocurrencies, while announcing compatibility with any global ones. Yes, our games are compatible with virtual currencies also, and not only with Bitcoins - in case our clients would require a different one. All of us could see the great potential of bitcoin in iGaming business a couple of years back, and still, it remains among the buzzwords in the current industry. We tend to think that Bitcoin in online gambling faces a huge growing and, of course, we're eager to be on board, providing our content to Bitcoin-supported operators.
Q: We've seen several upcoming game releases planned for this year. Is there one in particular that you're most anticipating?
A: It is difficult to highlight a single one. We approach each project with love and passion! From the nearest releases, we have Diego Fortune. This game will plunge you into a breathtaking adventure along with our hero conquistador, Don Diego Gonzales, and his crew exploring deep jungles in search of the ancient Mayan ruins and forgotten treasures. We invested a lot of energy not only into mysterious atmosphere of the ancient civilization but also devoted a lot of time to the humorous component, that will amuse a lot of players. Therefore, we are completely sure that amusing Don Diego Gonzales will not leave anyone indifferent in search of the hidden Mayan riches!
Q: Will we ever see you venture outside of the realm of slots and into the development of other types of games? If not, what's the next level for the company?
A: Thanks in advance, we are glad about such interest in our studio:) Well, our offer is limited to video slots at the moment and we think we can say that it's what we're good at so we will stick to it for a while and focus on releasing new titles regularly. Although there were thoughts about table games, this idea is at a very early stage.
"Our Team is not only about game crafters - we are players passionate about video slots!"
Back to articles