Back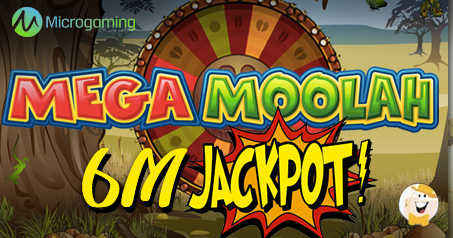 Anytime the topic of online progressive jackpots come to mind, we can't help but focus on game developers like Guinness World Records holder, Microgaming. If you haven't already heard the news, the sought after Mega Moolah jackpot struck once again on January 16th. This time, the €6,078,249.33 win occurred at Captain Cooks Casino and their VIP manager, Emma Hall, dished all the dirt for us to share with you!

1. It must be exciting to be part of a player's life changing jackpot experience. We read that the player was brand new to your casino and won after claiming your sign-up bonus. Please tell us about that.

We absolutely love it when our players win and it is even more exciting when they win BIG! N.C. joined Captain Cooks Casino and used our fantastic signup offer of 100 chances for just $5. He took his chances, placed a 50 cent bet and is now a multi-millionaire - it's like something right out of a fairytale!
2. On your end, how are you alerted when a major progressive is won and what happens next? I can't help but imagine a rotating red light, a fire alarm type sound and total hysteria. Obviously, it's nothing like that – or is it?

Well, I can assure you that whenever a player wins a major progressive jackpot, things do get a little crazy at Casino Rewards! There might not be any red flashing lights, but jackpot mania certainly sets in! When one of our players hits the jackpot on a major progressive game, I am personally alerted about their win and will try it get in contact with them as soon as possible. As a VIP manager, talking to a player straight after a life-changing win is one of the best parts of my job!
3. Did you personally speak to the player? What was their reaction to the win?
I did indeed – and I can tell you he is still reeling from the shock of it all. One spin and his life has changed forever thanks to Captain Cooks Casino and Casino Rewards!

4. Is Mega Moolah your most popular progressive slot and is this the largest win for the casino?
Yes, Mega Moolah is our most popular progressive slot and its popularity continues to grow! Last year, our player D.P., won a record-breaking $11,610,536.59 – the largest ever mobile jackpot win!
5. The player is now a member of the Casino Rewards Millionaire Club. Is this club simply representative of the win or is there a membership scheme involved?
The Casino Rewards Millionaires' Club is reserved solely for our players who become instant millionaires as a result of playing at a Casino Rewards member casino. We believe our club is the perfect way to celebrate the incredible legacy that Casino Rewards has of turning players into instant millionaires. We also offer our exclusive Casino Rewards Millionaires Club slot game which has a maximum payout of over $€£1 million, giving our players even more chances to make that dream of becoming an instant millionaire a reality.

6. A lot of players don't know how progressive jackpots work. Can you explain how the prize pot is accumulated and where it's held in the case of Microgaming? Also, is the casino responsible for the payout or does the aggregate total prize come from the provider?
Mega Moolah is a remarkable game in that the funds from all who play, regardless of where they play, are pooled together. The Major Jackpot is always reset to at least a whopping $€£1 million, so the next winner can be certain they will become an instant millionaire.
If a player wins at Casino Rewards, we always work to ensure that the lucky winners receive their winnings with speed and ease.

7. Finally, how often does the jackpot hit, on average, and where does it currently stand?
That's the beauty of Mega Moolah – it can be won at any time, anywhere. Casino Rewards alone has made seven instant millionaires –two of them in the last six months!
The jackpot is back at close to $£€4 million – and with our proven track record of making instant millionaires, it's worth having a spin on Mega Moolah at a Casino Rewards member casino.
"We absolutely love it when our players win."
Back to articles