Back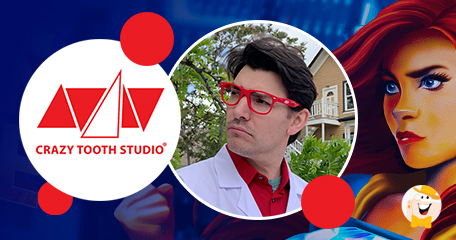 Founded by former IGT game designer Ben Hoffman, Crazy Tooth Studio started out in the land-based gambling sector. These days the Nevada-based company is aiming its innovation toward the iGaming market with approximately 50 features exclusive to the CTS games portfolio. Look out for new slot releases including 777 Mega Deluxe, 3 Devils Pinball and Aureus. Read on for more information in the interview with Will Burrows, Vice President, Design, regarding products such as the ArsenalTM framework, expectations for the future of online casinos in America and where to watch CTS' exclusive video content.
Q: CTS has been in the game since 2011. Give us some background on the company and its influence on the market.
A: Ben Hoffman, our founder and President, started his career in gaming at IGT (International Game Technology) as a game designer. He saw room for innovation in how gaming products come together and how a smaller, more nimble studio could potentially make more innovative products faster. Ben left IGT and assembled a team of industry outsiders, all of whom are still a part of Crazy Tooth Studio® today. CTS began making land-based gaming products for clients such as Bally Technologies, American Gaming Systems, Caesars Entertainment, and eventually a large number of titles for IGT. Offering in-house math design, art and animation, sound and music design, and engineering and implementation, the relatively small team at CTS quickly gained a reputation for innovation as well as efficiency. This was thanks to a passionate team but also a dedication to collaborative design – all disciplines working together for a more cohesive end result. For the last three years, we have aimed our particular brand of game design towards the igaming market and have found a supportive partner in Microgaming. In 2019 we released two igaming tiles and in 2020 we have released seven more as of October. As a business, we hope to create popular games, and as passionate game designers, we hope to achieve that goal by giving players fresh, well-crafted gaming experiences. We want our influence on the market to be that Quality Always Wins.
Q: CTS ArsenalTM is described as "the world's best collaborative-iteration framework". Tell us more about it and how it's used to reach new heights in the iGaming industry.
A: Ten years ago we didn't set out to create a proprietary collaborative-iteration framework – but when you strive to make collaboration and innovation more efficient, you end up with CTS ArsenalTM. Our framework, developed over a decade and counting, is a suite of tools that aid in math design, art and animation, sound and music design and integration, and the software engineering required for producing high-quality products that are optimized and market-ready. Several aspects of CTS ArsenalTM make it unique, not least of which is the fact that the moment a project is started, across all disciplines, the final product is set in motion with unparalleled flexibility for iteration – making innovation much, much easier. Products generated within our framework are also compatible with any game engine eliminating any need for porting. The proof is in the pudding, as they say – with CTS ArsenalTM we have been able to create a huge number of products across myriad platforms with an impressive range of innovation and quality. Perhaps the most exciting news about CTS ArsenalTM is yet to come – the next step in the evolution of ArsenalTM will be something to stay tuned for!
Q: Three slots are set to launch, each with a unique feature. What can players expect with 777 Mega Deluxe, 3 Devils Pinball and Aureus?
A: We're very excited about the next three games from CTS... 777 Mega DeluxeTM features RESPIN INSANITYTM paired with a 4-reel, 7-position gameboard that's going to look fantastic on any device or desktop. Each winning spin re-spins to try for more and more matches with the possibility to fill the screen with like symbols. Locking multipliers and a fast-paced Bonus Spins make it an energetic instant hit. The art style is a nod to classic casino slots but with a sleek, modern take. 777 Mega DeluxeTM is a classic hot rod with a jet engine. 3 Devils PinballTM takes the POWER PATHTM feature (as seen in Queen of The Crystal RaysTM) and turns it into a pinball machine! When the feature is triggered, a shiny pinball is shot around the reels, bouncing off flippers and bumpers, leaving behind wild symbols and sometimes multipliers. It's an absolute blast to see a slot game turn into a pinball machine, with all the sights and sounds it adds to the experience. The theme is inspired by the 1920's and 30's animation style affectionately known as "rubber-hose" cartoons. The carnival funhouse look and devilish characters drop players into a fiery world – with great music! AureusTM features COINVERGETM - a new way to win. The gameboard consists of fifteen coin locations that flip with every spin. The spinning reels contain brackets that land to surround the coins. Line up closing brackets and win what they contain! The wonderful twist is how many special coins can be landed, beyond just credit values. Special coins such as multipliers, upgrade coins, collect all coins, and even re-spins can all be captured and won, sometimes several during the same spin! The fun of this unique experience is also the jovial host – Jupiter, the Roman god himself – who summons his lightning powers to drive the gameplay action. AureusTM - which means Roman gold coin – creates endless fun through variety and dynamic gameplay.
Q: Speaking of game features, how many exclusive features can be found throughout the portfolio?
A: Quite a few! Over the years we've devised somewhere in the neighborhood of 50 truly unique game features across twice as many titles. Focusing on our iGaming titles, the nine released games alone represent eight exclusive game features.
Q: As a company based in The United States, what are your thoughts on the future of online gambling in America?
A: We're always optimistic that there will be more outlets available for gaming. We've been lucky to have a partner like MGS to get our games played internationally, but of course, we'd love for our igaming titles to be experienced in the U.S. as well. As far as the future of the industry as a whole, we think more and more states will make online casinos legal. Right now New Jersey, Pennsylvania, West Virginia, and Delaware are the only states currently offering online casinos (not just poker and sports betting), but the trend to make sports betting legal online will only help other states legalize online casinos as well.
Q: What is the current area of focus and what's next for CTS?
A: We are always focused on developing the best new gaming experiences for the players. For us this means continuing to push towards bigger and better with both our existing game mechanics, as well as our brand new game types. Beyond game development, the future for us is also about game development itself – where CTS ArsenalTM is headed, which is very exciting.
Q: It's been an exciting year thus far and we thank you for the interview. Please take this opportunity to share any further important CTS facts with LCB'ers.
A: Something we've been really enjoying is offering more than just our games – but fun social media content and videos to our followers! Check us out on Instagram @CrazyToothGames; Facebook @CrazyToothStudio; and Twitter @CrazyToothGames . We also have a YouTube channel full of weekly videos! It's been a blast to make some crazy content about our games and who we are here at Crazy Tooth Studio.
"We want our influence on the market to be that Quality Always Wins."
Back to articles