Back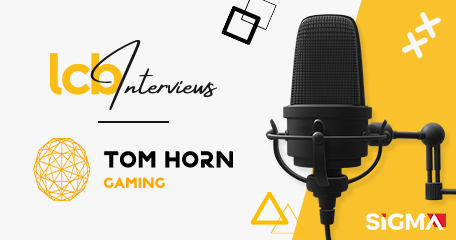 Balkans has gradually established itself as an iGaming destination with excellent growth potential, and the fact that it hosted the first SiGMA Balkans/ CIS summit only confirms that the local online casino market is yet to develop. The event took place in Belgrade from August 22-25, 2022.
You can watch the video of this interview
Held on August 22, SiGMA Awards Night recognized the biggest and the most passionate specialists from a variety of industry sectors, all dedicated to taking responsibility and entertainment to the highest level possible. LCB received the Best Affiliate of the Year award.
During the multi-day conference, the LCB team got the opportunity to interview some of the most renowned iGaming specialists, among which award-winning developer Tom Horn Gaming. Licensed by multiple renowned regulators such as Malta, the UK, Romania, and more, the studio delivers cutting-edge slots and table games suitable for players all over the globe. Believing that all customers and operators are unique, the provider strives to ensure an authentic gaming experience while relying on the latest technology.
We caught up with Anna Shahumyan, the company's Business Development Manager to talk about the studio's plans for the region, their most popular games, and more.
Q: Hope you're having a good time here at Sigma Balkans. Tell me something about your company and your role in iGaming.
A: My name is Anna, I'm from Tom Horn Gaming. I'm a business development manager of the company. We're a game provider and aggregator with an experience of 15 years in the industry.
Q: How do you think your product is contributing to the industry?
A: We have a great team of professionals, so we are not corporate. We are a small company with a global presence and we are very fast. We are doing business and customer-oriented decisions.
Q: What makes your company different from other companies? What makes Tom Horn Gaming stand out from the others?
A: We are entering new markets and helping them grow. So, we are regulated in more than 12 countries and more is to come.
Q: Is your software solution the same across the vertical or do you have to make adjustments for the Balkan markets?
A: Well, we have a lot of clients who have specific requirements and we're trying to approach them individually. As I mentioned before, we are regulated in more than 12 countries and most of our customers may have some special requirements. We are trying to approach them individually and make them grow with their specifications.
Q: Do you see plenty of potential in this region?
A: Yes, that's why we're here in Serbia. We are here not to make deals, let's say, not only in Serbia but for other countries as well.
Q: What are your plans for the future?
A: We are trying our best to grow in the industry and a lot of unique products are yet to come. We are doing a lot of localized games, so you will know about it very shortly.
Q: What is your most popular product and why?
A: I think most people like the game Crystal Fruits because it's very unique and it's very fast. People like it because of its speed and winning ways.
Q: What is your favorite thing about iGaming and casinos?
A: I love the "atmospherified" gaming. It's very dynamic and it's always changing. I think it's incomparable to any other field in the world.
Q: How do you see the iGaming industry in the future?
A: I see a lot of new games are coming, but I'm sure that only quality will survive.
Social media:
"cutting-edge slots and table games suitable for players all over the globe"
Back to articles