Back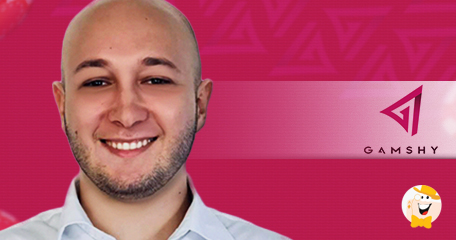 Gamshy is a game development company with four years in the industry. Not only are all games created in-house but the majority of new concepts from the CEO directly. Slots are at the core of the portfolio but poker games were recently introduced with the promise of more thrilling products on the way. Giorgio Mikas, Sales Manager, granted us an interview to provide you with an in-depth look at what the company is all about. Find out what's in store for players over the next year and much more.
Q: We know the company was founded in 2016, but what's the background story and how did you get into slot game development?
A: Gamshy was born from the idea of Andrea Sipone, our CEO, to bring a breath of fresh air and innovation to the world of iGaming. Gamshy is a young company, composed almost entirely by millennials and I think this is a great advantage to collect the interest of future generations of gamers.
Q: What is the design process like for your team from concept to completion?
A: A Gamshy slot is born and raised within the company. Usually, it's Andrea who creates a new concept, which he then discusses with our CTO. At that point, the control passes to mathematicians and graphic designers. All the work remains internal, so as not to compromise the quality of our products. Gamshy can boast an extremely high-quality level, above the market average.
Q: In addition to slot games, you revealed some poker games last year, right? What can you tell us about those and will there be more added to the portfolio?
A: Gamshy is a vibrant hotbed of ideas. Several parallel projects are being developed, in the future, we will show something different for sure.
Q: Are the games licensed and/or tested by a third-party agency?
A: All our games are certified for Italy and UK by iTech Labs. We'll soon be present in several further markets.
Q: How do you think iGaming, specifically player preferences, has changed over the last few years?
A: I think the biggest change was caused by the advent of online gaming. We're not yet at a tipping point, with the land-based still having a massive following, but I think the direction is one-way. What will make the difference will surely be the ability of providers to take full advantage of the potential of online gaming.
Q: What sort of research is done to stay on top of industry trends?
A: It is important to be aware of current trends and player preferences. But you cannot consider iGaming a world of its own, so it is essential to analyze the global context to predict future changes.
Q: In a few words, tell LCB'ers what makes your company and its products stand out from the rest.
A: We are a young company that focuses on quality and loves to experiment. We have games that offer different and sophisticated features, everything is studied down to the smallest detail and we think our games are perfect for a market share that will ultimately become predominant.
Q: Finally, what does 2020 hold for Gamshy?
A: This year is going to be epic. We have many surprises, both in terms of partnerships and releases.
2020 will definitely be the year of Gamshy.  
"It is important to be aware of current trends and player preferences."
Back to articles