Back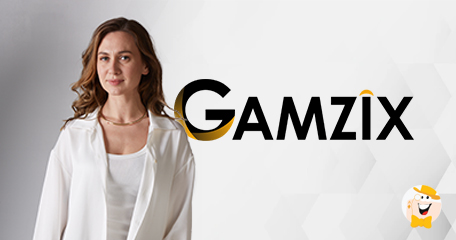 SiGMA Europe was a huge event in the iGaming industry. Who better to recap with than the winner of the "Industry Rising Star of the Year".award, Gamzix? We caught up with Lidia to discuss the studio's products, the future of online gambling and more. Much has happened since our 2020 interview. Find out what sets this company apart and propels it forward since its initial break onto the scene.
Q: Hi Lida, we are so excited to be interviewing you in the wake of SiGMA Europe! The conference was amazing and crowded and you surely have so much to share. But first, tell us more about your company, what are you guys all about?
A: Gamzix – progressive online casino gambling development studio established in 2020 in Estonia with offices in Cyprus, Ukraine and Warsaw. Thanks to our experienced and passionate team, we have already produced 39 games. The game engine was created with the latest technologies, advanced developments and market trends. Of course, I would like to mention the people, who are responsible for all these achievements. The team is one of the biggest values of the company, and we are growing up just because of their ideas and expertise.
Q: What kind of expectations did you have from SiGMA Malta 2022? What about networking opportunities and new partnerships?
A: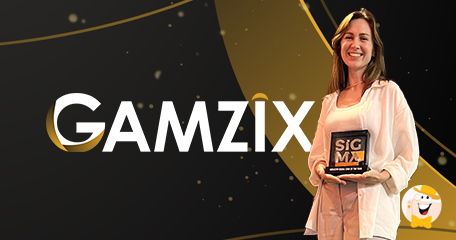 We are always expecting these events and coming back with new ideas and thoughts. This was not our first time at SIGMA, so we had a high level of expectations. Especially due to the fact that Gamzix won an award "Industry Rising Star of the Year". Every such achievement lets us understand that we are on the right path. Of course, networking is one of the main goals during a few days of the conference, and we use it as much as possible. This time we met our old friends, colleagues, partners and established connections with new ones. Basically, we used every handshake as an opportunity.
Q: In your opinion, what is the most important iGaming conference we shouldn't miss?
A: As you see, we are big fans of all conferences and try not to miss a chance to participate. We'll make it online or offline, doesn't matter. If we see opportunities there, we'll come and take them. The upcoming meeting we are suggesting to add to a calendar – ICE London in February. At this event, we will present our new games, which come out at the end of this year and at the beginning of the new one. So, I don't want to put all the cards on the table, just inviting you to spend these days on ICE London together.
I can say the "must to visit " are the conferences such as SIGMA, iGB and SBC.
Q: What do you think makes your software solutions stand out? Why should operators and players choose your brand?
A: We totally understand that the gambling world is expanding. New and new companies appear every day. Also, we have a lot of big players behind, and if you are not able to create something special, you are out of the game. Gamzix is aimed at providing tools that do not require partners' involvement, everything is made on our side. So, for sure, we have solutions that stand out:
Tournaments. Gamzix has implemented additional bonuses for players in the form of local and network tournaments with Money prizes and Free Spins. Operator doesn't need this tool built in, because we provide all from our side.
Achievements. It is a unique Gamzix's feature. When a player unlocks an achievement, free spins or free rounds are awarded. Achievements are fully customizable and have different mechanics.
Branded games
Also, we are following trends to make sure our games will perfectly match with the desires of our players. That is why we are filling our portfolio with different types of games, plots and mechanics. So, everyone will find something suitable for himself/herself.
Q: Tell us about your company's plans and goals for the future. Where do you see yourselves years down the road?
A: I will not lie if I say that our biggest aim – to become the #1 slot provider. And, step by step, we are moving towards this dream. Of course, a huge amount of work is awaiting, but we are not scared of it. We are also setting intermediate goals, which help to focus on the company's development at the moment. In 2023 we are planning to enlarge our gaming portfoilo. Of course, this is not just for beautiful statistics. The quality of games, mechanics, design, plots: everything will be better and our team is already working on a plan on how to make it real.
I see Gamzix as a perfect mix of technology, an inspired team and a product that suits both Operators and Players
Q: Given the rapid growth and constant demand for innovative experiences in the industry, where do you think iGaming software development is heading?
A: The main reason for the iGaming industry's growth is the high rate of technological progress and the use of innovative technologies. Collaborating with cryptocurrencies, blockchain, VR, 5G, and artificial intelligence, the online gambling industry's future looks absolutely amazing. At the end, it's all about providing the best experience for the players and following new technologies — a necessary part of it. We are absolutely ready to face new challenges and follow modern trends!
Q: What is your favorite game or solution in the portfolio and why?
A: Gamzix is eager to make cooperation with partners easy and convenient. Talking about solutions, as I said before, tournaments and achievements help us to attract new players and show them different levels of gambling.
My personal TOP-3 from our portfolio:
3x3: Hold the Spin. It's a fruit slot, a mix of simple rules and fresh design ideas. Perfect for new players and experienced ones, because of the classic plot. We were very surprised when in a couple of weeks after release this game got on top among our players. This is another confirmation that simple doesn't mean boring.
Buffalo Coin: Hold the Spin — it's absolutely the opposite story from 3x3. And not because of graphic and wild game aesthetics, which I absolutely adore. Also, because it had 3 types of jackpot: Mini, Major and Mega and Bonus game. We've already launched a winter reskin – Buffalo Ice, we added some frosty and snowy details to the good plot. Now this story perfectly fits into the weather outside and brings a realistic wild atmosphere in gambling experience.
Bonanza Donut — our latest game, so my impressions are still very fresh about it. It has so many cool features: Free Spins, Bonus Game, Hot Bet. I would say all in one, but the most important, that they complement each other and not compete. I also recommend you to try out a frosty and sugary Bonanza Donut Xmas with gingerbread men, colorful candy canes, donuts and other sweets which give the game a real taste of the upcoming merry holiday.
Q: Do you have any advice for up and coming software brands in iGaming?
A: I would say: "Follow the trends and do the best for partners". Technologies develop every day and if you stay on the same level, stick to the same rules, you'll never succeed. Players are getting more demanding, so you have to impress them more and more. Because this is the main goal of the whole industry – entertain and provide the best experience.
Q: There is a major regulatory and compliance focus taking place right now - have you faced any challenges due to new regulations?
A: IGaming industry is highly regulated and this is understandable. It's dealing with billions of dollars and this number increases every year. So, it's a necessary stage for every provider to protect itself, clients and players.
We are used to the fact that it takes time to prepare all the documents, then go through the application process and wait for a rather long time for the result. Now we are in the process of obtaining an MGA license. We just know what is the main goal behind it and do what we have to.
Q: How do you see the iGaming industry as a whole in the coming years? Do you think we have lots to look forward to?
A: People spend most of their time on gadgets, mostly phones. Playing games on smartphones has never been more straightforward or fluid, thanks to the widespread use of 5G speeds. Technologies like augmented reality, virtual reality are still in the early stages of implementation. I'm sure that game engines will be lighter, technologically advanced and more unique. Also, cryptocurrencies are expected to contribute to the easing of payments.
So there's actually no limit in fantasy where it all can lead, we hope that technologies will develop and we will be there on the edge!
Social media:
"I will not lie if I say that our biggest aim – to become the #1 slot provider."
Back to articles