Back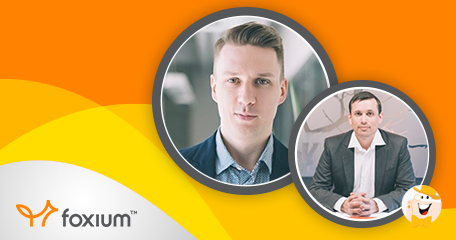 A new slots studio emerged in the iGaming space in 2015. LCB'ers may recognize the modest collection of video slot games, which includes FruitZ, The Odd Forest and Lucky Bakery to name a few. Based in Estonia, the company's story was rather vague and information limited. Intrigued by the games and the name, we approached Foxium and got lucky enough to snag an interview with their CEO, Åke André, and Creative Director, Daniil Sanders - Thanks, guys! They've got a productive 2018 planned in terms of game releases and more. Without further ado, the interview.
Q: We'd like to offer you the floor to elaborate on the company's history and the concept behind the name, Foxium.
Daniil Sanders: When we first decided to create this company, Foxium, we thought about being different and standing out from the crowd. The principal values that we all agree upon are, quality, creativity and excellent player experience. The years of individual experience we enjoyed in our respective specialized fields, came together collectively, and enabled us to reach our goals. It was merely a case of the right people, at the right time, and everything is working smoothly now. The founders of Foxium, and the creative team are: Maria Dementieva – Artist designer, Daniil Sanders – Creative Director, Igor Vesselov – CTO and Åke André – CEO.
Q: We understand that gamification and mobile technology are important aspects of game development. Tell us more about this approach and the products you offer?
Daniil Sanders: We always try to keep up with the times. Mobile technology does not stand still, improvements and enhancements appear fast in our daily lives. Mobile gaming has become the players' number one choice of accessing an online casino to play a game. We at Foxium create our games with this in mind. If we take one of our upcoming games as an example, we are now using real-time 3D rendering processes for game characters along with our new game engine. 3D real-time rendering gives us much livelier and realistic characters in our games. Furthermore, this also opens up new possibilities for player interaction. We are now also using adaptive soundtracks. They take our games even further, and to a higher level. After all, the player experience is crucial when it comes to games, whether casino slots or console games. All the above factors combine to create eye candy, atmospheric music, and entertaining, well-crafted mathematics make our games unique. To wrap up, let's not forget that games run on HTML5, so finding the perfect balance between performance and a great looking graphics, is a real challenge. It can be a tricky process, yet a satisfying one, when all the work put into a game comes to fruition.
Q: Are your products licensed and which markets are they currently geared towards?
Daniil Sanders: Yes, of course. All our games are licensed and we will continue to focus on the European market but our next step will be penetrating the Asian market.
Q: Your current portfolio is quite modest, yet the games lack nothing in terms of quality. Can we expect more regular releases this year?
Åke André: We have quite an exciting roadmap for 2018. We have already produced some online titles, such as The Odd Forest, The Lost Riches of Amazon, Fruitz, Lucky Bakery and Big Time Journey. These games have rich features and engaging storylines. Last year we released our first, branded slot game; Vampire: The Masquerade. It is a game based on collaborative license between Foxium and White Wolf Entertainment. Foxium is now live with the second game we developed, called Adelia: The Fortune Wielder, released through Microgaming. We plan to release another four to five games in 2018, so we are very busy in that respect. The next major project we have in the pipeline is a new game called; Astro Legends. It will have some original, new features we are convinced our fans will adore. We are here to break boundaries and challenge the industry with innovation, agility, and extensive expertise. Foxium is a company that has managed to grow steadily and is already creating some of the best video game products to be found on the market. Our motto has always been, that every game we release, must feel that it is the best we have created to date. We would much instead concentrate on quality, rather than quantity.
Q: The Astro Legends video slot is coming soon. What can you tell us about the game and its features?
Daniil Sanders: Our upcoming video slot is something new, and unique which we have not been able to present to the market before now. This new slot will surely be able to hold its ground in the very competitive iGaming market. Astro Legends is a video slot which has a cluster pays feature, Multiplier Wilds, ReSpins and a Bonus Game as well. The game is played with clusters of symbols on a field of 22 crystal cells and is built around storytelling. We can guarantee players an adventurous atmosphere, and an action-packed, stunning gaming experience that is shrouded in vibrant colors, with lifelike graphics, and thrilling soundtracks. The storyline revolves around two characters who interact with one another, and each has extensive bios. The female character is Lyra. She is named after one of the most famous instruments in Greek mythology. The lyre that Orpheus used to secure safe passage for Jason and the Argonauts, past the sirens. The music it created was said to be so powerful that even inanimate objects such as rocks, trees, and streams could be charmed. Lyra is at the very heart of Astro Legends: the game, and the band of the same name. Astro Legends is one of the first games we have built on our brand new engine, with the real-time 3D rendering process, and along with the adaptive soundtrack. I think this game has all the attributes to be successful. We are all looking forward to this upcoming release, but let's wait till we put on the finishing touches!
Q: Last year, you signed a deal with Microgaming's Quickfire platform. Are there other contracts in the works?
Daniil Sanders: Yes, you are correct, and to be honest we are proud of that, as it rewarded our hard work. The exclusive deal with Microgaming's Quickfire platform provides Foxium with the chance to produce better games, and we can reach more operators and ultimately more fans. With the extensive distribution network available through Quickfire, we believe we are in the best position to capitalize on the growing online casino market. At the moment there are no other contracts in the works.
Q: October 2017 also saw investment from Velo Partners. What did this mean for Foxium?
Åke André: I am delighted that we have inked this deal with Velo Partners and the RNG Foundry. Foxium has in the past been approached by several investors, but for one reason or another, it never felt right, until now. With Velo Partners, we felt for the first time, that we had an investor with the same values, culture, and vision as we do at Foxium. Through Velo Partners and the RNG Foundry, we are now in a position to strengthen our company in some critical areas. Specifically, the speed of access to markets, and distribution of our games. I have great respect for the team at Velo Partners and RNG Foundry. It will be a pleasure having them on board as we take Foxium on to the next level.
Q: Your current portfolio includes several interesting themes. Which is your personal favorite and why?
Daniil Sanders: I don't think there is one particular, favorite theme. We love them all. They all very different from each other, and each game has its own unique feature set. They were all produced with passion, and lots of work has gone into developing them to such a high standard. Nevertheless, I would say that it depends on my mood at that moment, or what kind of experience I want to have. These days, my preferred slot tends to be Amazon: the Lost Riches. Tomorrow it might be the Lucky Bakery slot. Just because it looks so yummy!
"We always try to keep up with the times. "
Back to articles