Back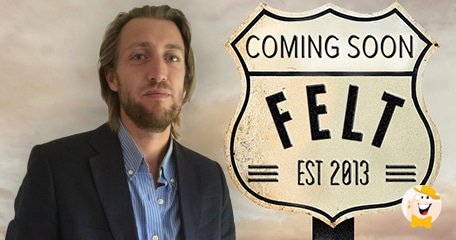 Calling all table games players: Have you discovered Felt Gaming? Well, let us introduce you. Their products focus on the fundamentals of classic games, minus all the fluff. We had the opportunity to chit chat with the CEO, John Parsonage, who invites you to get your kicks on Route 66.
1. Tell us about yourself and how you got into the gambling industry.
My name is John Parsonage and I've been working in the gambling industry for approximately 15 years now. I've always been interested in gaming and in fact, completed my university dissertation studying the gaming industry. My first job in the industry was for a company that ran the Harrods online casino and also launched the World's first 24 hour live streaming greyhound racing channel called GoBarkingMad. Since then I've worked for a number of gambling operations including; Sportingbet, Ladbrokes and Sky Betting and Gaming where I launched Skyvegas.com. During my time on the operator's side of business I always felt disappointed by the lack of quality and variety in the general offering of table games across the industry and this is what I wanted to change, after all table games still account for approximately 40% of most casino revenues and therefore cannot be ignored.

2. The games have a 'back to basics' traditional look and feel with a modern touch. What is the vision behind the company and its Route 66 style logo?
The home of table games and casinos as a whole is essentially Las Vegas and this has been the case since the major casino boom enjoyed there throughout the 1960's. The style of that decade in the US, particularly influenced by Hollywood and Las Vegas, became the classic style influence around the globe and, as our table games mostly originate from and flourish in the US land-based casino market, we wanted to utilize this authentic and clean design style and make it an integral part of the look and feel of our table games. We loved the retro look and feel and very much set out to emphasize the American roots of our games.

3. Where are your headquarters located?
We are an Isle of Man-based business but also have offices in Wimbledon, London.
4. How many games are currently in your portfolio and are they licensed?
We currently have 11 games built for mobile and desktop devices all licensed by the UK gambling Commission, the Alderney Gambling Commission and Malta Gaming Authority. Furthermore, all of the Felt games are based on licensed game IP that has been proven in land based casinos all around the globe.
5. How long after the company's launch did the games become available for real money play? How many gambling operators now feature your products?
The company was formed in 2013 (hence the logo) and we launched our games in 2015. Initially, we envisaged building our own distribution platform and game servers but we soon realized that we would have a much quicker and broader distribution if we focused on launching our games onto existing platform providers such as Leander, NYX and Relax Gaming. We also spent a long time (maybe too long) experimenting with game design and style in our efforts to provide the very best UI (user interface) and playing experience. From the outset, we were driven to provide games with unique features and benefits in an innovative and appealing style – in what is a very competitive market we had to stand out from the crowd. We launched with Unibet in 2015 and we are now live on approximately 20 operator services.
6. Are there any plans to expand the focus beyond table games or do you intend to stick with the classics?
No, we want to focus and specialize just on table games. There is plenty of scope and opportunity for us to grow our business by continuing to expand our table game portfolio and also push the boundaries of what is possible with table games.
7. Why should players choose Felt Gaming titles over all the options in casino lobbies?
The Felt table games offer players more excitement, more fun and ultimately all-around better player experience. We want to provide players with entertainment and stimulation when they play our table games - blackjack games that provide optional side bets offering big returns instead of just the mundane top payout of 3-2. All of the Felt table games offer huge prize possibilities with returns up to 2000-1 and progressive jackpots that range into six figures. We have also made the Felt table games very fast to load and quick and snappy to play which is perfect for the player who just wants to snack on a few games on their mobile device whilst on the move.
8. There's so little public information available about the company, please tell us what else you think it's important for our readers to know.
We are a small company and we want our games to do the talking. We have been entirely focused on building and distributing the games up until now so we just haven't had the time to even think about the public facing side of the business. We really just want players to try our games and experience some of the great new games that have now reached the online market after years of success on casino floors. It is important that players know that the big pay outs associated with slot games can also be achieved on table games. Winning big prizes on table games can be even more rewarding because you can employ an element of skill and strategy instead of monotonously pressing a spin button on a slot. Players who play 'standard' blackjack can also do that on our blackjack games, the main difference being that they can also add a bit more excitement into their game play by trying the occasional side bet when they are feeling lucky. All of the Felt games are built for mobile and desktop devices so as players can play at their convenience and dip in and out as they please. We ask them to give the games a try and see what fun and stimulation is now being provided by Felt's new genre of table games, games that encapsulate some of the thrills and excitement provided by the glamorous 1960's Las Vegas casinos.
"We want to provide players with entertainment and stimulation when they play our table games."
Back to articles