Back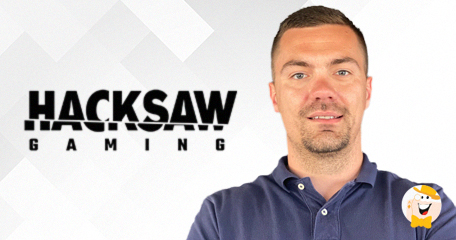 Since obtaining its license from the Malta Gaming Authority, it's been uphill for Hacksaw Gaming. The company began with a portfolio of online scratchcards, which expanded to include slots. A new quality provider emerged and word spread like wildfire as the client list has grown tremendously this year. The company recently launched its high fixed prize jackpot game, Haunted Circus, and we'll be on the lookout for the upcoming release of Cash Compass soon. We'd like to thank Marcus Cordes, COO of Hacksaw Gaming, for chatting with us! Read on for more information and sound off in the comments below to let us know what you think of their products.
Q: We'd like to begin with the history of Hacksaw Gaming, the initial focus on scratchcards and the company's first partnership deal.
A: Once our MGA license was approved in December 2018, we signed our first partner, Relax Gaming, a month later. Through them, we went live with our first tier 1 client, LeoVegas on 22nd April 2019 and by the end of Q2 2018 we were live with several clients with the majority being tier 1 operators and by the end of the year, we had tripled our clients. 2020 has been a major year for us already as we have now doubled our client portfolio within 3 months, and have seen dramatic growth as we have already reached last year's revenue targets within the first quarter alone. Our game portfolio has grown immensely from our initial launch with 28 scratch cards. We currently have 85 scratchcards, 4 slots and 2 premium high fixed prize jackpot slots live across several clients. Our first slot Stick 'em which was launched in September 2019 went live exclusively with LeoVegas for two weeks and had put Hacksaw Gaming on the radar as a slot provider. We then released our Pocketz™ slots which were designed with a mobile-first and portrait mode approach for easy mobile gameplay of which we currently have 3 in our portfolio: OmNom, Miami Multiplier and Cubes. In February 2020 we announced that we would be launching a new series of 'Premium' slots of which we currently have two out on the market, My Lucky Number with a fixed jackpot of €25,000,000 and Haunted Circus with a €2,500,000 win.
Q: What prompted the expansion into slots development and do you find these products more in demand than scratchcards?
A: Our motto at Hacksaw Gaming has always been to push the boundaries and be innovative with everything that we do. When we started the company, we wanted to reinvent classic products like scratchcards but our aim was always to release different games in the future. That's why we now also have premium jackpot games with high fixed prizes in our portfolio. Demand depends on demographics. Our scratchcards remain extremely popular amongst certain clients while others prefer the slots. As long as it makes sense for us to produce them we will keep creating different casino games to offer clients and players flexibility.
Q: Tell us more about your mobile first approach as compared to other providers in the market.
A: Data shows that the majority of players are playing online casino games on mobile devices and that a high percentage of revenue is generated from mobile devices. Hacksaw Gaming's Pocketz™ slots have made it easier for players to enjoy their favorite games on the go with friendly and familiar themes to interest a wide variety of customers. We have utilized the space available on mobile screens by focusing on the size of reels and symbols, and included the game logo on all games as part of the game feature, as well as minimized all assets to ensure a fast load to ensure quick and easy gameplay, for example, Cubes has a load of only 3.1MB. Besides this, all our games are fully mobile compatible across all platforms due to being developed using HTML5 technology and can be played directly from web browsers so that players can access everything with a simple internet connection.
Q: May 2020 was a busy month for the company between the partnership with iSoftBet, the launch of Haunted Circus and other news. How have these recent developments affected the company and its future plans?
A: Our strategy has always been to be able to reach players in new markets so signing with partners such as iSoftBet was a huge step. All our products will be integrated into their Game Aggregation Platform (GAP) which will enable us to reach new operators across the globe and this is something which we plan to grow with them and other partners alike. As for our games, we plan to release even more premium high fixed prize jackpot throughout the year along with our mobile-first slots and scratchcards which we're very excited about.
Q: Can you share any information about upcoming game releases?
A: We have some interesting releases planned for the rest of the year. Cash Compass will be our latest Pocketz™ release coming out by the end of June and we think this will be very popular. It's set in the Caribbean and is a desert island themed game with a spreading compass symbol, free spins feature, as well as a bonus wheel. Aesthetically, this game is very recognizable as a Hacksaw Gaming product with its quirky design and animations. We also just released our second premium high fixed prize jackpot game called Haunted Circus and our third premium game, The Bomb, will be out in Q3 and will feature a fixed jackpot prize of €1,000,000. We've had quite a positive response towards our premium games so far so we're very excited about this release.
Q: What effect do you ultimately hope to have on online gambling in years to come?
A: We want to keep shaking things up and deliver innovative products that are new and exciting to the iGaming industry. The premium high fixed prize jackpot games are just the beginning.
"Our motto at Hacksaw Gaming has always been to push the boundaries."
Back to articles