Back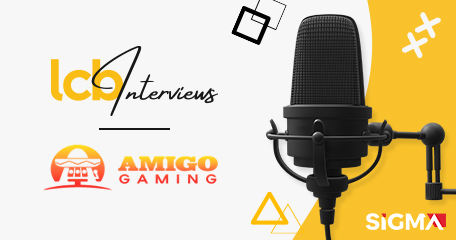 From August 22-25, 2022, Belgrade, the capital of Serbia, was the host of the very first SiGMA Balkans/CIS summit. This was an excellent business opportunity for all participants as they could showcase their products, share their plans and deepen their footprint in the Balkans.
This very event was quite successful not only for the region but for our company as well, as LCB received Best Affiliate of the Year acknowledgment during the SiGMA Awards night. Aside from that, our team met with some long-term partners to discuss further plans and expectations.
Amigo Gaming was one of the companies our team had the opportunity to catch up with. Gathering a team of experienced Amigos, the studio is motivated to deliver mobile and desktop games that are both highly entertaining and safe for players. Their portfolio features online slots with different reel setups, polished graphics, and a wide range of features.
Take a look at our interview with Igor Rus, Chief Amigo, and find out more about this creative provider!
Q: Hope you're having a great time here at SiGMA Balkans. Tell us something about your company and your role in iGaming.
A: We're based in headquarters in Barcelona, so we decided to have a look at SiGMA because it was interesting combining the Balkan markets and the CIS markets. We are having an ever-growing team. We have already integrated with some of the Serbian operators. We are looking to expand in the region, Balkans region, as well as in CIS, so that's why it's a very interesting event for us.
Q: Great. How do you think your product is contributing to the industry?
A: We're doing the first set of games that are going to be the classical ones, but then we have new mechanics that's gonna change a little bit the perspective of the slots. We're gonna do some really innovative things from 2023 on.
Q: What makes your company stand out among competitors? Is there anything you'd like to emphasize that makes it worth it to the players and operators?
A: We have a range of mechanics, mathematics, and art. We're interesting as well to players that are new players. We have a range of fruit games and they're popular as well here in Balkan and CIS. But, we are also trying to do some new mechanics and mathematic models that are going to be interesting to more younger crowds. We are updating our product constantly and we are having a regular launch of three games a month.
Q: Is your software solution the same across the vertical or do you have to make adjustments for the Balkan markets?
A: For Balkan markets, we implement the language so it's like serving language, we have RSD as a currency but that's what we do everywhere we go. From the perspective of a product, we didn't yet do some Tesla slot or something like that, that would be directly aimed to the Serbian customer, for example. But once we get in a larger portfolio, we might think to do that as well.
Q: Do you see plenty of potential in this region? What kind of expectations do you have from the conference and networking opportunities?
A: I mean networking opportunities are great because, after COVID, this is one of the first shows. There was ICE and stuff like that, but I saw a lot of friends from Serbia here, as well as from Croatia. We just met some of the finest operators from Croatia, met some operators from CIS. So, that was fantastic to get to see these guys that I haven't seen for some time as well the new faces in gaming. There are a lot of new young people in gaming, so it was nice. I think it was the perfect setup in Belgrade for the event.
Q: What are your plans for the future?
A: We're gonna expand in new markets. We're gonna add up new operators here in the region and elsewhere. We're talking a lot to enter into Brazil market, which is very important for us, and then African market, Asian market…
Q: What is your most popular product and why?
A: We have different markets and there are different products that are popular there. We have a fruit game that is doing exceptionally well in Serbia and it's called Blazing Crown. It's amazing, I wasn't expecting those numbers here. So, operators are happy, we're happy, so we hope we're gonna welcome more operators with this portfolio.
Q: What is your favorite thing about iGaming and casinos?
A: iGaming is special. People know each other, I know most of the people here in this event as well as on ICE, so it's easy to do business for me. I really like that it's like a community, it's not like other businesses. I had some experience in other businesses which is not like that, so this is really business about the connections, community... People help each other, so that's the main point that I would say why I like iGaming.
Q: How do you see the iGaming industry in the coming years?
A: It's still a lot of opportunity for growth. During the COVID situation, that was just emphasized, because the growth was just incredible. But I see it as a trend as well for the future. I see it as well with introducing new games, the market will grow. There's still a space for regulating the games because some of the countries haven't regulated like Serbia did. There is plenty of opportunity for the players.
Useful Links:
"excellent business opportunity for all participants"
Back to articles