Back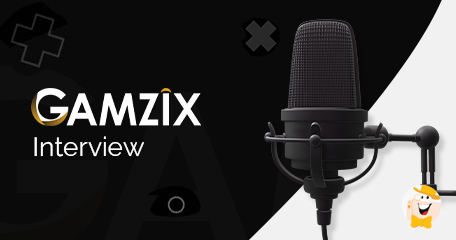 From August 22-25, 2022 Belgrade, the capital of Serbia, hosted the very first SiGMA Balkans/ CIS summit. This multi-day event gathered online gaming specialists from all over the world, enabling them to discuss potential business opportunities and strengthen their presence in the region.
You can watch the video of this interview
One of the highlighting moments of this amazing event was SiGMA Awards Night, altogether with an auction, where €19,000 was raised for charity. The most notable brands from the gaming, tech, and affiliation industries were awarded for their services to the industry.
LCB was recognized as the Best Affiliate of the Year, confirming that our continuous efforts to make the iGaming industry a better and safer place pay off.
This was also an excellent opportunity for our team to strengthen our business relationship with slot game developer, Gamzix. We caught up with their CCO Lida Kosogova to discuss the company's vision, mission, and plans for the future. Gamzix was established in 2020 and has so far delivered 25 games. Relying on the latest technology, they develop customizable content which is characterized by detailed graphics, realistic animation, and a variety of adjustment options.
Q: I hope you're having a great time here at Sigma Balkans and I'm interested to hear something about your brand and your main responsibilities.
A: I'm Lidia, I'm CCO at Gamzix. Gamzix is a slot provider, and we are kind of newcomers on the market, only two years. But, I'm enjoying staying here because it's the beginning of our growth on the market. We're kind of fond of everything, and we want to start something new on the market, so I feel very excited about this.
Q: How do you think your product is contributing to the industry?
A: Our product is a kind of new one. We are trying to gather all the best features from all slots providers into one- into Gamzix. So, our contribution is to create something new. We created a slot with the dog and this dog became a very popular one. We have these figures on the show and everyone is excited. So, I think the main contribution is about this dog.
Q: What makes your company stand out among the others? Is there anything you'd like to emphasize that makes it worth it for the players and the operators?
A: Of course. As I say, the main feature of Gamzix is optimization. We try to optimize the work for B2B and they go with optimization for the players. So, we try to put "THE MORE" to the slot so the player can choose what to do- whether he wants to take the tournament or achievement, or he wants to play fruits or different kinds of games, books of something. So, we are trying to achieve the goal to create a special product for the B2B and they will transfer it to the player, so everyone will win from this. So, if people play Gamzix, they always win anyway.
Q: Nicely said. Is your software solution the same across the vertical or do you have to make adjustments for the Balkans?
A: No, the software is unique and it has features for everyone. Our games are light-weighted, they have a lot of different languages, and they have crypto and fiat support. So, everything we offer to the markets in the whole world, we also can offer to the Balkans. The main thing of this show and our presence here is to make new negotiations and new contracts with the existing companies in the Balkans. Hope they can hear me.
Q: Do you see potential in this region?
A: Of course I see, that's why I'm here. I was having a holiday a month ago in Montenegro and I saw a lot of different companies with their advertising and I thought "Hey, next month I'm going to find you and offer the slots". So, I'm here, please contact me.
Q: Do you have any specific plans for the future?
A: I want to make my company recognizable. I want to offer a sustainable brand. I want to offer the best service we can do and, of course, I want to be popular, frankly saying. Yes, I want people to recognize our brand and to understand that we are really good.
Q: What's your most popular product and why? You were mentioning the dog- is it the dog?
A: Yes, the dog is our brand ambassador. We have a popular game Sunny Coin. I don't know why…um, yeah, I know why, I can't tell you why it is so popular! The mechanics are good. Now we're working on this Rich Granny slot. It's my favorite one because it has a dog. Actually, I'm planning to make a show with this dog and to make more entertainment because I think when we have a character it works a lot for the brand. So, I think the dog is the core.
Q: What's your favorite thing about the total whole iGaming industry and casinos?
A: Money? Yeah, the cool thing is about creating something new. It's about the entertainment, of course, because, people, they like to spend their time and their money on something good. I'm really sure that iGaming and casino is the most interesting part of that life, because you can play using your phone, using your laptop everything can be used while quarantine, while different things, while you're traveling, while you're resting, so it's a very useful thing.
Q: How do you see the iGaming industry in the coming years?
A: Evolving, creating something new. I think the Metaverse is coming and people will be playing casinos in virtual worlds. A lot of things, I can say. But, the main thing is to create a product which will suit a very high-standard consumer because, now, a lot of slots, a lot of different things, and we have to offer something. I'm offering a dog.
Q: Any message for the end of the interview maybe for the potential clients or something?
A: Email me.
Social media:
"discuss the company's vision, mission, and plans for the future"
Back to articles