Back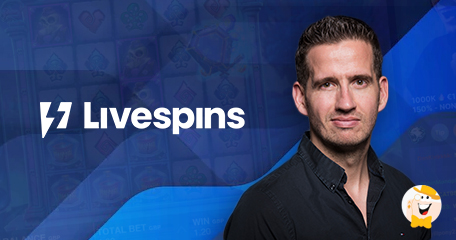 Established in 2021, Livespins joined the thriving iGaming industry with a mission to offer a socially charged online casino experience. Gathering a team of enthusiasts with decades of experience, the company is determined to push the limits of what is possible and give insights from a completely new perspective.
By combining streaming, playing together and community, the company emphasizes the value of shared experience. In addition to a vivid chat community and the option to add a reaction, their streams incorporate a bet-behind option, which gives players exclusive opportunity to fully immerse into the gameplay and take part in the action.
Stick around as we chat with Michael Pedersen, Livespins' CCO, to find out more about the company's mission, vision, features they offer, and thoughts on the future of slot game streaming!
Q: Tell us more about how Livespins was born, and your company's mission and vision.
A: Livespins was launched to bring a new era of online gambling entertainment to the masses. We could see there was huge demand for online casino and slot-streaming content on platforms like Twitch, but the way content was being created and broadcast was unsustainable. Claims of it being the Wild West ultimately proved true last month with Twitch's decision to introduce stricter guidelines and outright ban certain operators from streaming casino and slot content. This is something we'd been predicting for many months.
Livespins socially charges the online casino experience for players but via a platform that is responsible and sustainable for operators, game studios and streamers. We put the power in the operator's hands; Livespins is integrated directly into their casino lobby and our streamers play slots from a carefully curated library of games from the biggest providers in the business. Players can not only watch the action taking place across the reels but participate directly by betting behind their favourite streamers. This creates a group bet and a shared player experience, all within the operator's ecosystem.
Q: Your company's motto is to offer a "socially charged" casino experience. What does that mean to you?
A: It means putting players on the edge of their seats with each spin the streamer plays. Social interaction is a big part of the Livespins experience, and this is provided by multiple players betting on exactly the same spin together with the streamer as well as players being able to communicate with the streamer and each other throughout. Not only that, but they can also add reactions and emojis to the high-thrills gameplay taking place and as their bets complete. Win or lose, players are guaranteed to have a fun time and especially when you compare the Livespins experience to traditional casino and slot streaming. If you look at other entertainment options – mobile and video gaming, social media, streaming – social interaction is a key driver of why people engage with these different entertainment formats and Livespins is the first product that truly brings this to the online casino space.
Q: Can you tell us more about the specific features and the options?
A: One of the best features of Livespins is how it can be used by game studios to "unbox" new titles and showcase them to players for the first time. This is also great for players as the streamer walks them through the latest slots and casino games to hit the market, testing out the gameplay, bonus feature, etc. Of course, players can bet behind the action while this is happening which supercharges engagement and entertainment when compared to reading a standard slot game review or playing a demo game for a few spins.
Q: You've teamed up with some of the most renowned content providers such as Relax Gaming, Yggdrasil, iSoftBet, and more. What are the requirements to become a Livespins partner?
A: The slots and games that streamers play are crucial to the overall success of a stream. They must deliver the thrills and spills that allow streamers to build anticipation and naturally trigger "oh my god" moments throughout. By partnering with premium providers such as Relax, Yggdrasil and iSoftBet, we can provide our streamers with access to a vast portfolio of quality games that have been designed and developed to get pulses racing. We are open to discussing partnerships with any studio that has a portfolio of games that can meet the standards set by these power players and get streamers and their audiences pumped from the first spin of the game to the last.
Q: For anyone interested in becoming a streamer, what is the process like to join the Livespins team? What are the duties and responsibilities of streamers operating under the Livespins umbrella?
A: First of all, we look for creators that have a great "entertainment factor", meaning they come across well on camera and are just fun to hang out with for the players. We are always looking for more talent and they should simply check our careers page on our website. Joining the streamer team includes going through a training academy, where we coach the streamer on everything from coming across better on stream, to learning the games in detail as well as responsible gambling. Many of these streamers have been setting up their channels on their own and never really gotten any constructive feedback before, so they usually appreciate being part of the Livespins family and both receiving constructive coaching as well as daily support and conversation with the crew.
Q: Streaming of gambling content has been one of the hottest topics recently, especially since Twitch's decision to ban certain casino games from being streamed on its platform unless provided by a properly licensed operator came into effect. Do you think this decision caused plenty of disturbance among casino streamers?
A: The ban has sent shockwaves right through the industry and with the ripples felt the most by streamers themselves. It's never great to see the hard work of many be undone by the actions of a few, but as mentioned earlier this is something that Livespins saw coming. This is why it is now vital for the industry to control the space and provide a healthy, highly engaging and, most importantly, sustainable solution for streamers, studios, operators and of course players. And that is what Livespins is here to do.
Q: How does Livespins help casinos, studios, and streamers take advantage of the immense popularity of slot streaming while staying compliant?
A: Because Livespins is integrated directly into the online casino lobby, players that can access the product would have already gone through the operator's registration and KYC process, thereby ensuring they are 18+, that identity checks have been performed and that responsible gambling limits have been set etc. In addition, players can access the responsible gambling and safe gaming tools and services the operator is required to offer as part of its licensing requirements.
Q: Finally, what are your thoughts on the future of streaming casino gameplay?
A: Livespins will prove to be the true catalyst for online casino and slot streaming, unlocking the full potential of what it has to offer but in a responsible and compliant way. The appetite for slot streaming is greater than ever and will only increase, and we are here to help all stakeholders get in on the action and to provide socially-charged, highly entertaining experiences to players.
"streamers play slots from a carefully curated library of games from the biggest providers in the business"
Back to articles