Back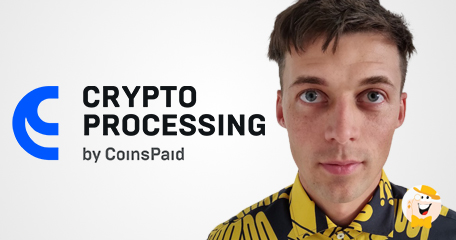 What's in a name? From CoinsPaid to CryptoProcessing - a rebrand has taken place. We reached out to get the scoop on this news and see what other changes may have occurred. Max Krupyshev is a crypto expert and opinion leader as well as the CEO of CryptoProcessing.com and CoinsPaid. CryptoProcessing.com is a licensed and audited solution with a leading position in crypto payments for online businesses. The mission of both brands is to bring joy and simplicity in the world of crypto payments. Enjoy the interview and leave your comments below!
Q: Please tell us about the decision to rebrand from CoinsPaid to CryptoProcessing?
A: I wanted a more serious name for our B2B flagship business. CryptoProcessing is a long but a very nice dotcom name. Two of my main requirements for B2B business brand name are: 1)Explains business direction and 2) passes "phone test" - meaning that you can tell the name and expect person to type it in browser without mistakes or even remember. CoinsPaid is hard to pronounce for me and people tend to ask "Coin Spade?" or "Coins Pad"? I got sick of explaining "no it is like Coins are Paid, like pay in the past tense". You got my pain :) a lot of older clients still call us "coinspad" - can't even imagine how they find our website to login to.
Q: CryptoProcessing was originally established in 2014. Give us a bit of background on the company.
A: This is a relatively old story, Ivan Montik (CEO of SOFTSWISS) was into Crypto even before 2014, can you imagine, Vitalik Buterin interviewed him! Ivan was running crypto casino platform, auction software and trading engines - these businesses always needed its cryptocurrency backbone. This is how our product started - internal towing horse for group of projects. This was long before I joined in early 2019. My first task was to transform business from being internal wallet for group' needs into a real business with external clients, providers, partners and even website. Good that tech part was solid from the start.
Q: What changes, if any, will there be as a result of the rebranding?
A: Nothing really, we are separating lines of business. Brand will get its own awareness, marketing and PR. Clients will be shifted to login under different website, we are making transition slow and ensuring there is no pain for our clients. CoinsPaid will stay for B2C needs as a wallet with build-in exchange. These 2 products will have a very tight connection and synergies.
Q: Apart from crypto to crypto exchange, CoinsPaid supported Euro only according to our previous interview. Do you now support other major currencies?
A: Oh yes, we have over 30 Fiat currencies, can add more by request. So we allow our clients to hedge against all available currencies but we settle only in EUR, USD or GBP. For now this satisfies our clients fully; demand for bank transactions in exotic currencies is extremely low.
Q: The iGaming market was the focus for 2019. Will this continue throughout 2020?
A: We plan to diversify our portfolio significantly. We believe that Crisis and Quarantine will open more doors for cryptocurrency usage in various online businesses. We have an amazing product, have to press the gas harder on PR and marketing and we should make it. iGaming is great, we love this market and understand its needs very good, there are still a lot of regulatory and political issues but we will see where this brings us. I mean issues like MGA not allowing crypto, Trustly not allowing their clients to deal with crypto etc.
Q: What else should we know about CryptoProcessing or the rebrand?
A: We continue to deliver 1st class services to online businesses just in a more visually pleasant way, we are redesigning everything, rethinking interfaces and adding new features every 2 weeks as usual. Some amazing things will be released these years, we are innovating a lot! Stay tuned and give us a call if you need any advice regarding cryptocurrency payments.
"We continue to deliver 1st class services to online businesses just in a more visually pleasant way."
Back to articles