Back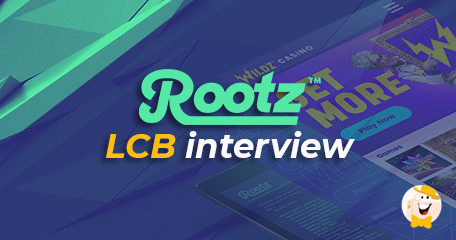 Established in 2017, Rootz is a newcomer to the iGaming industry. With initial plans to develop an online casino brand, Wildz, the company moved forward with its own casino platform complete with all aspects necessary to not only integrate future brands, but also support every operational need. The game selection is a combination of approximately 20 partners including the industry's top providers. LCB learns more about the company including the concept of machine learning and automation. We thank Rootz for giving us an insider look and encourage LCB'ers to leave their comments below.
Q: Rootz is a fairly young company, tell us about your platform.
A: We had originally thought of building just a casino. It soon became clear that we would have to create our own platform to power the casino we had in mind it. Fortunately, we already had the talent to do it.
One thing that makes this platform unique is the environment in which it was built. Work on the casino proceeded simultaneously, so it meant that every aspect of a casino – developers, management, payments and fraud, content, SEO, operations, and even marketing – all had a say in how it was built. It was also built from the very beginning to be able to integrate additional brands with minimal effort.
Q: What sort of customizations and modifications are possible with the platform?
A: With enough dev work, anything is customisable. In practice, the gaming platform, in conjunction with CMS, allows for near immediate modification of just about every word of text on the site in every language. A visual interface allows people with basic computer skills to easily modify the game lobbies to their liking.
An intuitive campaign system allows Rootz to segment customers based on location, value, game genre preferences, depositing history, and we can even use custom tags to segment in any way we see fit. Absent perhaps the graphics required for a campaign email or news story, a single person can configure and launch an entire campaign even if they possess just a small amount of technical competence.
The platform was designed, and continues to be improved upon, with the idea that anyone can master it in a short time frame.
Q: As a platform developer, what are some of the obstacles you face in today's iGaming market?
A: Complying with shifting regulation comes to mind. When you are running a multilingual site targeting many different markets, that platform needs to be flexible enough to run smoothly while including or excluding features in individual markets in order to comply with gaming regulations. We are in the process of obtaining a Swedish license and the new gaming regulations in Sweden present challenges. As a company that prides itself on giving out the most rewards, the Rootz platform will have to manage the very restrictive Swedish market where only a single welcome bonus is permitted.
Frankly, as a smaller company compared to most others, we believe we have an advantage when it comes to conquering obstacles. While bigger companies may have more resources to throw at a problem, we mitigate that by being nimble and adaptable in a way larger companies simply are not due to their structure. If someone spots a problem, we identify the pros and cons of a solution, discuss it amongst ourselves and subject-matter experts, and move forward with fixes or improvements fairly quickly. In the time it takes us to identify, discuss, and fix a problem, larger companies are often bogged down by "too many cooks in the kitchen" or massive egos jockeying for position.
Q: How many game providers do you currently work with and are there more to come?
A: We of course feature titles from heavy hitters like Netent, Microgaming, and Play 'n Go. We also feature other operators like Quickspin and Thunderkick who, while smaller than the aforementioned iGaming giants, do not at all lack in quality or creativity and we are proud to call them partners.
We've added so many lately that it's hard to nail down an exact number off the top of my head. Right now, we have about 20 providers, give or take. We will most certainly be adding more providers going forward depending on factors like customer requests, game innovation, market expansion and, naturally, game developers who lower their costs in order to join what is most certainly the fastest-growing European online casino of 2019.
Q: Tell us about your first casino brand, Wildz.
A: Many companies talk about placing the customer first, but that is often knee-jerk marketing language. At Wildz, for weeks before we opened, we invited testers to provide feedback and provided generous bonus money for doing so. In the weeks before we launched, we devoted almost every man-hour at the company to resolving issues and improving Wildz Casino based on the suggestions of our players.
As far as how we saw the product, we wanted, first and foremost, to build a fast and responsive casino free of unnecessary elements, especially gimmicky marketing modules. We feel that this has been a great success. Wildz is easily one of, if not the, fastest online casino on the market today and it's obvious after signing up and navigating around for a few minutes. In 2019 and beyond, consumers simply are not going to accept slow and bulky websites.
Because Rootz has a smaller workforce compared to most of the competition, we are able to roll savings that we would otherwise be spending on salaries and overhead into rewards for our customers. In the first week of operation, we gave away 1 million free spins. Since our launch in early July, that number has now eclipsed some 12 million free spins.
The Wildz motto is Get More. We understand that players have options out there, so we are going to make the decision to play at Wildz easy for them by continuing, as promised, to give out the most rewards in real-time.
Q: We're interested to know about the concept of machine learning and automation in terms of the casino brand. How does this work?
A: There is a lot of data that an online casino accumulates. The key is to make that data work for you and the customer. An easy example of automation is the Levelz mini-slot. When a customer "Levels Up" they will receive a spin on our custom slot which awards free spins to the games they like to play and other special game promotions. Furthermore, the value of these spins is a direct correlation to the wagering amounts they played during the previous level. In this way, players are rewarded according to their value and get the sense, and rightly so, that they are being treated fairly.
One area machine learning is going to be particularly helpful is in terms of security. Machine learning will help identify potential cases of fraud that a human being might easily miss during a busy workday. So-called "bonus hunters" are going to find Wildz an unattractive location as machine learning identifies patterns in play which suggest someone is engaged in abusive behaviour.
The most impressive aspect of machine learning is that it improves over time. The longer it is implemented, and the more data our systems can crunch, the more accurate the system will become in differentiating between unusual gameplay and suspected fraud. Likewise, as the system learns when individual players are most likely to play online casino or take actions like accepting a bonus, we can best tailor rewards and communications on an individual level. This is something that no other casino is capable of right now.
Q: Where do you see the company headed in the next 5 years?
A: Well, if our customers and the industry buzz are correct, Rootz and Wildz will be a major player well before the 5-year mark. We take things day by day here at Rootz and are currently committed to perfecting an already amazing product. It's clear from a little browsing that Wildz is the gold standard right now, but we aren't resting on those laurels and remain devoted to constant improvement.
One possibility is that some of these larger operators, companies with large workforces and significant overhead, are going to start looking at Rootz as a potential buyout target in an effort to slim down their operations. We are having greater success than companies with 10x the employees, and industry players are beginning to take notice. We've also built the platform in such a way that any company which did make us an offer we couldn't refuse would find out that integration of their brand onto the Rootz platform will be far less painful than what may be anticipated.
Having said that, we'd be thrilled to be running Wildz, and perhaps some other brands, with this same crew in 5 years. They've shown that they are among the very best people this industry has to offer and there is absolutely no reason why we shouldn't expect continued success down whichever route we end up taking.
"The platform was designed, and continues to be improved upon, with the idea that anyone can master it in a short time frame."
Back to articles