Back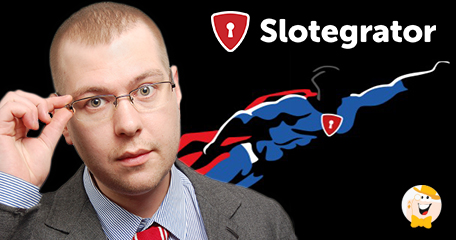 Slotegrator provides online gambling operators with a wealth of games from many providers. That's exactly what a content aggregator aims to do and this company does it well by partnering with the best of the best. Find games from Endorphina, Microgaming, Quickspin and SOFTSWISS, to name a few. There's actually many more services of their sleeve. Of course, we wanted to know more, so we caught up with Denis Dzyubenko, the brand manager, and thanks to him, we've got a lot to share with the LCB community.

1. Established in 2012, tell us where did it all begin.
Initially, Slotegrator used to be a team of startuppers keen on the idea of making this world a better place. We used to do everything superheroes would usually do, including helping grannies cross the street or rescuing cats stuck on high trees. However, a hazardous thing such as illegal gaming software appeared in our city. We started combating it, as long as all illegal content is considered to be malicious. Still, there is no winner in this tough combat. That´s why we came up with an idea of creating a company that would be selling only licensed content to various operators. We turned into "Batmen" bringing legal changes by сlearing markets from evil black-market products. Our mission is to bring all the good things into the gambling world such as awareness and lawfulness.
2. Where are the headquarters located and how many employees to do you have these days?
Currently, Slotegrator accounts for 27 employees, though there were only 6 of us at the very beginning. Another important fact is that along with the steady development of our company, one can notice gradual growth in the number of specialists involved in our business. Our headquarters are situated on Cyprus in Lemesos.
3. What services does the company offer and which of them keep you the busiest?
Our company puts together the best solutions catered by the most renowned gaming software providers. Due to our partners, we enable operators to improve their performance by introduction and integration of brand new gambling services and products such as Telegram Casino, online casino platforms, White Label solutions for casinos, turnkey casinos, sports betting, fantasy sports, e-sports, virtual sports. Frankly speaking, we devote a lot of time to establishing new partnerships. Before signing deals, we spend a certain amount of time on the selection of providers, data research, info exploration, report compiling, etc. The whole process is quite time-consuming and intensive, which means that our employees put a lot of effort into the project. However, it also means that our projects are strongly sought-for, that is why we are being interviewed by Latest Casino Bonuses at the moment.
4. You also cater to Bitcoin operators by offering the platform and backend services. Are there any differences between the operation of a casino based on the concept of a crypto currency and any other?
Broadly speaking, Bitcoin casinos and regular casinos are pretty the same products. All the basic functions such as content filling-up and back office adjustments are equally applicable to either type. The main difference between them is that projects based on crypto currency are more popular among gamblers, as give them more opportunities and benefits. Bitcoin is extremely popular with gambling audiences due to its anonymity and swiftness of money input/withdrawal. Additionally, one should always bear in mind that in order to benefit from a crypto currency service, it is necessary to integrate another traditional payment system, as long as common aggregators use traditional types of currencies more.
5. How was the concept of the Slotegrator Academy born and what educational tools are available to your clients?
It is a very important question and I am quite pleased that you spent some time making a little research on our webpage. Currently, we are one of the major gambling aggregators on the CIS market. At the beginning of its commercial performance, Slotegrator had quite different priorities, though within time, we have realized that there are thousands of people looking for reputed resources of information in order to use them for their personal development or improvement of their gambling businesses. Google and thematic forums are very handy in covering such needs; however, people tend to avoid rumors and amateur opinions when they are making a research on profound topics. On contrary, speakers from Slotegrator Academy are experienced enough to share their knowledge with everyone interested. The more educated and aware people we get, the quicker the gambling industry evolves. We assist operators by teaching them how to provide quality services, increase their incomes, and avoid the most widespread mistakes. Note please, we are doing this absolutely for free. Before every webinar we conduct, or while we are conducting it, anyone is welcome to put questions, consult our managers or speakers. Another advantage is that Slotegrator Academy provides informative reviews in various languages, and, by doing so, substantially increases the numbers of our audiences.
6. An upcoming webinar will teach operators how to attract more players. In your opinion, what factors are most important from a player's perspective?
I believe, that the most important factor influencing an average online gambler is his/her personal security. That is why Slotegrator collaborates with licensed software providers only. Licensing certainly guarantees that gamblers will not be deceived. As for the trust issues, I am convinced, that swift money input/withdrawal (regardless of the amount) really matters. I am sure, that Nikolay Tugolukov will cover this topic thoroughly during his upcoming webinar performance.
7. How does the company research the market? Do you rely on feedback from your partners or other resources like LCB forums and reviews?
We certainly read thematic resources and informative web portals publishing materials on recent events from the world of online gambling. I am very glad that LCB became our partners along with the rest of influential media resources. We have a common goal and keep developing this industry. Slotegrator's team always considers opinions of its partners, tracking the most recent developments introduced by their competitors, follows the most recent tendencies. It is necessary to do all of that, in order to promote and implement all the said innovations into our clients' projects. Another positive trend is that the number of media resources is constantly increasing, contributing to the development of various innovative developments. Let us take Telegram chat bots, for instance. We were the first to introduce such a solution, as long as it does not have analogs on the CIS market.
8. What's in store for Slotegrator in 2017?
At the beginning of 2017, we are planning to expand our product line adding to it sports betting, fantasy sports and cyber sports providers. Additionally, we still have a couple of conferences on our checklist, including the upcoming Georgian Gaming Congress. Moreover, we are looking forward to conducting more webinars, preferably, every month, as well as signing more deals with a greater number of clients than in 2016, providing support to actual operators and promoting Telegram casino solutions on the gambling market. Still, we put a lot of effort into becoming a leader of the gambling industry. I am convinced that due to LCB we will keep reaching high goals!
Thank you for your questions. It has been my pleasure to talk to you!
"Our mission is to bring all the good things into the gambling world."
Back to articles