Back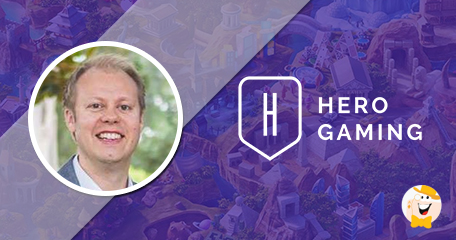 CasinoHeroes takes players on the ultimate adventure with engaging gamification. Go head to head against the toughest bosses to move on to new worlds and establish peace on Hero Islands. This place is tailored for video gamers and gamblers alike. The brand has entertained us since 2014 and 2017 is a big year filled with lots of surprises. We caught up with affiliate manager, Sami Kurvinen, to get some juicy info to share here with all of you. Already a diehard player? See what Sami had to say about an upcoming redesign, new worlds, software integration and a heck of a lot more. Psst...we've also got great news for players from the United Kingdom, so keep it right here to find out what it is. Enjoy!
Q: We'd like to get started with an introduction to Casino Heroes including the development of the storyline and initial launch.
A: Our founder Georg Westin wanted to create something that stands out from the crowd and brings some added value and excitement to the players. Today there are a lot of casinos out there and most of them look more or less the same. This is not the case with CasinoHeroes though.
Georg started scribbling on the idea of a magical realm called the Hero Islands, where Heroes fought gruesome Bosses in a fight between good and evil. Much like in the games he played when he was a child. Eventually, he made a reality of his ideas and CasinoHeroes was launched back in 2014.
Q: Tell LCB'ers more about the adventure through Hero Islands, the challenges players face and the rewards they can receive. How often are new missions announced?
A: The players start by choosing their Hero which is their avatar through the adventure. The adventure then starts on the first world called Treasure Island. While our players play their favourite casino games, they see how they are advancing through the adventure in their progress bar. Once they fill the progress bar, a boss fight is waiting. If they manage to beat the boss, they will move forward in the adventure and another new boss will be waiting for them. When players manage to beat a boss, different rewards will be waiting for them. These rewards can be free spins, different bonuses and even weapons that can be used towards future boss fights.
New missions are upcoming constantly as there will always be a new boss and new rewards waiting down the line. At times there are different promotions as well, where the progress bar will be filled with double speed or you race against the bosses and you are rewarded if you manage to fill the progress bar before the boss does the same.
Q: Once a player makes it to the top of Treasure Island, is it game over for them? Can the adventure really go on forever for your most loyal players?
A: When a player manages to advance through the whole Treasure Island, beat the last boss and erase the evil and bring back the good, happiness and peace to the island, a new world and adventure will be waiting for them. This new world will have new challenges, bosses and rewards waiting for them.
In total there are 3 different worlds for the players to save. We also have some surprises coming up in the new future.
Q: In terms of software, how many providers are you up to now and are there any additions coming soon?
A: It's of course very important to offer our players the best and most exciting games to play on. That's why we have added a total of 9 gaming providers to our portfolio of games. We are proud to be able to offer our players games from NetEnt, Play n Go, Microgaming, Yggdrasil, Playson, Betsoft, Push gaming, Quickspin and Evolution gaming to our live casino players.
We will also add some more gaming providers and games in the near future.
Q: We hear a new version of the casino is coming out in September. What can you tell us about that?
A: This is something that we are very excited about! Our developers have worked really hard for the last 8 months on this update and brought all the bright minds together to bring the absolute best gaming experience to our players. This new version that we call Casinoheroes 3 will be the biggest update of the site since the launch in 2014. We see ourselves as leading when it comes to gamification within the online casino industry, and this updated version of CasinoHeroes will prove that once again.
Players can expect a completely new and improved player experience especially on the mobile version of the site. We will introduce a new world and 10 new bosses. Players will be able to play the worlds simultaneously and jump between the islands and bosses instead of having to play the worlds one by one + loads of other new functions that we believe that our players will enjoy.
On top of this, we are happy to announce that we have agreed to a special agreement with several of our gaming providers where we are allowed to release new games before anyone else. So not only will our players be part of a unique adventure while playing their favourite casino games, they will also be able to play many of the new games on CasinoHeroes before anywhere else.
Q: UK players have good reason to be excited, don't they?
A: Yes, I would say that they do. We recently were granted the UK license for CasinoHeroes and we plan to enter the UK market in October. The UK players will soon be given the opportunity to play their online casino games on a unique site that adds extra enjoyment and fun compared to their usual casino experience. We are happy and excited to enter the UK market and we hope that the players will enjoy our product in a way that our players from other countries do as we really can offer players an experience that can't be found elsewhere.
Q: Well, as if there isn't enough greatness planned for this year, are there other plans in works?
A: Yes, we are planning some exciting additions to CasinoHeroes later this year on top of everything else that will be added soon when we launch the updated version of the site.
We also continue to develop and improve our other brand Betser.com that offer both Sports and Casino in a different and innovative way. While you are playing on Betser, you collect Balls and Brains depending on your game play. These Balls and Brains can then be exchanged towards free bets, free spins and more. On top of this, we have a Betser league where players compete against each other. The winner of the top division is rewarded with €2,000 in free bets or €1,000 in real cash every two weeks.
Q: Sami, we'd like to take this opportunity to thank you for chatting with us. On that note, we'll end with the most difficult question of them all: If you could play only one game for the rest of your life, what would it be and why?
A: It was my pleasure, thank you!
Hehe, well if I only had one game to play on for the rest of my life I would choose one of the big jackpot games. I would then chase the big jackpot and that one massive big win for the rest of my days. My favourite jackpot game is Mega Fortune from NetEnt so I would choose to play that one and then hopefully one day collect one of the massive jackpots.
"We recently were granted the UK license for CasinoHeroes and we plan to enter the UK market in October."
Back to articles