Back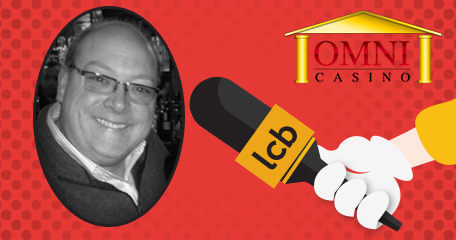 Time flies when you're having fun! Can you believe it's been 20 years since the launch of Omni Casino? Yep, the highly LCB rated brand has been around long enough to have raised a child and send him or her off to college – sheesh! You guys have raved about everything from the modern design to the promotions and the stellar customer service. Speaking of customer service, we stole a few moments from Omni Casino COO Matthew Kelemen to chat about many things including the brand's VIP program and the importance of rolling out the red carpet for players. Enjoy and here's to 20 more years of success.
Q: Omni Casino has a long history in the industry. In fact, the brand recently celebrated its 20th birthday. Walk us through the early days up to now and the reasons for its success in such a competitive market.
A: Well, where do we begin! Back in the early days of the internet, everything that could be thought of to put online was being started. Everything from online bill payments to where to buy a car. Of course, it took all of two minutes for people to think up the idea of online gambling. Thinking up the idea vs. actually doing it was, of course, a whole other ballgame. In November 1997, we understood the challenged. Back then nobody really knew what the internet really was and what it could really do. To be honest, we did not have a clue about what we were doing! Who did? We were at the forefront of this new entertainment concept and even though we were trying to figure out for weeks a way to get an email to automatically send to a new member sign up, we knew that we could do it…eventually. Our biggest challenge was not so much the technology (we figured that out as we went), but rather it was to prove that online gaming could be done fairly, honestly and safely. So, with a handful of staff members in a one-room office overlooking a parking lot of a food store, we set out to make Omni Casino prove just that!
Our first focus in everything we did is providing our members a pure casino entertainment experience as the #1 most trusted, secure and entertaining casino. As we grew throughout the years, our high standards for absolute integrity, transparency and service standards have always been at the forefront of our success and legacy. It took us years of proving our honesty and reliability to our members and partners. In the end, we become the most trusted and secure casino and being 20 has proven that.
Q: Let's talk about promotions. What have you got planned for 2018?
A: 2018 will be a massive year for our members and affiliate partners. Being 20 is not just a milestone, it's an event. Throughout the year-long celebration, we plan to roll out several slot tournaments, cash giveaway promotions, new website and new mobile gaming just to name a few. Our biggest promotion is still on the drawing board, but let's say it will be an event not to miss.
Q: Players are rewarded for their loyalty as members of Club O. Describe the program and its benefits.
A: We have not been in business for almost 20 years without knowing how to value our members. Our core management team looks at an internet gambler no different than a player sitting at the Mirage in Las Vegas. When we started Club O, we could have been just as boring as everyone else. The more comp points you earned, the higher your "status." But, what does going from one level to another really mean? If you look around, not much. At Club O, we tapped into our own experiences of being wined and dined by Casino Hosts. Offering not only gaming rewards but real tangible things that people want! Dinner at your favorite local restaurant? How about a live concert? Absolutely! We may not have a real hotel, 5-start restaurants, glitzy waterfalls or live entertainment in our lounge, but you can 'get it all' at Omni. That's right, we reward our loyal members with REAL comps. Dinner nights out, ladies day at the spa, live concerts and sporting events are routine rewards for Club O members.
Q: In terms of rolling out the red carpet for players, do you think newer brands are missing the mark?
A: No. When it comes to "rolling out the red carpet", that's easy! New brands boast all of the time about how many new sign-ups they were able to get. But, none ever talk about how many of those sign-ups stay and become loyal. Ensuring that your players are always walking on that red carpet, now that's the key difference! And, yes maybe one or two have the idea. However, after 20 years of trial and error here at Omni, we have it figured out and it will take the new brands a few years to get it figured out too.
Q: What does it mean to be a VIP at Omni Casino?
A: Friendship. We cannot say it anyone other way. We are sure many of the people reading this interview have experienced the direct connection with our VIP Managers. We actually talk to our members as much as possible. We become friends with our VIP members. We listen to them when they are down in their personal life. We celebrate Son's birthday with them. We cry when they pass this life. The best businesses in the world know their customers, but at Omni we know our FRIENDS.
Q: The operation has made it twenty years in this business, which is no easy feat. What sets the overall Omni experience apart from the others?
A: You are correct. It has not been easy. Sometimes it was. There has always been a stretch of time when things were on cruise control. Then, things change. People change. Games change. Laws change. With every change and evolution, we needed to change as well. It's hard to change. Everyone knows that. So, our success is rooted in not only how we run our casino, but how we have changed over the years. It's been tricky and not always perfect.
"Being 20 is not just a milestone, it's an event."
Back to articles