Back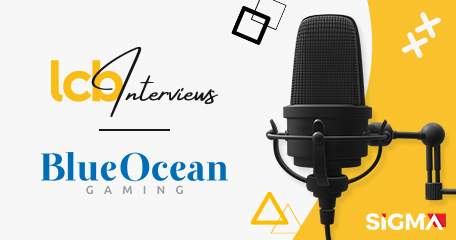 August was quite a month for the iGaming scene of Serbia, and the Balkans in general, as it got an exclusive opportunity to host the very first SiGMA Balkans/CIS summit. Taking place from August 22-25, 2022, the event gathered some of the most acclaimed online casino specialists from versatile sectors.
One of the highlighting moments of the summit was SiGMA Awards Night, where LCB was recognized as the Best Affiliate of the Year. This acknowledgment once again confirmed that our continuous efforts in bringing more value to players are recognized.
During the conference, our presenter interviewed numerous providers and affiliate partners, bringing us valuable insights from a first-hand perspective. One of them is BlueOcean Gaming, a well-established B2B gaming provider with more than 100 satisfied clients.
Founded in Slovenia, the company was initially dedicated to developing land-based casino software. However, due to the rapid growth of the iGaming sector, quickly switched to online casino solutions, namely Gamehub (Casino Aggregation Platform), White Label Casino Solution, and Turnkey Casino Solution.
We discussed trends, tendencies, and plans with Davor Kunčič, Casino Manager at BlueOcean Gaming.
Q: Davor, we are very happy to have you here and we're hoping you're having a great time at Sigma Balkans. As a first question tell us something about the company and the brand.
A: Okay, so the company is BlueOcean Gaming, which was established back in 2009 and we started building our online gaming platform from the scratch. Currently, we have around 70 employees all together in Slovenia, which is our technical team. We provide, let's say, more than 10 000 games for more than 120 game providers at the moment.
Q: How do you think your company is providing to this industry?
A: Well, we offer two solutions. One of them is a white label solution and the second one is a game aggregation platform. Now we have some key features which our competitors don't have at the moment. So, technically, this is what makes us special and that's why we can say that we are at a top-notch level at this point.
Q: What makes you different from the others and what makes you stand out maybe better than other companies?
A: I have mentioned a few things already but, basically, we try to establish really good relationships with our partners and also try to approach their needs as much as we can, so we can both meet at some point and we're both happier in the end.
Q: Is your software solution the same across the vertical or do you make some
adjustments for the Balkan region?
A: The solution is the same for all the verticals we didn't make any adjustments for the Balkan market particularly. We also try to meet the requirements of our clients and to make some custom adjustments if needed.
Q: How big potential do you see in the industry?
A: The Balkan region has really great potential over the years. We're already working with a few of the biggest operators in this market. This conference is basically just to catch up with them rather than to expand a bit more, but we're still expanding at this point.
Q: Plans for the future?
A: Plans for the future are to follow the industry trends, to expand to new territories, and to add a few more operators.
Q: What is your most popular product and why?
A: Both of our main products are very important because the game aggregation platform and white-label solution are widely searched for. It just depends on whether the client is looking for the whole casino package- then we offer them the white -label solution. If they just want to add some extra content to their existing site then they can go with the game aggregation hub. Overall, I can say that we have a really good package and this is what makes it so popular with our clients.
Q: What is the thing you like the most about the iGaming industry and casinos?
A: I find this industry… I call it an organized Wild West. I mean, I like the people, I like the industry, I like the networking here. This industry is really something else. I've been working in a lot of Industries, but I like this one the most because it stands out from the others. It's a unique industry, what can I say.
Q: Do you have any idea ideas how iGaming industry will look like in 10 years or so?
A: I think it's gonna be wild. If we take a look at 10 years ago and what the industry is right now, it's completely different than what it was before. I cannot even imagine what's going to be in the next 10 years. We have crypto on the rise, we have streaming on Twitch and stuff like this, completely new levels. The new generation of gamblers is creating at the moment. As I can see, a lot of regulation also coming in. So, I think we're gonna be looking at some very fun and diverse times ahead.
Q: Thank you very much.
A: Thank you too.
External links:
"valuable insights from a first-hand perspective"
Casino Software
LCB News
Back to articles