Back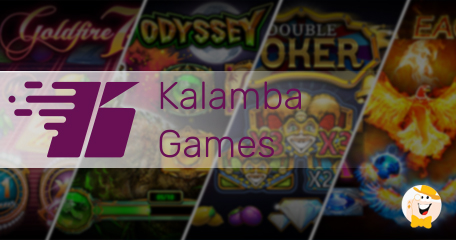 Get to know Kalamba Games in our exclusive interview with the CEO, Steve Cutler, and COO, Alex Cohen. Just over a year old, the company has some exciting things coming up in the new year. As a developer of online video slots, they intend to hit the ground running this year with the launch of one new game per month. Find out more about the company, unique game features and what else is in the works for 2018 including the upcoming entry into the Scandinavian and UK markets.
Steve Cutler - CEO & Co-Founder of Kalamba Games (SC)
Alex Cohen, COO & Co-founder added (AC)
Q: Some LCB'ers may be unfamiliar with the company. Please introduce Kalamba Games including how it came to be and the products offered.
SC: "Kalamba started a little over a year ago with a vision to create great engaging slot games. We want to offer a top-quality gaming experience by entertaining players with fun meta-features and promos, while still playing to a core slot mechanic. There is a lot of content on the market but our opportunities lay too in building a multi-channel framework, that can scale with all the awesome stuff we have coming out in the future."
AC: "So far we have 3 games live, and we anticipate one game per month from next year onwards. Goldfire 7s is a classic Vegas feel slot with a locking wild respins feature that gives it an extra punch. Fire Eagle is a unique game that is geared towards high wins and excitement in everything from the reel layout to the meta layers. Double Joker is a 3-reel joker game that has fun volatility, giving players a shot at massive wins via the locking joker respin. Each of the first 3 games features Kalamba's integrated missions, where players accumulate symbols over up to 100 games to win up to 1000x bet. We have an awesome backlog of games coming out, which come with a variety of meta-features and great promo opportunities. Our games will be available via multiple operators very soon too."
Q: As a young company, how has it grown since first entering the international market?
SC: "A year and a half ago, we were just an idea. Now we're small but growing and we like to think we can adapt to what players really want faster than many of the big guys. We all come from a variety of gaming backgrounds and thus are collectively passionate about the many sides of what makes a great game."
AC: "The main thing over the past year has been building the scalable framework relative to our vision and creating our first few games to get them launched with a select group of casino partners. We are live in DACH and Asia and soon to be in the Scandinavian and UK markets. Now that the games have been running for a couple of months, players are responding well to the quality of the games and are engaged with the metagame features that we have designed so far."
Q: How many employees are there between the two offices?
SC: "We have a team of 10 people full-time and use some really talented contractors, who essentially take capacity to over 16. As mentioned earlier, we are growing and this year we will see both the Malta and Krakow offices taking on new people.
Q: As a provider with a focus on slots, how do you approach development from concept to design?
AC: "Feature-wise, a goal is to give players the excitement they want, and to be aesthetically attractive. We want to make sure we have a fantastic offering, and we are not afraid to take onboard feedback, in order to meet the expectations of players as we continue to release games."
Q: Are any features unique to your games?
AC: "Our meta-game features and best in class game maths should prove themselves over time, but each game is its own production and comes with a unique combination of standard, meta and prom features. With the metagame features, we want to give the players' experience an extra dimension, and so we have worked hard to build them on top of core guts of the games. The first three titles have a variation of a mission mechanic, involving collecting symbols to win prizes with an extra unique twist being that a player can choose the volatility profile they want. They can select a mission (Bronze to Platinum) that lasts 30 spins up to 100 spins and which symbols to collect. They can always try and beat their best mission scores too or others, if part of a promotion. We thought this was important to give players the right feeling that they want from the game, while still giving everyone a chance to win big and have a lot of fun doing so."
Q: Can you dish any details about upcoming game releases or projects?
AC: "Expect some really cool themes, as well as plenty of variety with our metagame features. It is an exciting time ahead and we are looking forward to getting better and better. Of course, we are happy to give your readers some sneak previews to upcoming games and take on any valuable feedback."
Q: Do you have any predictions for the iGaming industry in 2018? Also, which direction will Kalamba head in the new year?
AC: "There is plenty of scope to integrate meta and promo features into games that drive up the player engagement. However, it is also a fine line between having too much, that can distract from the core guts, rhythm and excitement of a good slot. There is plenty of content on the market to choose from, as well the many different preferences and trends amongst segments. Kalamba's innovation will come from identifying the balance between the guts and the meta-features relative to the player demographics. It will come from knowing how best to localize the games in certain markets in order to give the players the best possible experience. It comes too from the promo tools, so operators and players can have a whole new set of exciting things to do around the games. Finally, it also about ensuring a multi-channel experience and all our games are designed to work seamlessly across all devices, be it in landscape or portrait mode."
"Our goal is to give players the excitement they want."
Back to articles