Back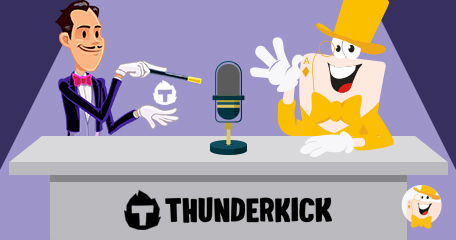 Thunderkick needs little introduction to most LCB members, but for those of you that may be unfamiliar – just think 'Esqueleto Explosivo'. As an online game developer, the members of the Mexican skull band featured in that slot game hold the title as one of their most popular to date. We got in touch with the team to get the deets on where they've been, where they are and, most importantly, where they're going. What we found is a bunch of fun loving kids in adult bodies just like us. The team imagines every character and theme featured in the games and we even got a bit more info on the latest release, Full Moon Romance. Without further ado, meet Thunderkick.
Q: We like to get the background on names, so please tell us about Thunderkick and what the name represents.
A: Never a dull moment- no, to be honest, we don't have a story behind our name to share really we just have the best logo.
Q: Which was the first online operator to pick up your games?
A: Unibet was our very first direct integration and the first casino where our games went live. This shall be remembered until judgment day or when the scoops of sunny delight shall melt.
Q: Esqueleto Explosivo is, and will always be, the rage among players. Of course, the fantastic 3D graphics and a band with a name like 'The Boners' are more than enticing, but to what do you owe the game's success?
A: It's amazing, Esqueleto Explosivo is month after month still one of our best performing titles even though it recently gained itself some fierce competitors during 2017. Esqueleto has something for almost all casino players. We believe we can thank Esqueleto Explosivo for our determination to never rush a production and release something we are not 1000% happy with. Just like with science, it all comes down to the details.
Q: The characters incorporated into your games are really fun. How were Roasty McFry and The Flame Busters born?
A: Thunderkick is our very own Neverland I assume your audience has seen Hook- Peter Pan and the lost boys? A must for those of you that have not. We are the lost kids of Neverland who never grew up and instead of retreating to fairies we are between our swinging thirties and golden forties with a crazy imagination and an appetite for slots.
Q: The anticipation is running high among players to meet Jack and Rosie in the upcoming launch of the Full Moon Romance slot. What can you tell us about the concept and development of the game?
A: It might be the most mature Thunderkick slot to date but with a twist- of course. Who doesn't love prom and werewolves as a theme? That's like SOS (herring and Aquavit). Full Moon Romance is a great load of fun for both the experienced player as well as for the newer slot player. We prefer to let our player s judge the production with spins rather than words.
Q: You've reported big wins on your slots, so do you happen to know the largest win on record?
A: Fruit Warp 7000 x the bet - and then the game had another 4000 more to give to a lucky player in one spin.
Q: Online gamblers often come across terms like 'Remote Gaming Server', but don't necessarily know what they mean. Considering Thunderkickprovides an RGS product, could you provide the details for our members.
A: The Gaming Server is where all the magic happens Graphics, maths and sound. Casino operators, as well as players, access this via Internet, aka remotely. Just like magic!
Q: What direction is the company moving in? New markets? New products?
A: We'll be putting, even more, emphasis on creating high-quality productions that we can take pride in. We have a new bonus tool we believe will appeal to both players and operators coming out soon. Our very first Jackpot game with a nice twist to it is in the pipeline and will be released in late 2017 or early 2018.
Q: From all of us here at LCB, thank you for the chat. What can players look forward to next?
A: A hard fall, our next games are going to feature whopping volatility and chance of great winnings.
"The Gaming Server is where all the magic happens Graphics, maths and sound."
Back to articles