Back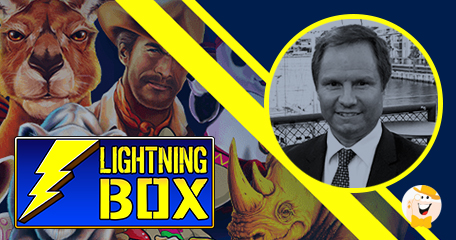 Lightning Box has gone down under with its latest slot game release, Jackaroo Jack. We wanted to learn a bit more about this hot new title, so we went straight to the top with a fun Q&A with Peter Causley, Lightning Box Managing Director and Co-Founder. LCB also got the scoop on what the company has been up to over the last year and its plans to enter the American online gambling market with the launch of its games in New Jersey. We tried to pick their brains in hopes of getting a few hints as to upcoming game releases, but they Peter remained tight-lipped. LCB'ers will just have to wait to see what's in store over the next few months. For now, enjoy this intro to Jackaroo Jack!
Q: You've just released your latest game, Jackaroo Jack. Tell us a bit about the game and what it's all about.
A: We've gone back to our Australian roots with the latest addition to our portfolio Jackaroo Jack, which takes players to the heart of the outback. The 4x5 reel has been designed with a huge 1024 ways and sees players attempt to lasso the wild horses, kookaburras, and rampant bull symbols to earn the Horn wilds as well as the five bonus games. The game also features a 40x multiplier, so if players can round up the roaming animals, big wins are up for grabs.
Q: Where can the game be played?
A: Jackaroo Jack will be available to GVC's wide array of online casinos such as Ladbrokes and Coral exclusively for three months from launch. Their portfolio of brands speaks for itself and we can't wait for their players to try out our latest offering. It will be made available to all our other operator partners when it goes on general release on 23rd January.
Q: It's been a busy year at Lightning Box, what changes have gone on over the past 12 months?
A: There's plenty going on at Lightning Box and it's a very exciting time for the whole business. Our team is growing at a healthy rate, with the number of staff doubling over the past 18 months. Our expanding workforce has meant that we recently moved offices as we continue to explore new and innovative ways of expanding our operations. The new premises have helped immensely with staff retention, whilst we've seen a significant uptake in new applicants coming forward. Both of these factors bode well for the remainder of the year and we are all really excited to see where we can take the business.
Q: What plans do Lightning Box have for the U.S. gaming market?
A: The changes in U.S. gambling laws have opened up a number of interesting opportunities which we as a business are keen to explore further, most notably in an online casino. We have established ourselves in the U.S. via several deals in both the land-based and social casino industries and the games we produce for these markets continue to be well-received by players. As well as this, we'll soon be offering games to online casino players in New Jersey. This has provided us with valuable information, which coupled with what we have learned from our British and Scandinavian partners, should put us in a strong position to help out the other American online casino innovators as they step forward.
Q: Lastly, can you give us an idea of what games are in the pipeline from Lightning Box?
A: Whilst we don't want to give too much away about the games we have in the pipeline, we can assure you that we are continually striving to produce new and innovative content. We have built up a number of strong relationships with our operator partners and we are committed to providing them with content that their players will enjoy. It's sure to be a busy next few months for all of us!
"We've gone back to our Australian roots with the latest addition to our portfolio Jackaroo Jack. "
Back to articles