Back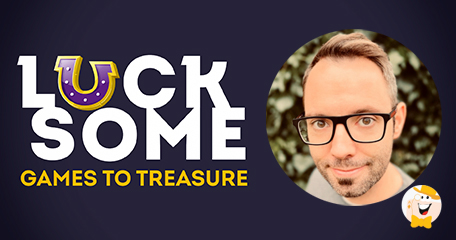 In the game since 2020, Lucksome was founded by Bryan Upton, a gambling industry pro. He and his talented team create online games such as VooDoo Temple (May 2022) and the latest release, Bon Bomb Luxpots, a Megaways slots. Working with Blueprint ensures great variety for players, a topic covered in this exclusive interview. We caught up with Bryan to talk all things Lucksome including challenging career moments and his thoughts on the future of online gambling.
Q: As a game studio working with Blueprint, tell us about Lucksome and your extensive career in the gambling industry.
A: I've been in the gambling industry all of my professional life which is around 16 years now. I started out as a game artist, then games designer, studio lead, product management and then C-Level management. With Lucksome I've gone back to my roots as a Games Designer and running the studio. Always been in the Casino games and systems side of the industry, and have worked on land-based from Vegas, to online here in Malta. I've had the privilege to work at companies like OpenBet, Inspired, IGT and NetEnt where I looked after the Games Development and Product strategy there. Lucksome started in the pandemic September 2020 with a brand-new team of industry veterans.
Q: For our readers, how is a separate game studio beneficial to existing providers – Blueprint in this case?
A: I think it's just about diversity. If you look at the market where you're trying to fit a product, that product is almost certainly going to be slightly different between those different markets. Back in the day when there weren't many casino providers and there weren't many casinos, the choice was limited, so people just went with what they had in front of them and they played it. Now there's so much choice, they're refining their tastes. On top of that, I still believe that we are continuing to mainstream; the fact that regulation is happening means that that is the case. With that comes a larger level of interest from players or would-be players that have been on the periphery for a long time. So, all of that, plus the regulation, means that you need (as a set of studios, or a distributor) to have a diverse portfolio. But that diversity comes not just from the market, it just comes from the people. So, if you've been making games together for a long period of time, you generally end up making very similar games, or your approach or philosophy becomes something like this. Different groups of people will make different games together.
If you have lots of studios that are allowed to think differently, you will get that diversity. I know the games coming out of Lucksome definitely feel and look different to Blueprint, as do a lot of other studios that are working under, say, the Microgaming hat. It's just purely about innovating and diversity of content to try to find those player needs and build up your portfolio. I think it's very beneficial.
Q: The portfolio is comprised of slots only. Do you intend to expand into the development of additional game types in the future?
A: Yes, we are looking at this, but right now slots are definitely our focus. We have a few ideas for something else and we're blurring the lines between slots and other things. We have those games in the pipe, but they're not quite finished yet - we're working on them, stay tuned!
Q: Would you grant LCB'ers a glimpse behind the curtain and describe Lucksome's approach to new games from concept to fruition?
A: I'd like to say that we do it in an extremely different and new and innovative way than anyone else does, but it's totally not true. I think the most important thing for me - and maybe the guys would disagree with me - is the fact that we know each other so well and we work together really well and the chemistry is there within the studio. Our studio is small. We all know each other. We work together. We work out together. We cook together. That's who we are as Lucksome. And that means that we can have very easy conversations. So, if I have a bad idea, no one's going to hold back and tell me it's great, they're going to tell me "that doesn't work" because we're so close. I think that's super important.
Other than that, it's kind of relaxed. We work hard but we try to work smart as well, so we're not constantly killing ourselves, which means you can focus on the future. It means you can focus on what's important and making sure that those designs are as good as we can make within the confines that we've got technology-wise, regulation-wise, etc. Other than that, we have games design sessions. Sometimes we have them in the office here because our office is like a villa in Malta, a nice place to be. Sometimes we go and rent a room in a hotel and have a break from the norm. I'm not going to say there isn't alcohol involved because I find the best ideas are absolutely when we've had a few beers down the pub. There's no secret to it. I think the thing is just to hammer the idea; don't come up with the idea and think 'Yeah, it's done'. You come up with the idea and then you get some input. Then you go away and hammer it out again. Then you come back, and you pitch it again with the new stuff. You hammer it again... you hammer it again... until everyone has very little to say about it. So, you beat the idea up and then you put it to development. I think iterating on your ideas and don't be afraid to take your time over it, is really important.
Q: VooDoo Temple was live on the network as of May 2022. Describe the slot theme including special features such as 'Shadow Spins'.
A: Voodoo Temple is a 2-4-3-ways game on a five-by-three, it's ALL about the multiplying masks and the High Priestess Wild; she's the central part of the game. When you get her, she activates those multipliers and they multiply all of the winnings that you get on that spin. So, the more wilds, the higher the multipliers. And then adding on to that, we have the Shadow Spins, which goes into a hot streak-type mode in the game where the RTP elevates quite significantly and you have five spins in the base game where those multipliers can go really high. If you're lucky enough, she casts a multiplier boost and increments the multiplier even higher. In free games that can go up to 70x! That can deliver a massive win obviously.
In Voodoo Temple I love the shadow spins a lot; it's cool because you've now got five spins of something potentially quite awesome to come. You can enable the shadow bet in some markets which then doubles the chance of the shadow spins coming in, which is also neat and the RTP goes up, so I usually play on that when I'm playing it as well and that gives you a more interesting super ride getting these shadow spins to come in. Plus, I love the flames on the reels!
Q: Bon Bomb Luxpots, a Megaways slot, launched July 21, 2022. What can players expect from this sweet new release?
A: We're using a well-known mechanic – which is this prize ladder – and we've put it into a Megaways game but with a twist. It's our first Megaways game, but the Luxpots is the bit that sets it apart from all the other Megaways games. The luxpots prize ladder has great prizes in the base game, but when you get into the free games that prize ladder can be multiplied. The bombs, that are the trigger to get up the ladder, now lock in free spins until no more bombs have landed. So, you get a bomb in spin one... it spins again… and you get another bomb. Now that's locked. You spin again for another bomb... and you keep going, so the prize ladder's totting up, and what you're hoping for is that a multiplier will come in and multiply the entire prize ladder, BOOM! Whatever ways wins you've won on that particular spin will also be multiplied. Next is the bonus buy. In Voodoo Temple the prizes are changed according to how many scatters you buy. You buy three, four or five, and then the price goes up accordingly. From there you can then choose if you want, low, medium or high volatility. With Bon Bomb we've done it differently. We're matching the price and the math profile to the player motivation. What we've done is said, 'well VIPs want to be smart with their cash, so we'll put in a second chance re-trigger'. We're saying, 'it's 300x your bet to buy the VIP one - which is the most expensive - but if you win 60x your bet back or less, you can keep those winnings that you made AND we'll re-trigger the bonus for you again' - that's our Double Lux feature. Whereas the cheapest one, X-plosive, is actually the most volatile one - that's 60x. We've noticed a lot of players will probably play at a lower price because they want to convert a lower bet into a much larger amount (because they're volatile game players). So that's quite a new (and important) design philosophy riffing on the bonus buy play we're seeing from our player base.
Q: Considering your experience in the iGaming market, what on your thoughts on the future of online gambling?
A: A big one is about global regulations. If more major markets come in with more restrictions, especially with game-level restrictions, that changes the product in the market. Outside of that, I think there's still a decent amount of growth, still some great markets out there that are continuing to come online and mature. North America, obviously. Ontario going live with an open license model - that's really great. In terms of the future of gambling and in terms of product, there are some pretty exciting things I'm seeing out there where we've got more of a multiplayer or higher interaction model with people playing gambling games. I'm not entirely sure how that's going to go, but I think it's great that people are looking at that and seeing how they can interact with maybe a set of players that would have exclusively been video games players only. If that does take off - and to be honest, it's been a long time coming - then that could change the future of things a bit. I'm certainly skeptical on some level because of the motivational factors behind players gambling and playing video games aren't identical but they do overlap. I play slots, of course, but I also play a ton of video games. In general, I'm not merging those two activities currently; but that might be because there's not the right product on offer, but it might also be because I may not like it. Someone might crack that code and that could be very interesting, and I'd love to get involved in things like that.
Q: Can you recall your most memorable or challenging moments to date?
A: Our most challenging moment was our first game because we had to do lots of new things at the same time. Although the core team were people I've worked with before that came with me to create Lucksome, we are still working together in different ways and we're working on a new tech stack - which is the Blueprint tech stack - and we're working with new people within Blueprint. We built a new UI; , we had to come up with a new brand - we probably finalised that towards the end of 2020, and we had to think about what we stood for and what games we wanted to make. We had to rethink everything; all our reel timings are ours all the standards of how our games behave - the game speed, selection settings, choreography, win handling... all of those things we did, and we had to incorporate all of that whilst designing a new game and a new UI with a new brand - at the same time together. So I think that was by far the most challenging but absolutely the most rewarding as saw Lucksome come to life. As we moved on, we just got faster and better at doing this. I'd say that's probably the most difficult, but also by far the most amazing; when we looked back and launched that game it was like, "Wow, do you know how much went into that?" It took me three months really of hardcore writing all our standards - an 80-page document that just emptied my head and said, "this is how our slot games should behave". After I finished that report, I walked over to this little cafe called Munchie Moose and had about 12 coffees, and just looked at the sea. I was just sitting by the sea, drinking coffee and not blinking!
"the latest release, Bon Bomb Luxpots"
Casino Software
Back to articles