Back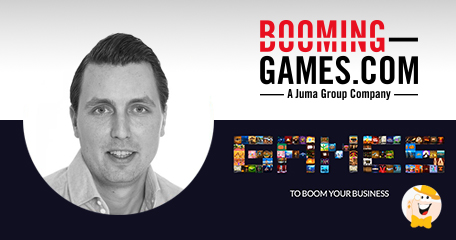 Booming Games CEO, Max Niehusen, gave LCB an exclusive interview covering a lot of ground including several firsts like what it was like to develop the company's very first slot game and seal its first content deal. Since then, they've been busy racking up the titles with over 50 now available at respected operators like BitCasino.io and others. Prior to his current role, Max spent nearly 2 years with a well-known social casino software provider so let's just say he knows a thing or two about gambling related software. You're about to learn some interesting facts about the company and who knows, we may even put a little extra 'boom' into your game so let's get into it!

1. Tell us about your company and what led you to create that very first slot.
Booming Games was originally conceived in 2013, between business partners whose backgrounds ranged from international finance to entertainment technologies. Once the broader task of establishing the company was achieved, we started the creation of our early portfolio in 2014 and now have over 60 high-end slot titles available on both mobile and desktop devices.

2. The general impression, is software companies gather round a table for an official meeting to discuss concepts and designs for new games. Is this the case for your team or is the process more casual?
When a new game is first formulated, it is imperative to convene the relevant departments to achieve the most effective collaboration between them. New concepts are pitched to senior management and experienced department heads, who use their years of expertise in the business to determine the final direction to be taken. We then provide ongoing guidance for the duration of the design process. With a high number of divergent departments, all striving to introduce innovate new themes and features, maintaining an organized workflow with a high level of co-operation is the most efficient approach.

3. How is it handled when bad ideas are proposed or designs are, well, not what you were looking for?
We never jump into designing a game without some carful pre-planning and discussion beforehand. We place a strong emphasis on our R&D, researching what is presently popular from region to region, while also looking at genres that are as of yet uncatered to. Furthermore, our departments convene weekly to discuss and guide the progression of our new games, in this way we avoid ever getting too far off course.

4. Who was your first content deal with and how many online gambling partners do you work with now?
We have deals with several global online gambling partners based in a range of locations, serving a diverse range of clients. Our latest integrations have been with operators such as Adjarabet and Videoslots. In our early days as a fledgling company, our first integrations were in Central Europe, we have since spread our reach to further afield, closing deals with multi-national operators who operate globally. Our current focus is on the CIS and Asian regions, burgeoning markets in which we are working to make our games more readily available.

5. At this point, your portfolio features over 50 games, which have proven most popular among players? Do you have any personal favorites and why?
We certainly have a range of slots with mass appeal that are exceedingly popular amongst gamers. Booming Seven and Oh! Catrina, are some of our most beloved. Booming Seven immerses the player in the classic sights and sounds of slot play, creating the illusion of being in a real casino while still offering up some contemporary features such as 2-Way Pay. It's a classic compact 3-reel slot with gold bars, tasty fruits, and of course, lucky number 7s. Oh! Catrina, one of our more recent releases takes a much more modern approach. A festive Mexican theme based around the Day of the Dead, with symbols of colorful skulls and Papel Picado. Aside the gameboard the elegantly skeletal Catrina is a 3D animated side character, who reacts to the high and lows of play. It features Expanding Symbol and Free Spins, introducing some interesting variance to play.

6. Are there any in-game features that are unique to your games?
The Booming Games creative and development teams always place emphasis on pioneering new features such as multiplying pay lines, shape-shifting gameboards, and bonus rounds, to name just a few. Most importantly, all games are developed with the modern requirements and gaming habits of today's players in mind. We have a range of original and exciting new features, which we are keen to integrate into our up-and-coming games in the near future. Booming Games developers believe that the main goal in the creation of games should be the satisfaction of players' needs.

7. Can we expect any new releases any time soon?
We are always updating out the portfolio with new and innovative slots. Our most recent releases were Freemasons Fortune and Octoberfest. New releases currently under production include Desert Drag, Harvest Fest, and Gangster Gamblers, so keep your eyes peeled. Harvest Fest will be our first slot to be released exclusively under a Chinese title as part of our new Asian-facing arm, for which we have high expectations.

8. Our members are pretty savvy and they're noticing things like licensing, how does this work for your games and what else do you think players should look out for?
It is important to us to offer a greater degree of transparency to our players, increasing their confidence in the integrity of our games and fostering a relationship of trust. One way in which we facilitate this is through an amalgamation of volatility grading, maths clarity and feature clarification, all made available to our players. Checking that an online casino has a gaming license is one way in which players can be assured that it is meeting certain criteria regarding fairness, security, and transparency. Regionally we have certification in Germany, Latvia, Slovakia, Malta, the Isle of Man and the Czech Republic, and are currently in the process of acquiring it in a number of other locations.

9. Which markets are your products available in?
Our games are available worldwide, through multiple channels. Applicable laws permitting, we look to make our games available to as many players as possible, in as wide a variety of regions as possible. We are currently expanding into certain Asian markets, creating games that chime with differences in taste, points of reference and cultures. We have further ensured our success in Asia by adding personnel to our Maths and Design teams with profound and specific knowledge of these markets. Within a diverse and competitive market, we strive to bring originality to old themes, introduce previously overlooked concepts and create slots with the unique and regional appeal.
10. What is most important for us to know about Booming Games?
Having started out as a small company angling for attention among such established competitors, we are proof that there is space for smaller, younger and more ambitious companies to challenge the 'lumbering giants'.
"Our games are available worldwide, through multiple channels."
Back to articles