Back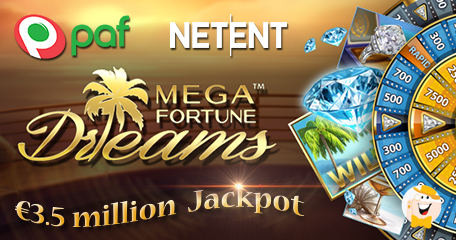 Paf Casino led a lucky player from Finland into 2017 with NetEnt's first multi-million Euro jackpot of the year. We love to hear winner stories like this. Fortunately, a representative from the casino, Daniel Klangefeldt, was willing to give us an exclusive interview. Enjoy the read and we have our fingers crossed that an LCB'er will be next!
1. How exciting is it to be the casino where NetEnt's first multi-million Euro jackpot of 2017 was won?
It is very exciting, as this is our 9th million plus jackpot paid out by us. As well it is the thirds Mega Fortune Dreams jackpot that we have ever paid. And January it has proven to be a very lucky month for our players, from the 9 jackpots over a million that we have paid out 3 have been won in January, and exactly 5 years ago in the same date 18.01, our third biggest Jackpot was won, Mega Fortune for 6,8 million Euros.
2. When the progressive is triggered, what happens behind the scenes for you guys? How are you alerted and is there verification procedure that must be followed?
The games operations team receives an SMS the exact time when the jackpot is won. With that, we start a verification process from our side and from Netent's. Once it is verified, our Country Manager from the respective market the player is from will call the winner to confirm about the win and congratulate, At the same time our copywriters will prepare a press release and we will publish it on the site informing the win.
3. Tell us more about the player. From Finland, was she a long-time Paf member? The press release quoted her ecstatic comments, so did management speak to her personally?
Yes she is a customer in Paf for almost 4 years, and as said our Finnish account manager called her personally to congratulate her, and advice to keep herself anonymous.
4. How does the payout process work? Are the jackpot funds accumulated in a separate account held by NetEnt and are they responsible for sending the payment? Also, does the winner have the option to take one lump sum?
Netent will transfer the money and this will take a few days/ weeks. Once that is done we pay the player in one lump sum.
5. What was the largest progressive ever won at Paf Casino?
We hold the Guinness World record for an online progressive jackpot with €17,861,813 won back on 20.1.2013. Also by a Finnish player.
6. When one of your players wins a major progressive, such as this, do they automatically become a VIP?
We don't have VIP program at Paf.
7. What is the highest current jackpot up to right now? Which do you think will be the next to go?
Right now as 30.1 the highest jackpot at Paf is Mega Moolah with €4.7 million followed by Mega Fortune at €4 million.
"This is our 9th million plus jackpot paid out by us."
Back to articles