Back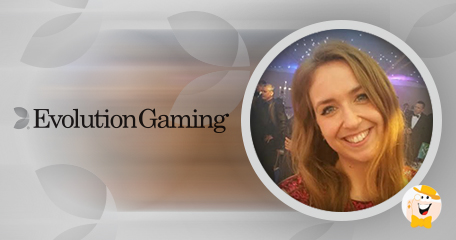 Given live casino games a go? If the answer is a resounding "yes", chances are you've loaded a product from live dealer games provider Evolution Gaming.
Founded in 2006, the company quickly rose to its position as an industry leader. We had the opportunity to get an in-depth look at the company and its offerings thanks to Marketing Manager Amy Riches. LCB talks to her about the success of Baccarat Control Squeeze, male/female demographics, the VIP experience and plans for the future. Enjoy the read and give us your thoughts in the comments below.
Q: How would you the describe this year's ICE?
A: This year's ICE was our busiest ever, with more meetings than ever before conducted with existing and prospective clients. Once again, over a packed three days, ICE served as the ideal global meeting point in our business. It was great to have our extended teams and customers all in one place. Of course, ICE is also a fantastic global stage on which to launch our latest games and releases. At the same time, we are able to present our entire world-leading Live Casino games portfolio. Our new products certainly proved to be a massive draw. One of the major highlights was our new Dual Play Baccarat studio streaming live from the upper level of our stand. Dual Play Baccarat extends our convergence offer for land-based casinos, and to see it all in action proved yet again the top-quality nature of our teams — particularly the way they created a fully working Live Casino studio in a very short period of time.
Guests were invited to come and play Dual Play Baccarat while seated at the actual table upstairs on the stand, just as they would in a real casino. They could also play in the same game and at the same table from their phones as they enjoyed a drink and snacks at the bar. In that respect, ICE was a perfect setting in which to demonstrate just how Dual Play works in a real casino — enabling players in the actual venue, as well as remote online players, to all play in the same game at the same table. ICE also gave us a platform for putting across our thinking on how to achieve operational excellence in Live Casino. We had must-hear speaker sessions on the stand from Tania Johannisson, our Head of Game Integrity & Risk, James Stern, our Director of Land-based and Todd Haushalter, our CPO. The topics covered were 'How Do Online Live Dealer Casinos Protect Themselves From Players They Cannot See?', 'The Bridge Connecting The Offline And Online Worlds' and 'How To Get The Most Out Of Your Evolution Live Casino Offering'. We attracted a good audience of licensees and potential new licensees for each session and the consensus seemed to be that these sessions really got under the skin of Live Casino operations.
Q: Evolution Gaming is definitely a pioneer in the live casino games sector. What sets you apart from the newcomers and which aspects of your products/services do you think cannot be duplicated?
A: We feel we are clearly positioned as the leading Live Casino provider. In the 10 years since Evolution was founded in 2006, we have focused on operational excellence, customer optimization, product innovation and ensuring a scalable, reliable solution of the highest quality for our licensees. That has brought us to the point where we are able to offer the best technology, the best-trained dealers, the best games and playing experience, and the greatest flexibility to deliver what operators and players want. There is an increasing number of Live Casino providers in today's marketplace as the barriers to entry have lowered. But our extensive experience, resources and our investment in continued innovation and improvement do set us apart. Getting to the point where you can deliver true operational excellence and all the other things that mark Evolution out as a leader — and being able to deliver this from our own studios, from on-premise studios and via Dual Play tables in land-based casinos — does not happen overnight.
Today we have 200-plus tables operating across our seven European studios. We also have a growing number of Dual Play installations in land-based casinos. We are also fortunate that we work with a number of leading operators, so when new markets regulate we are in a strong position to enter these markets and offer first-to-market advantage. We have always focused on what the operator is looking to achieve and what players demand. That's essentially what our focus on 'customer optimization' is all about. With Evolution, operators have so many options to differentiate their Live Casino product – dedicated tables and environments, dedicated dealer teams that get to know players, native speaking dealers, live promotions at the table that can be linked to key calendar events or to promotions and attractions in the land-based casino…
Not only that, but our licensees have access to an amazing portfolio of games. This includes exclusive games that are the result of our agreements with partners like Scientific Games — titles such as Live Three Card Poker and Live Ultimate Texas Hold'em for example. The portfolio also includes unique Evolution titles such as Baccarat Control Squeeze and our new Dream Catcher Live Lucky Wheel. We continually push boundaries in terms of product innovation so that we can take the player experience to new levels. Examples of this include our award-winning Immersive Roulette and our Baccarat Squeeze options. Our competitors frequently look to replicate these games, which is further evidence of our leading the way in Live Casino. We are never content to sit back so, yes, we are definitely pioneers. The games catch the eye initially, but there are so many things behind the scenes that continue to widen the gap between us and our competitors, such as our Game Integrity and Risk operations, which give operators significant peace of mind. Again, new providers cannot fully replicate those systems and that level of experience.
Q: How many studios and land-based casino locations do you stream from now? Does the availability of these locations vary depending on the online operator or is it based on specific game selections made by the player?
A: We stream from seven studios across Europe, as well as from a growing number of on-premise studios where Dual Play tables are located in land-based casinos. In all, there are 200-plus tables in operation around the clock. Availability of these tables is governed by a number of factors, such as which services our licensees choose to offer their players. In many cases, table availability is governed by the rules in a given jurisdiction. In Spain for example, Live Casino has to be streamed from a studio based on Spanish soil. Riga in Latvia is our main central studio and Malta our second central studio. Riga is home to our core live tables while Malta is home to our native speaking dealer tables and international dealer teams. These are both 'remote' studios. Then we have various 'on-premise' studios — at Gran Casino Murcia in Spain, Casino Campione d'Italia, Casino de Spa in Belgium, Napoleon Games in Alst, Belgium and the Grand Casino Bucharest in Romania. On top of that, we have our Dual Play Roulette tables sited on the gaming floors of land-based casinos such as The Ritz Club and the Hippodrome Casino in London, and the Dragonara Casino in Malta.
Q: The Baccarat Control Squeeze has become a big hit. Tell us more about the game and why you think it has gained such popularity.
A: Yes, we're delighted with the reception that Baccarat Control Squeeze has received from licensees and players. It's another clear example of how we are leading the Live Casino sector with truly innovative games while also providing our licensees' players with the widest selection of games. In this Baccarat variant players take control of the squeeze themselves. The cards are dealt face-down onto glass panel inlays in a custom-designed table. Two cameras are integrated under the table and they instantly relay the live stream of the real card faces to the player's screen. The card faces are obscured by optical filters and an overlay mask built into the game's UI. To squeeze the card a player simply clicks or taps on the corner or any edge of the card to peel back the overlay mask and reveal the card's value. It's a truly Macau-like VIP gaming experience that puts the unique thrill and suspense of the squeeze at players' fingertips. It really does take interactivity in online Live Casino games to a new level. The popularity of the game is very much linked to the unique mystique of Baccarat, which we have been very successful in capturing. The Squeeze is such a vital part of the game for many players and in this variant, the player has full control just as if they were sat at a real Baccarat table.
Importantly, we never assume that a player wants only one version of a game. We offer multiple variants of Baccarat to appeal to every type of player in every situation. On certain occasions the player may have a few hours to spend at the online live table, so they may opt for Baccarat Control Squeeze. On other days perhaps they just have a spare 15 minutes, so they'll be looking for a faster-paced game maybe… in which case, we also have the answer.
Our new Live Speed Baccarat has been hugely popular amongst players looking for maximum betting opportunities and excitement in their playing sessions. Whereas a standard Live Baccarat game round lasts 48 seconds, in Speed Baccarat each game round is typically completed in a suspense-packed 27 seconds! We achieve this by dealing cards face-up and keeping the results time to a minimum.
Q: Switching gears from games to staff, what sort of training is required for your new croupiers? Does this differ based on whether they will be based in a studio or land-based casino? In fact, for all of us unfamiliar with the operations of it all, are dealers employees of Evolution or the casino venue?
A: All new dealers receive full training in the Evolution Academy before taking charge of a live table. The Evolution Academy is our Live Casino School of Excellence. It's a fully hands-on training facility, with rooms equipped with complete Live Casino broadcast set-ups including game tables, cameras, lighting, microphones and playback monitors. In other words, our dealers and other operational staff have the most advanced training facilities in which to become familiar with the live game operation and, of course, to become comfortable and confident appearing in front of the cameras. The Academy environment allows the dealer to practise and become proficient in ever aspect of a game's operation and presentation before they take control of a real live game. As standard, all Evolution dealers undergo approximately three weeks' initial training at the Academy. They will learn all about the core games, the systems and protocols – a number of which are unique to Evolution's operations.
All dealers are carefully monitored and their performances viewed to identify areas for improvement. Any weaknesses are addressed with additional support in the Academy. As a result, their caliber on completion of training is uniformly very high. In addition, all our dealers receive refresher and top-up sessions when new products and game enhancements are released. We have a team devoted specifically to dealer selection and development to ensure that we recruit and retain the best dealers. We have over 200 tables in our studios, which are 24/7/365 operations, so there are a great many dealer teams around at any one time. This creates a real buzz around the place and there is a great deal of camaraderie and team spirit. The dealers are all employed by Evolution, except in the case of on-premise Dual Play tables located in land-based casinos. In this case, the Dual Play table dealers are the casino's own dealers, but they too will be fully trained. In the case of our own dealers, some will work on our generic shared tables. Others will work on specific licensees' dedicated tables. Some licensees choose to have dedicated dealer teams on their dedicated tables, so certain dealers will be assigned to those tables. For dedicated tables, our dealers are also trained to understand and reflect each licensee's brand, values and key messaging. In addition, we have many native speaking dealers who work almost exclusively on our native language tables such as Deutsches Roulette, London Roulette, Svensk Roulette and the like.
Q: Live casino game providers often market the female dealers to attract male players. At one time, not long ago, statistics showed that men were more prevalent at the tables than women. Does that ring true for Evolution Gaming and what have you done to appeal to the female demographic, if anything?
A: At Evolution our core focus is on providing a world-class Live Casino experience and a world-class selection of games, with integrity and security. We also provide exclusive titles that no other major Live Casino providers supply. Consequently, we feel we provide a service that can be enjoyed by true Live Casino enthusiasts regardless of gender. Our aim is to provide the best dealers in the market, whether they are male or female, to ensure we offer the best possible playing experience. This is why we invest so much in our Academy. The dealers are the face of our product in all aspects – the speed and accuracy of their dealing, the way they interact with players and their top-class game knowledge. Evolution has set the bar very high in terms of the standards players have come to expect from online Live Casino. Frequently there is a younger demographic playing online – the so-called 'digital generation' – and their expectation of any screen-based playing or interactive experience is always high. Statistics on male and female players can vary greatly between licensees and countries. But overall, we have an equal split between male and female dealers and feel we are doing everything we can to make both male and female players feel comfortable and have a thoroughly enjoyable experience when playing at our tables.
Q: Let's explore your Red Room VIP and Platinum VIP tables. What is the VIP experience like for players?
A: We offer the biggest and best selection of Red Room VIP and Platinum VIP tables in the Live Casino world. These solutions can be used by an operator and provide a wide range of minimum bets to appeal to all types of VIPs and high rollers. In addition, we operate dedicated VIP Live Casino environments branded exclusively for any operator. All our VIP tables are available on desktop, tablet and smartphone, so we make it easy for high-wagering players to access the best wherever they happen to be. In general, the VIP experience is just like VIP players are accustomed to in the best land-based casinos. The very best dealers provide the ultimate in service, where VIPs have the opportunity to play alongside like-minded players who thrive on the high-stakes, high-excitement atmosphere. Service is tailored precisely to the needs of high-wagering players and we can customize this to each licensee's needs to provide exactly the level of VIP service they require.
Q: Last but not least, what's next for the company in 2017?
A: A key focus for 2017 is the extension of our Dual Play portfolio to maximize the convergence opportunity for land-based casinos and online operators. At the same time, we will continue to strengthen our general position in the European market, while monitoring developments, as we always do, in re-regulating markets. We have a proven track record of being first to market in new markets, so naturally, we will be looking to extend that record. Mobile is another area where we think there will be an exciting activity. Mobile continues to be a key driver of growth — current figures show 46% of game revenue across our network coming from mobile play. In the coming months, we will complete the rollout of portrait view gaming on smartphone. We feel this could be another incremental revenue earner for operators. When players have full choice to play games just the way they want on smartphone, there is a greater likelihood that players will enjoy ad hoc gaming sessions whenever they have a spare few minutes. Our new Dream Catcher game fits that audience and gaming model very well. We see Dream Catcher broadening out the market for Live Casino in 2017. The new game has been developed specifically to expose Live Casino to a new type of player, particularly slots and bingo players who don't typically play table games. Dream Catcher is a different kind of game. Dream Catcher will be on both smartphone portrait and landscape view from day one, as well as on desktop and tablet. We expect that to have a very positive impact on adoption and revenue.
"At Evolution our core focus is on providing a world-class Live Casino experience."
Back to articles