Back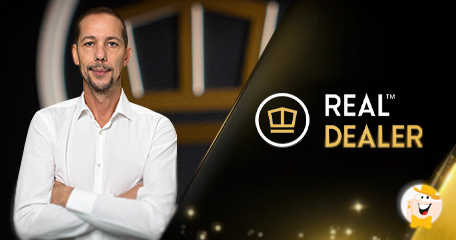 Real Dealer Studios takes casino games to the next level by combining high quality filmmaking and RNG. The studio streams a variety of games such as roulette, baccarat, blackjack, sic bo and Fortune Finder, its own money-wheel series. Celebrity games are hosted by actor Vinnie Jones. To learn more about the exciting things happening behind the scenes, we present an exclusive interview with Shane Cotter, Chief Product Officer, Real Dealer Studios.
Q: Please begin by introducing LCB'ers to Real Dealer Studios and Cinematic RNG.
A: Real Dealer Studios is a Malta-based studio that grew out of the idea that online table games like blackjack and roulette could deliver such a better experience if they were made just like Hollywood films. So rather than animating around an RNG game, which is the standard way to go, or streaming from a studio, we start with a professional movie shoot involving directors, actors, script writers, post-production specialists and the like. Once we have the polished footage, we integrate that into an RNG game in a way that makes it seem interactive, like you're playing one-to-one with a VIP dealer in a luxury casino. We call this approach Cinematic RNG, and when you try it, you'll see that it outstrips all the other options in terms of quality and realism.
Q: 2023 is off to an exciting start with several new releases including hockey-themed roulette. What was the inspiration for this and how is the sport theme incorporated into gameplay?
A: Canadians are famously wild about hockey and Canada is one of our key markets. With the IIHF world championship happening this spring, making a crossover game around the theme really was a no-brainer. The title we ended up producing, Hockey Fever Roulette, stars Sarati, one of our most popular dealers, and is set in a hockey fans' man-cave crammed with sports memorabilia. Thumping rock music and arena sound effects give the game just the right party vibe. It turned out to be one of our top performers for operator pickup, so we're doing something similar with Rugby for the world cup in September. But this time players will be able to choose between two dealers and set the theme to match one of five countries.
Q: Do you have games in various languages?
A: Our dealers are played mainly by native English-speaking actors – American, British or Kiwi. That said, we've also produced three roulette games with Spanish-speaking dealers, which was a project we undertook in response to requests by our operator partners when we entered the Spanish market a couple of years ago. As far as other languages go, we're researching demand.
Q: Tell us about your partnership with Vinnie Jones.
A: Making games with celebrity dealers was something we'd been planning from the very beginning – it's something that can only be done with Cinematic RNG. After a bit of searching, our Hollywood contacts led us to Vinnie, who turned out to be the ideal pick for our player demographic. Not only did we get a huge interest from Vinnie's film and football fans, we also got Vinnie's tough-guy persona and sense of humour, which really come out in the games. We ended up making four titles with him: Vinnie Jones Roulette and Vinnie Jones Blackjack, where he's the dealer, Vinnie Jones Stories Roulette, where he answers fan questions, and a hi-lo gameshow called Vinnie Jones Card Chase that came out this July.
Q: Which Cinematic RNG games have proven most successful to date?
A: Apart from the Vinnie Jones games and Hockey Fever Roulette, some of the best performers have been the fast-paced automatic roulette games that have extra features like multipliers or bonus rounds. We recently released a heist-themed title called Vault Run Roulette where players can collect lucky numbers to break into a bank vault for a guaranteed bonus payout. That one's proving to be pretty popular.
Q: What are your plans for the second half of 2023?
A: After launching the rugby-themed roulette, we'll be releasing our second Card Chase hi-lo game, which will be an automatic version with a retro, arcade look. We're also coming out with a roulette version of the popular 9 Masks of Fire slot game, and our first multi-hand blackjack game, which will star Rachael Bower (Twin Peaks) as dealer.
Q: Lastly, where do you think Cinematic RNG casino games can go from here in terms of advancements?
A: The format is extremely flexible – there are a lot of ways you can use cinematic video to enhance an RNG game, so there's plenty of room for further innovation in this space. We've already started integrating some of the more successful features from the world of slots, like collect features and multipliers, into table games, and we're looking at expanding in that direction. Of course, there's loads more that can be done in terms of game types, themes, original features, languages, bespoke games and the like. I expect that we'll soon see even more blurring of the lines between gaming and other entertainment genres like we had with Vinnie Jones Stories Roulette. With good developers, the right acting and production talent, and enough imagination, the sky's the limit.
Back to articles