Back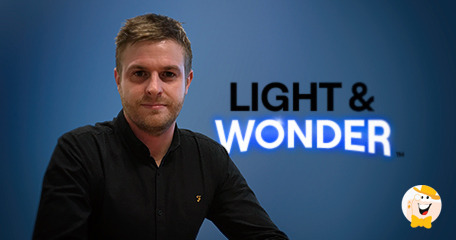 SG Digital has established its footprint in the iGaming space as a provider of casino games and sports betting. It has recently changed its name to "Light & Wonder". The products are licensed in more than 30 jurisdictions to reach a wide audience of online gambling enthusiasts. March 2022 is a big month for new slots as Stargate Megaways and Rainbow Riches Frenzy are set to launch near the end of the month. Read on as we present an informative interview with Rob Procter, VP of Game Development at Light & Wonder.
Q: Please begin with some background and the approach to developing iGaming products.
A: Developing content is a bit of an art form really in terms of working as a team, getting together, coming up with original concepts - which for me is where most of the fun is - and then seeing that right through the process. That in itself is challenging but fun, and something that we wake up every day looking forward to being a part of - seeing games from early concept drawings and sketches, and then seeing animations and characters come to life, watching as the math model takes shape and the game becomes playable. I suppose it's a little bit like baking a good cake and getting an end result which is hopefully delicious, or in our case, hopefully, you get a great game at the end of it.
Q: A few new online slot releases are planned in the coming weeks - Stargate Megaways (23rd March) and Rainbow Riches Frenzy (31st March). Tell us more about these games.
A: Stargate Megaways is a huge one for us. It's been a long time in development, and if you've seen any footage, you'll know it's very cinematic and keeps with the Stargate brand. It's got a new mechanic for us as well in Trailways: cascading wins builds you up the trail on the left-hand side and you need enough cascades to then trigger the bonus. It's something we'll see more of in the coming months as well as in future games. It's a great-looking game that plays fantastically well. Anyone who likes Megaways is going to love this game - it's just fantastic. For all those Rainbow Riches lovers out there we're giving you another installment of Rainbow Riches, playing on a relatively well-known mechanic that we know is a favorite with players. Bolt that on to the biggest brand in the UK (and everyone's favorite leprechaun!) and you've got a really good solid Rainbow Riches game. All the Rainbow Riches purists will love that one, I'm sure.
Q: As a licensed provider in 30+ jurisdictions, do you find it challenging to maintain compliance in the ever-changing iGaming world of regulations?
A: Extremely challenging. From our compliance team's point of view, I can only imagine the day-to-day tussles they have with new regulations, keeping up with current regulations, and also keeping an eye on future regulations. It's tricky, but it's a part of what we do - that's why we are who we are: we build and operate at scale - more scale than most others. Very few can match us when it comes to scale. It is a huge challenge - and day-to-day the compliance teams live and breathe it - but it touches pretty much every area of our business, whether it's the studios or its product teams, finance... whoever it is, compliance touches every area of what we do. Keeping up with that is absolutely a challenge, but it's more than just keeping up, it's about keeping ahead. What we always endeavor to do is to keep ahead of what's coming we work together with the regulators to make sure that we're well prepared so that our customers are served as well as they can be when new regulations come into effect.
Q: The acquisition of Authentic Gaming in late 2021 opened up a door into the Live Casino market. How do you intend to proceed in this space?
A: Obviously the Authentic Gaming guys are great to have on board; they're a great team - really, really brilliant and fantastic to work with. They're enthusiastic and energetic, and they've got a great leader in Jonas Delin, who has given them a clear steer on what their priorities are. And the big one there is our entry into the U.S. We've made no bones about that; we're not shying away from that. We have got a plan to get ourselves into the U.S. and to go big in the U.S. We're all hands to the pump in that respect, as well as maintaining the business that they currently have in the UK, Europe and other markets.
Q: The company is extremely successful in the land-based casino sector via the Light & Wonder division. What developments are occurring there?
A: I speak with the gaming guys weekly in terms of what's coming up, what we're doing, and how we can be aligned. Our processes are coming closer and closer together, and that's key for our U.S. strategy from a digital point of view. They've got a fantastic run of games coming up, and some of the ones we're doing include games like Cash Falls, which has been very good for them. So, we're bringing the Cash Falls series online. From a land-based point of view, those games are exciting with really strong game mechanics. I think it'll transpose really well to the digital space, so we've got big plans to carry on with that. They're ahead of us in the Coin Combo series. I know it's been a good performer for them and it's great to see them launching Carnival Cow. We're just about to launch Terrific Tiger, and Carnival Cow is not far behind, so they're really motoring with a very solid release schedule for 2022.
Q: Is the decision to take land-based games online based on popularity and success in the traditional environment?
A: It's largely that. If a game is performing well land-based we'll bring it online - that's the easy way to decide. The more difficult way is trying to get ahead of that and pre-plan when we've got high hopes for a game that's not live yet. We are trying to get more aligned from an omni-strategy point of view so that we're closer to those guys. To that end, you can't really sit and wait to see how a game performs; sometimes we have to be led by whatever data we do have on a previous game's performance to feel confident that a new game is going to work. A good example of our omni approach is Goldfish Feeding Time. That game goes live on our social casino in March, then goes live land-based in April, and then we're launching it in July. So, we're in tandem at the moment in terms of development processes; they're all at different stages, obviously, but we're developing the game at the same time. That's the first release with our new "omni approach" and there will be another omni game towards the end of the year.
Q: In closing, please take this opportunity to express any key points you'd like LCB'ers to know about Light & Wonder.
A: Our release schedule for this year is very balanced and very driven by the different markets we operate in. We've got a great plan that covers the UK this year. Similarly for Europe - and not just Europe as a whole, we've tried to target some European content to specific regions - Italy, for example. And similarly, with the U.S., we're taking bold leaps forward - we've got probably the strongest release schedule we've ever had from a U.S. point of view. There's no filler in the road maps for any market this year - it's all quality content
"Developing content is a bit of an art form."
Casino Software
Back to articles