Back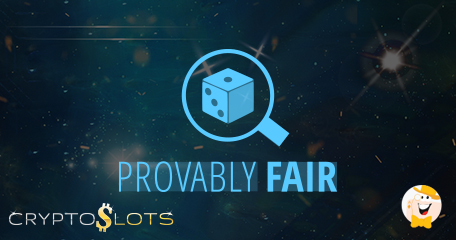 With the introduction of cryptocurrencies into the iGaming space came new provisions to ensure fairness. Slotland is among the providers with its very own brand of 'Provably Fair' games available at CryptoSlots. The purpose is to generate the proof in the virtual pudding – insurance that every play is fair without any outside manipulation - and makes it available for player review. For a thorough explanation of the system, we turned to the source, Slotland's one and only Jack Jelinek. His description of the system is among the simplest we've ever read and it's sure to give LCB'ers an enlightened take on the PF concept.
Q: To begin, give us an intro to Slotland's own Provably Fair system and how it works.
A: Firstly, thank you very much for the opportunity to outline the awesome concept of Provably Fair casino games here at CryptoSlots is Slotland Entertainment's most recently launched brand, a cryptocurrency only casino which goes the extra mile in guaranteeing fairness. All games at CryptoSlots fall under the category of 'Provably Fair' and utilize the technology that allows players to verify the fairness of every single game result. This makes our brand stand out: many casinos may boast that they are a Provably Fair casino, but the vast majority only apply the concept to a small, select number of their range of games. Every single game at CryptoSlots is PF, and our system is also unusual in that we guarantee at least one winning spin within the random set of possible results. As brilliant as this concept is, some brands also fail miserably when it comes to explaining what it is and why it is so important for players. At CryptoSlots, we try to make it easy to understand and easy for players to use it for themselves to prove fairness.

So, what is it all about? None of us like to feel cheated. Yet when we play at online casinos, we only see what is displayed on our screen and have no idea how it works from the other side. How can you be sure that the cards have been properly shuffled without seeing the complete deck? Is there a chance that a casino will pay out less if you increase your bets? This is where PF comes into play. The technology allows all players to confirm the fairness of any game result, be it the draw of a card or the spin of a slot.
Back in the day, kings would stamp their precious scrolls with a royal seal to ensure that it reached the receiver untouched. If the recipient sees that the seal is intact, it guarantees the authenticity of said document – nobody broke the seal and tampered with the contents.

What does this have to do with Provably Fair? PF is essentially a mathematical method used to ensure that no one, neither the player nor the casino, can tamper with the game result. The player is presented with a concealed set of possible game outcomes, called a server hash, before each spin. The server hash acts as the seal. The player then steps into the game, by selecting a simple value that will influence the final result of the game, called the client seed. The final result is called the server seed, i.e. the scroll with the message. When the game ends, the player can check to see that the end result matches with the initial set of possible game outcomes, to prove that the game outcome was random and fair.
Errr, don't worry everyone. My further answers would be much shorter. I promise ;)
Q: Is it specific to Bitcoin or does the system work for various virtual currencies?
A: It was originally introduced by a cryptocasino, in order to verify the authenticity of a card deck shuffle, but PF is not tied to Bitcoin or any other cryptocurrency. The concept bears some similarity to the way Bitcoin transactions can easily be verified in that it is recorded on a public ledger, the blockchain. Provably Fair was inspired by blockchain technology but it is considered a separate layer of player protection and can be easily utilized by any online casino, whether it deals with cryptocurrencies or not.
Q: When it comes to casino games for virtual currency users, the Provably Fair system takes the place of RNG, right?
A: This is where our take on PF strikes a difference. Some other brands may be using PF system instead of RNG, which appears logical at first, but the game results generated this way on slot games are, in our opinion, boring as hell. It often produces either many consecutive non-winning spins, or there is little difference in the winning spins, e.g. many with low return on bets. To prevent this, we keep RNG in place to generate a set of game results, and we use PF to guarantee that the outcomes have not been tampered with. In this way, our game results undoubtedly give a more exciting variety of outcomes.
Q: Is the system applied to games other than slots?
A: Yes. PF originally started as a means by which online players could verify that a deck of cards was not tampered with after shuffling in a poker game. It ensured that the player could decide where to cut the deck, using the client seed, not the casino. In general, it can apply to almost any game of change. At CryptoSlots, we offer PF video poker as well as PF slot games. The concept works in a slightly different fashion, basically offering the player a guarantee that the deck of cards was not tampered with once shuffled. To go into detail, before the cards are dealt they are randomly shuffled using an algorithm based on a random number generator. This then allows the player to step in and select where to cut the deck of cards. At the moment we offer video poker and slots but more PF game types are on the horizon, so keep returning to CryptoSlots and watch this space!
Q: Is there a requirement for the system to be fully compliant, certified and accepted by regulators?
A: When implemented properly, PF works as sort of a 'certificate of trust' on its own. It proves that the casino doesn't tamper with its game results, and hence diminishes the need for auditing, certification, and regulation authorities like eCOGRA. Players are independently able to verify the fairness of every single bet they make. PF is still, however, only one part of the whole formula. It obviously cannot guarantee the legitimacy of any particular online casino, or prove its ability to payout to any big winners.
Q: How important is it for all operators to ensure bets are provably fair?
A: As I have just mentioned, operators can greatly benefit from introducing the PF scheme. It not only gives players a guarantee that the house plays by the rules, offering an extra layer of transparency, but it also reduces the need for various auditing, certification, etc. And as a cherry on top, employing PF also clearly shows that the operator has embraced the future and is capable of exploring new ways on its journey to provide players with the best possible experience. For players, PF may not provide an absolute guarantee that a casino is 100% honest, it cannot, for example, guarantee that players will receive their winnings. But it certainly indicates that the casino understands and honors the importance of fairness. This is especially true if all games fall under the category of PF, as at CryptoSlots.
Q: For players concerned with the possibility of cheating the system, how does Slotland Entertainment monitor and/or ensure this doesn't happen?
A: While the core PF system may appear to be bullet-proof, on the casino's side there are still some issues that it cannot solve, i.e. bonus abuse, multiple accounts, etc. So, we do still undertake the usual checks and monitoring the system is a must. The bottom line is that, at CryptoSlots, we want there to be trust between us and the players. We ensure that all members can expect fairness and variety each and every time they play.
So, I look forward to seeing you at the games!
"CryptoSlots is a cryptocurrency only casino which goes the extra mile in guaranteeing fairness."
Back to articles