Back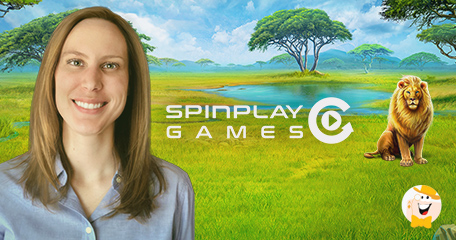 Math is a critical aspect of game development and Serena Petersen, Founder of SpinPlay Games, knows this all too well. Her background in the gambling industry led to the birth of a new online game development studio. Recognized for Amazing Link™, the innovative feature is available on the provider's latest slots including Amazing Link Bounty and Diamond King Gold. Stick around as we chat with Serena to gain some perspective on the company including the creative process, industry challenges and more.
Q: We're intrigued by the concept of bringing Las Vegas to the world through the development of online games. Please tell us the story of SpinPlay Games.
A: Anton and I (Serena Petersen, Founder) met as games mathematicians at WMS, now Scientific Games. After working in land-based slots for some time, we jumped over to a social casino start-up based in San Francisco. From there, we co-founded a math and game design consultancy company that globally provided math design. The next organic step led us to founding SpinPlay Games. While there's been a learning curve in breaking into the iGaming business, the focus remains the same during my gaming career, making a great game experience for players.
Q: What is the creative and development process like at SpinPlay Games?
A: We call ourselves a math-first studio, and that's how we start our development. All of our games begin as math concepts, and we spend a lot of time developing the gameplay. This phase is all about playing prototypes, trying different rules and mechanics, and balancing the gameplay experience. From there we move to theme and game design, and that's where the gameplay really comes to life with overall vision, theming, art, sounds and creating an engaging player journey.
Q: How are the games tested prior to release?
A: We have a stringent internal testing schedule with massive checklists that each title must pass prior to release. Each of our QA team members plays through the games and goes through these checklists to make sure we adhere to regulations and that quality standards are met. We also have game design reviews that QA members attend to ensure the overall design for each game meets our quality standards.
Q: Amazing Link™ is an amazing feature, with 'Amazing Link™ Bounty' released July 26, 2022 and 'Diamond King Gold' launched August 16, 2022. Please tell us all about it!
A: Thank you - we're super excited about these titles! Amazing Link™ Bounty is our first western theme in the series, and it's all about the bounty hunter and the renegade. We think players will have a lot of fun with this game – we've introduced a free spin selection in addition to the constant Amazing Link™ features and pick game. This is the first title in the series that offers a buy feature to the player, where regulations allow, providing players the chance to jump directly into the Free Spins selection.
Q: Let's talk about Diamond King Gold, released 16th August. What can players expect from this 1024-ways slot?
A: This is our newest 1024-ways slot where players feel the rush of the wild with new features in our Power Range™ series. Diamond King Gold features jackpots up to 5000x and the Power Range™ Roar Feature with 2x, 3x, and 5x wild multipliers in the base game. Free Spins are enhanced with a collection trail that upgrades symbols to the top paying lion symbol for the rest of the free spins. The game also has a tiered buy feature, where permitted, that triggers free spins instantly at three different intensities.
Q: What, if any, challenges have you faced related to the everchanging online gambling industry?
A: One of our core team beliefs is agility and embrace continuous change as part of the nature of our industry. We love making games and want the best for our players and part of that is ensuring safer gambling is threaded throughout all that we do. We are ready, willing, and excited to keep pace with the market.
Q: Finally, is there anything else you'd like LCB members to know?
A: Thank you for this opportunity! As a studio, we love what we do. Making games and building team camaraderie at SpinPlay is honestly the best work experience I've had. I love playing and designing games and having the chance to share that passion with our players. Don't forget to follow us on social media to keep up to date with our latest releases:
"Recognized for Amazing Link™"
Casino Software
Back to articles