Back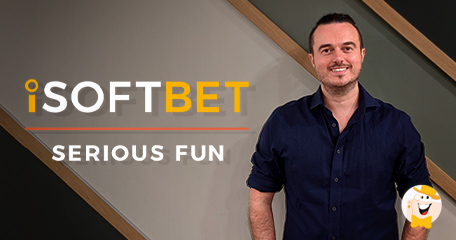 With over a decade in the iGaming industry, iSoftBet is going strong despite regulatory challenges and changes to market trends. We chatted with Mark Claxton, Head of Games at iSoftBet to bring you a behind the scenes look at the company and its games. A recent acquisition will see it enter the US market for the first time and August saw the launch of the new Ocean Hunter slot. There's plenty going on and as 2023 fast approaches, this provider intends to "shake up the industry"!
Q: iSoftBet has a long history in the iGaming space. How has the company evolved since its 2010 beginnings?
A: The journey of the iSoftBet brand starts way back in 2010, with an impressive journey that now spans over a decade and is about to enter its most exciting chapter. We have accomplished a number of incredible achievements over the years, shifting from our initial standing as a challenger brand on the periphery of the industry to a leading provider of modern mechanics and innovative experiences, highlighted by the array of proprietary Hold & Win titles and highly successful Megaways™ titles we deliver to our global audiences.
Presently, we offer more than 200+ casino games which are optimised for modern devices, and in addition to our proprietary content, iSoftBet also has an aggregation platform, featuring over 8,000 casino games from more than 80 experienced providers.
Q: We understand that the IGT PlayDigital acquisition opens up the American and Canadian markets for iSoftBet. What can we expect as a result?
A: For many years it has been a dream of iSoftBet to enter the US marketplace, which makes our acquisition by IGT all the more exciting. Our agreement with the leading brand has turned this vision into a reality, and as a result we are going to evolve considerably off the back it, helping us to tap into the US and Canadian markets with the support of the biggest name in iGaming. We expect the acquisition to provide us with all the necessary tools and expertise required to become a dominant force across both European and US markets in the near future, and we look forward to seeing where it takes us.
Q: New markets bring new regulatory compliance. How challenging is it to operate in markets with varying online gambling rules?
A: Newly emerging and changing regulated markets are always a challenge. Our compliance team works closely with our customers, providers, the test houses, and the regulators to ensure that we are on track for the changes and deliver compliant products within the required timelines. For game development, we implement these changes into our roadmap games to ensure a seamless supply of compliant products.
Q: The 'Ocean Hunter' slot launched in August 2022 featuring one of the most notorious Apex predators, the shark. Tell us about this release and others in the series.
A: With Ocean Hunter we wanted to give players that sense of progression and excitement in their play. During the free spins players need to collect oxygen tanks to unlock 4 reels with each additional unlocked reel set adding additional wilds! The game has some serious bite – as does our other Apex Predator game, Tyrant King Megaways. We have had very good feedback on this title, which has become a bit of a regular on the slot streaming circuit.
Q: Can you talk about the creative process in terms of developing new games?
A: There are a lot of creative things that happen during the process of a new game. The initial game ideas are vetted and refined multiple times; game ideas can sometimes come from the strangest of places! Its not enough to just have any old artwork and any sound package on a game. The game has to appeal to the player on multiple levels – there is a bit of magic that goes into making slots that separates the good slots from the bad.
Visual and audio feedback, engagement, character art, classic sounds are all creative elements that are carefully thought about for each game. Ultimately, you want to be looking through the eyes of your audience when making the game.
Q: As 2023 draws near, what will the company focus on?
A: 2023 is setting up to be an exciting year for us and in turn an exciting year for our customers and players. The IGT PlayDigital acquisition will see us join forces to provide a real "best in show" content offering that showcases the best of both companies as one. We will be focusing on amazing slot games for all markets, in particular building on our popular Hold and Win mechanic where we have multiple new feature innovations to shake up the industry!
Q: Speaking to players directly, what should they know about iSoftBet?
A: iSoftBet makes games for the players, and this is because the team is made up of players themselves. Each of our game producers not only have lots of industry experience but are also avid fans of slot experiences. We bring the best mathematics models with the most unique features to our products to thrill and excite the players, so watch this space for more exciting releases!
"more than 200+ casino games"
Back to articles