Back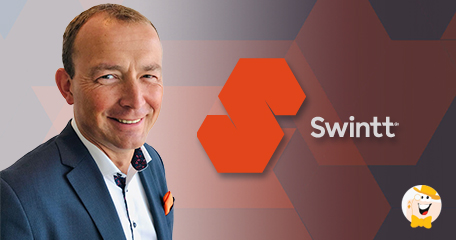 Months after its emergence on the iGaming scene, Swintt is pushing forward with a portfolio of slot games, MGA licensing and nearly a dozen casino partnerships. What's exciting about this slot game developer is its plans to expand the range into other types of games. Swintt CEO, David Flynn chatted with us about the company's beginnings, current status and upcoming strategies. We're thrilled to introduce you to a promising new provider and urge players to keep an eye out for the games to appear in casino lobbies very soon!
Q: Help us get to know the company by giving an introduction to your products, service and mission.
A: Swintt started out at the beginning of April this year. So, we are a relatively new company to the market. That said, the Management and Team have many years of experience in running B2B businesses. In order to spring off the starting line, we acquired proven technology and proprietary games. With our team of 70 people, we are now building upon this foundation to become the most entrepreneurial and fastest growing content supplier in the iGaming Industry.
Swintt's focus is to deliver localised content for local players. Building quality games based on local knowledge and data. I'm constantly looking for local studios to invest in and become a part of the Swintt story.
In order to ensure we maximise the return for the games, Swintt have also developed and are expanding upon market leading tools to drive increased player engagement around the games.
Finally, very close to my heart, Swintt are creating tools and games focused on sustainable business concepts for future generations via our Swintt Play-it-backTM initiative. We expect to make the first press release in September, so watch this space!
Q: Do you intend to expand the portfolio beyond slot games?
A: Absolutely. Whilst slots are a staple diet for many of our clients, there are several types and variants of games for specific markets that we are developing. Often, we use local game mathematicians and designers to ensure we get the exact feeling of the game in the local market. Where an opportunity presents itself, we also partner with local land-based providers of games, who are looking to take their games online.
Q: What is your approach to game development and what features help Swintt standout?
A: The important aspect of creating a game for Swintt, is its relevance to the target market. We listen to the needs of our clients, affiliates and players in order to create games for these target markets. It's always a secret sauce when developing a game, however, with the right combination of local data, game mathematics and local design knowledge, we feel we achieve the right mix of game content for the growth markets that our clients are focused on. Wrap these games with market leading in-game tournaments, competitions and achievements and you have a recipe for success.
Q: Master of Books, Heart of Earth and Perseus recently went live. Can you tell us more about these slot games?
A: These games are part of a release of 20 initial games from a local partnership that we made with a Central European land-based casino games company. As I mentioned, this tie-up allows Swintt to bring to the iGaming Market many leading, proven, land-based titles for local markets in Europe. There are several quality 'Book' slot titles, so it's a great achievement to have the Master of Books in our Swintt portfolio.
Q: Which casinos currently feature your games?
A: Having launched our full website in June, after just two months of incorporation, we launched the demo-site https://demo.swintt.com/ later that month. We are in process for the MGA license and in the meantime have signed 11 clients, many of which have already started the integration process. So, keep your eyes peeled for further news as soon as they go-live.
Q: Can we expect additional partnerships this year?
A: Yes. We are working on a number of partnerships, both with Operators, Games Studios, land-based partners and also partners who will benefit from our Swintt Play-it-backTM initiative.
Q: What's next for Swintt in the coming year?
A: Where to begin. Our initial goals are to obtain our MGA license and launch with the clients we have already signed. Our promotional tools and features will be launched later this quarter with our initial Swintt Play-it-backTM concept launched to the market in September. I'm also very happy to announce that we are The Platinum Sponsor of the CasinoBeats event in London in September where Operators and Affiliates can learn more about our products and services and even be in with a chance to win prizes whilst trialing our promotional products.
"Swintt's focus is to deliver localised content for local players. Building quality games based on local knowledge and data."
Back to articles