Back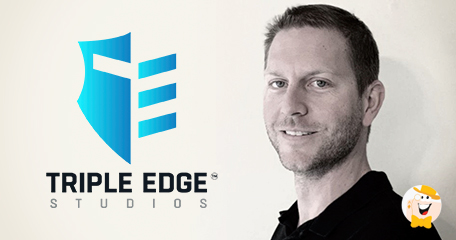 Triple Edge Studios, a Microgaming partner, is known for its online slots such as Absolootly Mad™: Mega Moolah and other jackpot slots like Sisters of Oz™: WowPot. The Hyper Hold™ feature also rolled out with the releases of Assassin Moon™ and Adventures of Doubloon Island™. We last spoke to the team a year ago, so we caught up to see what's going on in the game lab. We discuss slot features including Hyperspins™ and Megaways™, upcoming launches, market research and more. A big thank you to Mike Bauerlein, Market Readiness and Logistic Lead, at Triple Edge!
Q: In our May 2020 interview, we were celebrating the launch of Absolootly Mad™: Mega Moolah for Microgaming. What's been happening in the world of Triple Edge Studios since then?
A: We've been very busy (and I'll get into the new games that we've released since then) but it's definitely worth mentioning that in the past few weeks, Absolootly Mad: Mega Moolah was hit for a world record jackpot win of over €19.4 million, so that's pretty big news! But since May 2020, we've added another progressive jackpot title, Sisters of Oz™: WowPot. We added an innovative game called Diamond Inferno, which allows players another free respin on every win and expands those reels from three rows up to six and then adds multipliers to each ensuing win up to 10x… so that one is a fun, volatile game that we really like. We also introduced Hyper Hold™ games, Assassin Moon™ and Adventures of Doubloon Island™, each with the Hyper Hold™ feature and their own win booster. We've added one more game to our Ancient Fortunes brand; we had Ancient Fortunes Zeus™, which was a few years ago, and now we've added Ancient Fortunes Poseidon™ Megaways. We'll soon be adding to The Book of Oz brand as well, with Legacy of Oz coming out in July.
Q: Assassin Moon launched in December 2020. Talk to us about the new Hyper Hold™ brand of games.
A: With Assassin Moon™, we set out to target a specific mechanic that we see as a strong performer both in land-based and in the online space. We've added the Hyper Hold™ branding, which essentially takes the symbols that activate scatters (you need six or more to land in the base game) and each of these symbols can either be a cash prize or a jackpot. Once you get them landing and triggering this feature, those same symbols are held in the base reel set and you get three chances to land one or more of these symbols. Every time you land one or more, your spins get reset to three. You're really chasing a full blackout - if you can land all 15 you're awarded the mega five thousand times that jackpot, which is a huge deal. If you don't and all three spins expire, you get all the cash prizes that were on those symbols and any jackpots that were on the symbols as well. It all becomes one giant cash prize. In Assassin Moon™, we have a win booster that actually improves the frequency of triggering these features, so you'll get into them a little more often than if you hadn't used the win booster.
Q: Please go through some of the top game features found throughout your portfolio.
A: In The Book of Oz™ (and you've seen a few other games that have this) we've got what we call the Hyperspins™ feature. Here you can individually respin each of these reels. If you've spun and landed two wizards and you're trying to connect to make three, you can individually spin that reel for a chance to connect those three. We find a specific target audience really enjoys playing these kinds of games. That's where we've gone with Legacy of Oz™, improving the experience. When you retrigger in free spins, you get that additional special symbol - and you can get many of them - which makes a huge, huge win potential in free spins. Those are just some of the features that I think offer all sorts of hits and all sorts of volatility levels. All sorts of players should find something to enjoy in our games.
Q: Can you share any details about additional titles you're working on and how many games you intend to release this year?
A: Ancient Fortunes Poseidon™ Megaways™ is coming out in May with the static in-game jackpot. Then Legacy of Oz™, which allows you to use multiple re-triggers in free spins with the multiple expanding symbols. Further content will follow later in the year.
Q: How has the partnership with Microgaming impacted the company? Are all games created specifically for them?
A: Microgaming has been an amazing partner for our distribution of content. We partner exclusively with Microgaming to distribute so that we can focus on creating great games that resonate with the market. They give us the bandwidth to distribute the games globally.
Q: What sort of market research is involved in the development of your slot games?
A: We have a saying in our company: "only the paranoid survive". We actually have a ton of sayings, that's just one of them! Essentially, we're constantly in the mix of reviewing online forums and reviewing any trends, especially in market regulations or player preferences. Comments from Mike Bauerlein (Triple Edge): I would only echo what Dave R had mentioned about us pushing 'HyperHold' as a brand, when we are actively trying to rebrand to Link&Win. I'm not sure when this PR goes live, but our goal is to push the update by 25 June, so something to consider – even if we make mention of the rebrand in the Q&A piece.
"All sorts of players should find something to enjoy in our games."
Back to articles