Back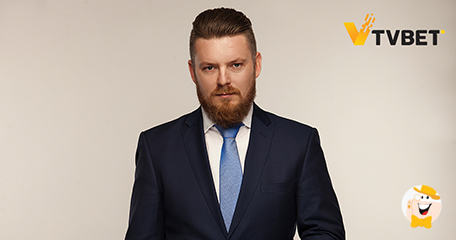 TVBET is shaking things up with their portfolio of original live dealer games. The provider is also planning the release of an additional 4 games this year. Designed for the Latin American market, FruitRace, a combination of lottery mechanics and racing, is scheduled to launch this year along with several more titles. We wanted to learn more about the company's operations since 2016 and we're sharing the details here in this exclusive interview with TVBET CEO Peter Korpusenko. Look out for more from this provider in the near future.
Q: Established in 2016, tell us about the start of TVBET and the company's mission.
A: Basically, the company was established in 2016, but the market expansion has taken place in the year 2019. We can say that TVBET is a start-up company that has shown a huge leap in just two years. By starting from a few clients in CIS, now our products are available at more than 130 partners globally. And our major idea is to create a top-shelf content for the betting audience. 
Q: One thing players will notice immediately is the one-of-a-kind portfolio. What is your approach to the development of live dealer games?
A: What we do is review the most popular lottery, card, tabletop games for further introduction in a live format. We also pay a great deal of attention to uniqueness and involving mechanics for every region. Our team is here for not just to be presented on the market, but to become a trend-setting company.
Q: In terms of the studios, where are they located and which languages are available?
A: All the broadcast process comes from the versatile studio, based in Warsaw, Poland. Anyone can check the TVBET streams on any chosen websites of our existing partners to make sure all events are identical. Thus, all the processes in a game are commented by a TV presenter in English. However, the content in the frame can be directly adapted for all necessary languages upon the operator's request.
Q: Let's talk licensing. Are your games licensed games and/or certified?
A: Currently, TVBET products are GLI-certified, thus confirming the randomness of the generated outcomes.
Q: Lucky6 was the last release. How often do you launch new games and are there any upcoming debuts we should look out for?
A: You're right, the mentioned lottery game has been the latest that we presented to our partners. During the year we plan to launch 4 games more. Very soon we plan to announce our 12th game, called FruitRace - an exclusive 'mix' of lottery mechanics and racing.
Q: The company is set to sponsor the SBC Digital Summit Latinoamérica conference. What does this sponsorship mean for the company and what can we expect to see on display?
A: It's the second time TVBET will be participating in the virtual exhibition, and it's a nice opportunity for us to showcase our lottery products to the LatAm audience. Moreover, FruitRace game has been crafted specifically for that region, which is why we felt it necessary to be there.
Q: Is there anything further you'd like us to know about TVBET?
A: I would like to say that our team's achievements are just the beginning of our great journey. We at TVBET are strong in our ambitions to create advanced betting products and ramp up their online presence. In addition to game releases, we're going to improve their promo functionality in the near term.
"Our major idea is to create a top-shelf content for the betting audience. "
Back to articles