Back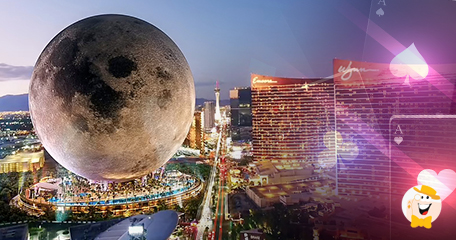 Giant Moon to Land in Las Vegas
The major goal in common for all gambling operators, be they online or offline is the same- to provide extraterrestrial player experience. Revealing its amazing plans to develop a Moon-shaped casino resort with more than 4,000 rooms, Las Vegas has once again justified its reputation as the Entertainment Capital of the World.
According to the Canadian entrepreneurs behind this ambitious project say, it would cost £3.6billion ($5billion) to build this impressive construction. With a height of 224 meters (735ft), this facility will become the joint-second-tallest building in Sin City.
Did we mention an active lunar colony is part of it? Keep reading for more intriguing facts on the Moon-shaped casino resort in Las Vegas!
World's Largest Sphere
Based on the renderings, the sphere diameter would be 198 meters (650ft) and would sit on a large disc 259 meters (850ft) in diameter. However, the precise measurements will be adjusted according to the regional airspace and locally mandated height restrictions.
This impressive construction…
…evaluated to cost £3.6billion ($5billion), would become the joint second-tallest building in Sin City with the JW Marriott, which is currently the second-loftiest structure behind the 350m- (1,149ft) tall Strat Observation Tower. The investors hinted that the best land option for the planned building is "owned by the highly acclaimed Wynn Resorts Corporation."
As far as estimated, this colossal structure, composed of concrete, steel, glass, aluminum, and carbon fiber composite will take 4 years to craft. The Moon World Resort would license the project in four destinations- North America, Europe, the Middle East Gulf, and Asia.
Variety of Facilities Included
Taking a look at the fantastic illustrations, one can spot a variety of facilities, such as a center for up to 5,000 attendees, a theatre for resident performers, and touring acts.
Let's not forget a piano bar, boutiques, several lounges, and a convention center. On top of that, the resort would also include a nightclub located under a giant model spaceship. A glass-bottomed 'Enviromax' walkway which should offer simulated views of the earth's weather patterns is planned as well.
How About Some Moonwalk?
In addition to 4,000 rooms and a casino, of course, the resort will feature a 'crater café,' a spa, and a lagoon. Moreover, all visitors eager to immerse themselves in a space-age adventure will be able to take a moon shuttle to a 'lunar colony.'
That's right, you've read it well- active lunar colony!
Advertised as the resort's "unique selling point," this department, accommodated in the upper half of the sphere, is meant to provide the authentic feeling of walking on the Moon.
To access the colony, guests would have to go to shuttle stations and catch a moon shuttle. Resembling a lot of those cars on a roller coaster ride, these vehicles are supposed to snake around the exterior of the hotel suites as they transport the guests upwards to the colony.
Once they arrive, visitors would spend 90 minutes exploring the 10-acre (4-hectare) space or hop on a moon buggy to whizz over craters. Tickets would cost £361 ($500) a ride.
Tourism Sector is Skeptical
As far as Desert Sun reported, the project was originally earmarked for Coachella, California, back in 2016. Aftab Dada, the Hilton Palm Springs general manager stressed out that the project is "impossible," adding that:
"If there was a word to supersede impossible, I'd use that."
Writer, podcaster, and Vegas expert Michael Trager, who runs travel site TravelZork, told MailOnline Travel that he doesn't think there's a market for Moon. His impression is that consumers desire integrated sports and entertainment venues, and epic headliners, not a Moon-shaped casino resort.
Is this project destined to remain just a bunch of lovely renderings, or guests will indeed get a chance to walk on the Las Vegas' "Moon"? What are your two cents on this?
Share your thoughts with us in the comments section below!
Source:
"One giant step for Sin City? Developers plan a 735ft-high Vegas resort in the shape of the MOON that has 4,000 hotel rooms, a lagoon, and its very own 'lunar colony'', dailymail.co.uk, September 22, 2021.
"Moon-shaped casino resort with more than 4,000 rooms"
Land Based Casino News
Back to articles