Back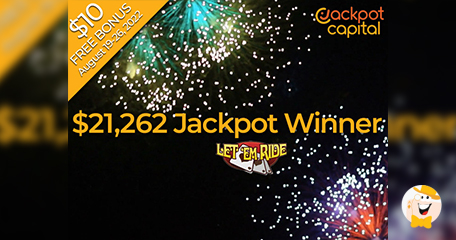 Player Nabs $21k on Poker, Operator Honors Her Win by Giving Everyone $10
One of the most visited RTG casinos that appeal to American players too, Jackpot Capital, has recently announced a massive jackpot win. The operator is feeling festive and wants to celebrate the occasion by giving all members some extra funds to play with.
By the way, Diane T., 67, won $21,262.25 playing Let 'Em Ride, a five-card stud poker variant with a $5 to $250 table limit. It is suitable for every passionate player but also for all those looking to make some great wins.
Happy Diane
"I've been playing online casino games for a long time," said Diane. Although she has never had lots of nice wins, this incredible turn of events came as a real surprise and an unexpected gift at exactly the right time.
There are four poker games and seven slots with progressive jackpots at Jackpot Capital. When playing one of these progressive jackpot games, part of every bet adds to the network which continues to grow until it's struck.
Diane also admitted she almost never plays the progressive, but this time she had a feeling and went for it. The first thing to scratch on her list is to pay off her credit cards, she said. Next, a nice little trip…
…and since her daughter is a little old for Disneyland, she might take the time to show her two grand daughters the theme park and have a good time with the whole family.
Now, the reason we're writing about Diane's win, is the following: Jackpot Capital is giving all active players a $10 bonus to celebrate the jackpot, so if you're a funded player at this place, here is how you should proceed:
Make sure you deposited in previous 15 days to be eligible
Use the tribute bonus code: HAPPYDIANE
Claim the offer from August 19-26, 2022
Enjoy your $10 bonus cash and hit big rewards
You can inquire about the details by contacting the official rep on our forum.
Extra Spins on Doragon's Gems
With hundreds of real money online slots and table games in its roster, Jackpot Capital never stops to upgrade the gaming experience of its players. At least one new game is added every month, and if you missed an opportunity to see Doragon's Gems, you're in for a big surprise!
Each player can take the advantage of an introductory bonus for that game and claim 44 complimentary spins, provided they have made a deposit in previous 15 days. There are also other great promotions at this place on our site, so take a look once ready!
You will need a different coupon code in this promo, DORAGONS-GEMS, while the maximum win is capped at $180 during honorary spins.
One more thing: Doragon's Gems is a high volatility slot game with cascading wins, minigames with multipliers, bonus bets and a buy feature, so have fun and come back to tell us all about it in the comments!
"Jackpot Capital, has recently announced a massive jackpot win"
Promotions & Bonuses
Back to articles