Back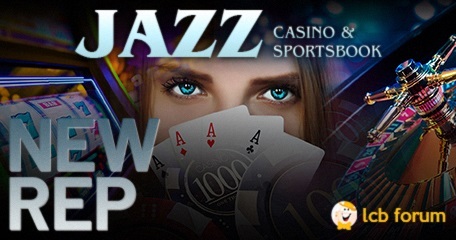 LCB's growing Direct Support Forum is, dare we say it, one of the finest inventions in the history of customer care. OK, that sounds just a tad dramatic, but you catch our drift: it's difficult to overlook how good this whole system is as it's helped countless gamblers and our members get over some pretty tough and nerve-wracking times due to its immediacy and custom-tailored kind of support.
With that in mind, it's important that this program, good as it is, keeps growing. And keeps growing it does: just recently, we've had our latest arrival in the form of the Jazz Casino representative, who signed in on our forum and greeted everybody there!
Jazzing it Up
David's (as he's called) imminent arrival caused quite a buzz on the forum with numerous members already welcoming him...
...after he left a very good impression (and you know what they say about first impressions) with an opening statement which reads:
"Are you a Slots player? Or you prefer table games like Blackjack, Roulette or Baccarat? Well, we have it all and more in our Online Casino. More than 400 games are waiting for you to win big and at the comfort of your hand.
Our 100% mobile friendly platform is ready to provide you the experience just like if you are playing in Las Vegas.
Watch your winnings take off at Casino section at JazzSports!
My name is David Wynters With Jazz Casino and Sportsbook. I am here to assist you. Feel free to reach out to me via this forum."
The casino's designated thread can be found HERE which is exactly where all of our members who are punters at this online casino can leave their messages of concern, inquiry, commendation and anything in-between.
David can also be reached via direct message, in case you feel your case is sensitive and important enough that it needs a less public approach.
Play It Again
We don't know if you are a jazz aficionado or not...
...but even if you're not too keen on its free-style melodious improvisations, it would be hard to resist the charms of Jazz Casino and Sportsbook which is truly unique place in its own right, beginning with the artistic theme.
Our very own full review can be found on the upper link, but for the "too long, didn't read" shortened version, look below…
Tracing their way to the ancient era called the early 1990s, Jazz is a Costa Rica-headquartered place of gambling purveyance.
Its lobby is befitting of a jazz theme, very elegant and classy, with a black background and a simple layout that makes getting around that much easier. The casino is friendly towards US players, comes with a generous set of promotions for newbies, has cashback options and favorable, low wagering requirements on promos.
Likewise, among currency options, there are plenty of cryptocurrencies, making Jazz very much in touch with the times. Ethereum, Bitcoin Cash, Bitcoin and Litecoin are making US dollar a company as all are eligible depositing methods.
So whatever the incentive you're looking for, you can find it at this online venue! Give the place a chance and get in touch with David on our forum should you need any help!
"LCB's growing Direct Support Forum"
LCB News
Back to articles